What started as a simple idea of eliminating food wastage is now an internationally recognised organisation that aims to end hunger and poverty.
What began with two people in 2014 is now a movement of 8,500 plus volunteers in 60 cities.
'More than 20 crore Indians go to sleep hungry every night,' reads a statistic on the Web site of Feeding India, a Delhi-based organisation.
The brainchild of Ankit Kawatra and Srishti Jain, Feeding India channelises extra food from individuals, weddings, restaurants and corporate offices to people who really need it.
It all started when Ankit, founder of Feeding India, attended a grand wedding where there were 35 plus dishes on the menu.
He wondered what would happen to so much food and decided to stay back to see what happened.
That day, Ankit witnessed heaps of excess food -- which could have fed 10,000 plus people -- being dumped in the dustbin.
This promoted Anikit, at 22, to quit a well-paying job and growing career at a multinational company to do something he felt was more important -- making India a hunger and food-waste free nation.
Co-founder Srishti Jain joined his mission and helped grow the team from two people to the national movement it is now.
Together, they are changing the way India deals with wasted food.
A Ganesh Nadar/Rediff.com catches up with 25-year-old Srishti to find about Feeding India's big plans to make India hunger-free.
Why did you join Feeding India?
I did my bachelor's degree in business studies from Delhi University. I was always socially inclined, but never thought of doing it full time.
Then, I came to know about the gravity of the hunger problem.
After my colleague, Ankit (Kawatra) returned from a wedding where he saw massive amounts of food being wasted, we decided we had to do something.
We started contacting government organisations and NGOs to help solve this problem.
We soon realised these institutions did not pay attention to us because we were young. They said 'it's not their problem to solve'.
How did you deal with the situation?
We started picking up food from weddings with our friends and realised how big the problem was.
There are organisations who have been working towards the eradicating hunger since many years. But, for the first time in history, hunger has actually increased.
It made me realise that new organisations need to come up and not only 'work towards the cause', but actually try to solve the problem.
Ankit and I started Feeding India in April 2014.
We were just two people then. Today, it's a movement of 8,500 plus volunteers in 60 cities.
We serve more than 15 million meals.
How does your team work?
We keep in touch with marriage halls. We collect excess food from caterers, events, corporate cafeterias and restaurants.
In places where we are not able to give excess food, we set up small scale kitchens run by local women to support the community/school.
We give food to people who cannot earn it for themselves -- children, the elderly, women and the specially-abled.
At the same time, we host skill development workshops to make them self sustainable.
We go to semi-rural/urban areas and convince parents to send their children to school.
These kids usually work at garbage dumps or labour sites to earn extra money for their family.
We partner with small-scale schools and work to provide children nutritious meals during their school hours as an incentive for education. These schools are literally next to garbage dumps or set up under a tent.
We give daily meals to schools that we have adopted. In other places, we send food three to four times a week.
Many of our operations are facilitated by individual donors and grants.
Recently, we received support from The Queen's Commonwealth Trust presided by Prince Harry. We are the first organisation he is helping in India.
What about the cost of transportation? Who bears it?
Food donors also provide basic reimbursement for us to donate the food properly.
In the beginning, we were just two of us. We reached out to our friends and their network.
We started doing small events to raise awareness and then a lot of young people joined us.
They believed in the cause and shared the same passion, concern and anger towards the social problems as we did. The young understood us.
We have developed a unique volunteer model where person is allotted to a department as per the work they enjoy.
We also divide them on the basis of the time they can contribute.
Our Hunger Heroes manage everything from partnerships, recruitment and events. They are the backbone of Feeding India.
Every city has a leader who manages everything and we co-ordinate with them.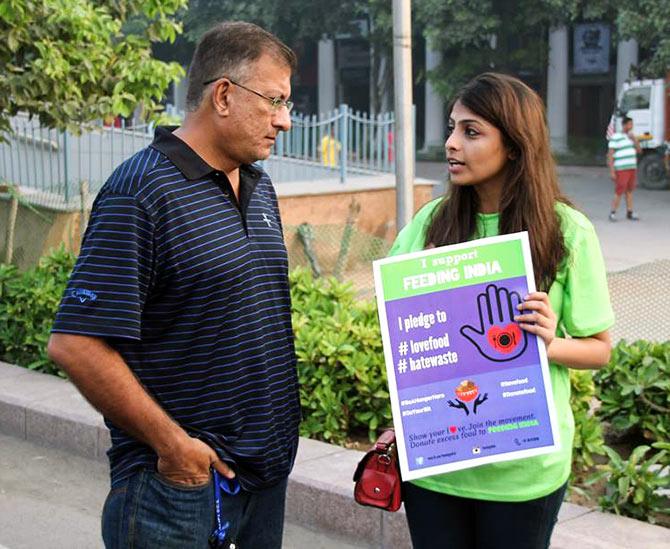 What are your future plans?
Our aim is to end hunger in India. We plan to do the following to get closer to our dream:
Set up unique models for excess food donation: We have launched eight vans which pick up and donate excess food. We are planning to start a 24/7 running refrigerated vehicle in every Indian city.
Identify correct beneficiaries: To achieve that, we need to ensure that we are helping the correct set of people who actually are hungry rather than just replacing meals.
Get the youth involved: India has 600 million young people. The problem of hunger (200 million people hungry) looks very small compared to the number of young people. The aim is to end hunger through collective youth action.
Adopt small scale schools; give food to children who actually need it and put them on the correct path of education.