Eighteen-year-old Dhruv Chincholikar and his family have a wonderful way of celebrating Ganeshotsav.
Illustration: Uttam Ghosh/Rediff.com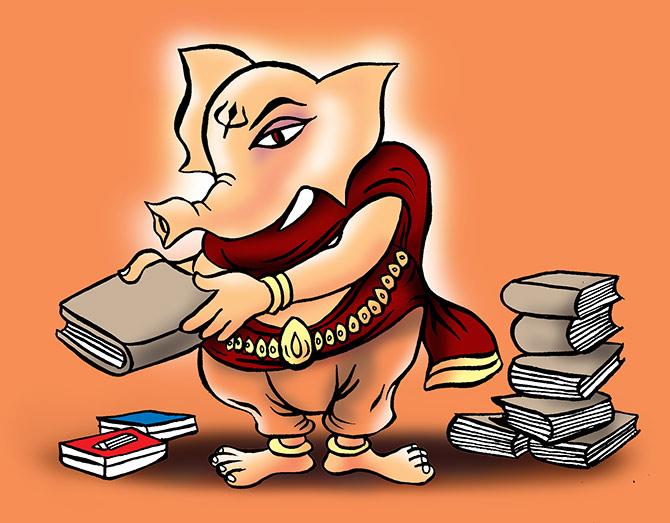 The welcoming of the Vighnahartha.
The thump of the dhol.
The soothing hum of the aartis.
The clink of the manjiras.
The scrumptious sweets.
The pandal hopping.
Yes, it's that time of the year again when the elephant-headed god, Ganesha, makes his annual visit.
The time when Mumbai celebrates together and everyone dances to their heart's content.
We have been bringing Lord Ganesh home for many years now, and our loved ones – our friends and family – visit to seek His blessings.
They bring sweets for the Lord, which we then give away in order to prevent them from going waste.
As a family, we wondered how this money could be put to better use.
It is my father's firm view that education is the best way to empower someone and that was a thought we wanted to pursue.
Last year, we decided we would change the way we celebrate this festival.
As we invited everyone home for Ganpati, we also requested them to bring notebooks and pens as their offering to the Lord instead of the traditional mithai.
We were a little apprehensive that people may not like this non-traditional approach but we were happily disabused of that concern; the response we got was overwhelming.
As each day of the week passed, the stack of notebooks and pile of pens at home grew bigger.
Seven days later, after we bid goodbye to the Lord, we visited a local municipal school and donated the stationery.
Their gratitude only increased our joy.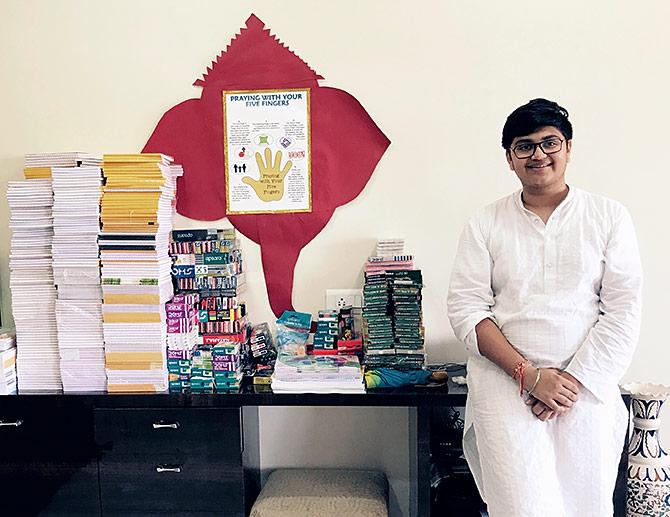 IMAGE: The donations, so far. Photograph: Kind courtesy Dhruv Chincholikar
This year, this was the message we sent out.
'Last year, we encouraged those who came home to carry books and pens as an offering, instead of the conventional money and sweets. Thanks to your overwhelming response, the children at D N Nagar Municipal School got their supply of stationery and an opportunity to improve their future.
'With a strong belief that education is indeed the key to changing lives for the better, we propose to do the same this year as well and would request you to consider offering notebooks, pens, pencils and other stationery instead of sweets or any other offerings.
'This is completely optional and only a suggestion – a liberty we take because we know we can do so with you.
'This one step can well and truly help build the future.
'Since 2001, nearly 20 million children have enrolled in primary government schools in India.
'Most of the newly-enrolled children are first generation learners from deprived communities or children with special needs.
'They need access to books, stationery and to our kindness.
'Collectively and individually, we can make a difference. We look forward to welcoming you :)'
And the response we got was even more awesome. People started messaging us to find out exactly what kind of stationery was needed.
We checked with the school and then sent out this message.
'Hello again. Several of you reached out to ask if there was any specific kind of stationery or notebooks that might help. We spoke to the schools in question and this is what they need.
Red and blue lined notebooks
Square lined notebooks
Single lined notebooks
Double lined notebooks
Pencils and erasers (no pens)
Oil pastel crayons
Permanent markers'
Loved ones from abroad sent in their donations.
The stack of books and stationery is growing impressively.
We're looking forward to going back to the schools this year with this collective gift.
I can't even begin to express how I feel when I see the expression on the children's faces when they get their crisp new books and brand new pencils and erasers.
It's just a small thing, but it brings them so much joy.
The gift they give us in return -- as we watch the happiness they feel -- so much bigger that anything we can gift them.
After all, as someone once said, 'If everyone lit just one little candle, what a bright world this would be.'
We will continue lighting our candle every Ganesh Chaturthi.
What about you?