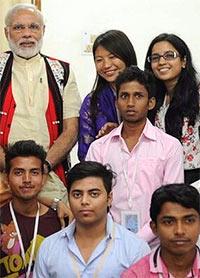 'It took us two full days to remove those layers of human excreta, which had been there for years.'
'Even after washing ourselves several times, we felt we smelt of human excreta. It was so disgusting that we could not eat food for days!'
'But the satisfaction of seeing the clean ghat compensated for all this.'
From an ordinary Indian doing her bit for the ghats of Varanasi, Temsutula Imsong from Nagaland, who has made the holy city her second home, suddenly became famous when Prime Minister Narendra Modi tweeted about her and her team's effort to clean the ghats at Varanasi. Then, he spoke about her at his address in Toronto.
"I could not believe it when I saw his tweet. My first reaction was: I am just an ordinary woman. Can it be true that the prime minister of the country read about my work and appreciated it?"
Suddenly, everyone wanted to know who Temsutula was.
Temsutula Imsong is a 34-year-old woman from Nagaland, a state located around 2,000 kilometres from where she lives today. She has made Varanasi her home and her mission is to clean the ghats.
Just a year ago, the steps at the ghats were dotted with human excreta. Thanks to her hard work, people can now sit here and watch the Ganga flow by.
Shobha Warrier/Rediff.com met Temsutula in the one room office at Sakaar, the NGO founded by her and a few of her friends, the walls of which are adorned by huge posters of the ghats of Varanasi.
IMAGE: Prime Minister Narendra Modi with Temsutula Imsong and other Sakaar volunteers.
They sat on the floor and spoke about her life in a village in Nagaland and why she has chosen to live in Varanasi.
Memories of home
I grew up in a small village in Nagaland called Mokokchung. My father was a school teacher and mother, a home maker.
Since childhood, my six siblings and I were involved in the voluntary activities of our church and students union. The latter has nothing to do with politics; it is a union of students who are interested in social activities. We made others aware of various social issues and did something about it.
One of our major activities was cleaning the school premises twice a month. As the school compound was not cemented, we would clean the entire area with water and coat the floor with cow dung. We also planted trees.
Cleanliness is one of the traditions we follow in our villages.
When a new season starts, an elderly person from the village council sends out a message for everyone to meet at one location. We assemble there and start cleaning the area. Every single member of the village, young and old, participates. Cleaning has always been a part of our life.
Insurgency was at its peak when I was in Class 9 and 10. It was an extremely disturbing phase for us children. I clearly remember hearing gunshots while in class.
Many days, there wouldn't be any buses to go back home so we had to walk 5,6 km. Walking through the deserted streets with not a single shop open, with gunshots in the background, was a scary experience.
Even in our village, we felt the impact of the insurgency. Militants would gatecrash into the houses of normal people and take a percentage of their salary.
Leaving home
After I completed my schooling, I moved to Shillong (the capital of Meghalaya). My brother, who was doing his graduation in Shillong, insisted I pursue college education there. By then, there was a ceasefire in Nagaland and things slowly started moving back towards normalcy.
After my graduation, I went to Delhi to do my post graduation as many of my friends were already there. It was a natural progression for the students from our area to go to Delhi via Shillong.
A stranger in her own country
It was a kind of culture shock for me to travel from the North East to Delhi, which is almost 2,000 km away. It was very hot when I arrived and it took me many months to adjust to the weather. Everything, from the food to the culture to the people, was different though I was still in India.
Yes, I look quite different from the majority of the people who live here. Though we, the north easterners, can differentiate between a person from Sikkim, Nagaland, Manipur or Assam, to the general public, we are either from the North East or from some other South East Asian country.
Initially, it disturbed me when people called us chinkis. It also made me feel insecure when I was alone on the road. But when I was with friends, I would tell those who called us chinkis that we were Indians too and they had no right to call us names. But I have to say the general attitude has changed considerably over the years.
Sakaar, a new dream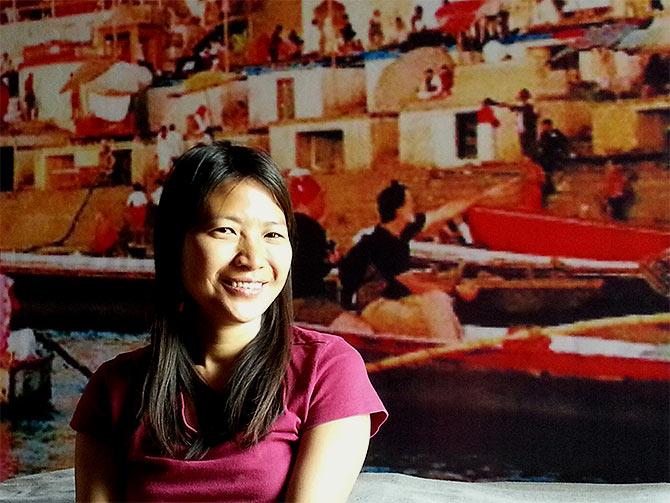 IMAGE: Temsutula Imsong's spirited efforts made Prime Minister Narendra Modi tweet about her and mention her in his Toronto address.
After I completed my masters in human rights, nine of us friends got together and started the Sakaar Sewa Samiti. We registered our NGO in Kataria, a village near Varanasi.
Sakaar's main objective was to ensure that people from the villages do not migrate to the cities. This happens because there are no employment opportunities in the villages. For example, I migrated from a village in Nagaland to Delhi because there were no jobs in my village.
Though Sakaar was functioning from Varanasi, I was still working in Delhi. In 2012, I decided to resign from my 9 to 5 job; the only thing that made me happy about it was the salary I got at the end of the month.
I returned to my village to start a unit of Sakaar. In the five months that I was there, I worked in the fields along with other villagers and listened to my father and his friends reliving their old experiences.
Then a Sakaar meeting came up in Varanasi and I had to attend it. After that meeting, I didn't go back.
Cleaning the ghats
The most beautiful part of Varanasi is its ghats where you can sit and watch the Gangaji flow by. The rest of the city is very congested and dirty.
I used to go to the ghats regularly to escape the dust and dirt, but it pained me to see the condition of the ghats and the river.
People from all over India come to Varanasi to see Gangaji, sit on the ghats and visit the temples. I was disturbed to see the filthy nature of the ghats, which were constructed so beautifully.
I love rivers, so it was difficult to see Gangaji in such a condition.
Coming from a village in Nagaland where cleanliness is an integral part of our life, I couldn't understand why people used the ghats for defecation and as a dumping ground.
On March 2, 2013, we started our mission to clean the ghats. We began with the Shool Tankeshwar Ghat that is around 20 km from the city. It is not one of the major 84 ghats, so it is not crowded. But it was full of silt, garbage and human excreta.
Our volunteers brought friends from around the village. The village pradhan joined us with many villagers. We spent a lot of time cleaning the ghat. At that time, we were not active on social media so nobody knew what we did.
Spotlight on a simple act
One of our major achievements was cleaning the Prabhu Ghat in March 2015.
One day, Darshika Shah (one of the volunteers) and I were walking around this beautiful ghat when we got the overpowering smell of human excreta. The stench was so foul that nobody could stand there for more than a minute.
We wanted to do something about it, but didn't know how and where to start. We knew normal cleaning would not work as there were piles and piles of dry human excreta on each step.
Five of us went back to the ghat and put lots of bleaching powder on each step. Even after that, when we tried to remove it, the smell was so awful that we felt we would faint!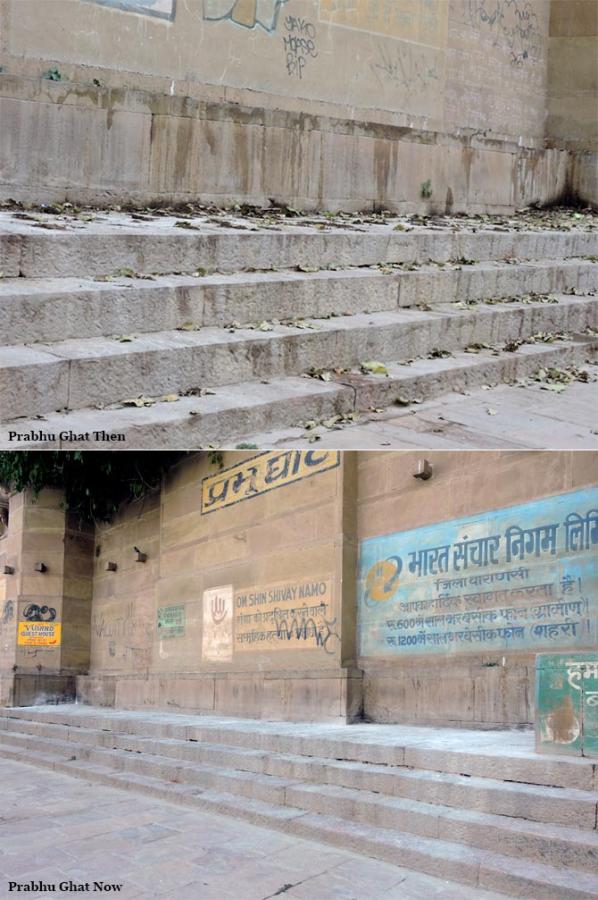 IMAGE: Sakaar volunteers fought odds to completely make over Prabhu Ghat and it is showing from these photographs taken before and after the Ghat was cleaned.
I still do not know how we cleaned it. It took us two full days to remove those layers of human excreta, which had been there for years. After cleaning, we washed the entire area with phenol and soap to get rid of the stench.
Even after washing ourselves several times, we felt we smelt of human excreta. It was so disgusting that we could not eat food for days! But the satisfaction of seeing the clean ghat compensated for all this.
When we returned on the third day, we found that a few people had again used the steps as public toilet. So we asked male volunteers to guard the place through the night to catch those who came there to defecate.
When our boys caught them, an aggressive guy said, 'I have been using this corner for many years. This is my place! You have no authority to tell me that I can't use this place.'
Another guy, a rickshaw puller, said he did not have the money to use public toilets.
Our boys calmly dealt with all of them. As punishment, we made them bring water in a bucket and clean up their mess.
After our major cleaning effort, open defecation came down dramatically. If there were hundreds of people who used the ghats as public toilet earlier, only one or two did so after our cleaning mission.
Personally, I don't understand the mentality of those who dirty the Ganga like this. I ask them, 'Don't you worship Gangaji? How can you do this to her?'
A prime minister takes notice
In 2015, we thought we would use social media as a tool to inspire people to make India swachch. We thought if we could inspire at least a few people, we would get more volunteers.
I started posting before and after pictures of Prabhu Ghat when we started cleaning it. Every day, I tweeted our progress with photographs as proof. Then, Niticentral wrote about our work.
On the night of March 31 last year, Modiji tweeted about our work. Early in the morning, friends called to tell me about it. I thought they were making fun of me since it was April 1.
I could not believe it when I saw his tweet. My first reaction was: I am just an ordinary woman. Can it be true that the prime minister of the country read about my work and appreciated it?
That was the starting point.
The local media came to talk to me. I spoke to many radio stations too. I feel the local people must be tired of seeing my face on television and in the newspapers!
What shocked the local people was that I was from faraway Nagaland. Everyone wanted to know, 'Why did you come all the way from Nagaland to clean our ghats?'
I told them cleaning was not new to me and I could do it anywhere. There is nothing to be ashamed of. I also tell them to start community cleaning like we do in Nagaland.
And then, another PM mention
I was watching Modiji on television when he was giving the speech in Toronto (on his three-day visit to Canada last year). I was stunned when he mentioned me. I just couldn't believe that he was talking about my work there too. It was too good to be true.
I have been an admirer of Modiji from the time he was the chief minister of Gujarat because of his work. The fact that he appreciated my work not once, but twice, left me speechless.
Meeting Modi
Darshika and I were among the 150 people invited by Modiji in July 2015 as those who influenced people through social media. The call from the PMO inviting us to 7 RCR left us stunned.
We were just ordinary people doing some cleaning work and we were being invited to the prime minister's residence. Even in our wildest dreams, we never thought something like this would happen.
At his residence, another surprise awaited. As I was entering, somebody told me I had to speak for two minutes about what we did. Only five of us were given the privilege to speak.
Though I was nervous initially, I spoke for two minutes in Hindi though my Hindi is not that great. By then we had cleaned four ghats. I also spoke about how I felt when the prime minister of the country tweeted about our work. When I said I thought I was made an April Fool, everybody started laughing!
The surprises did not end.
After all of us took photos with Modiji, he came back to me and asked, "So, what's your next plan?" Though speechless initially, I said, "Sir, we are maintaining the ghats we have already cleaned and moving on to other ghats too."
"Bahut badhiya (Very good)," said he and left the hall.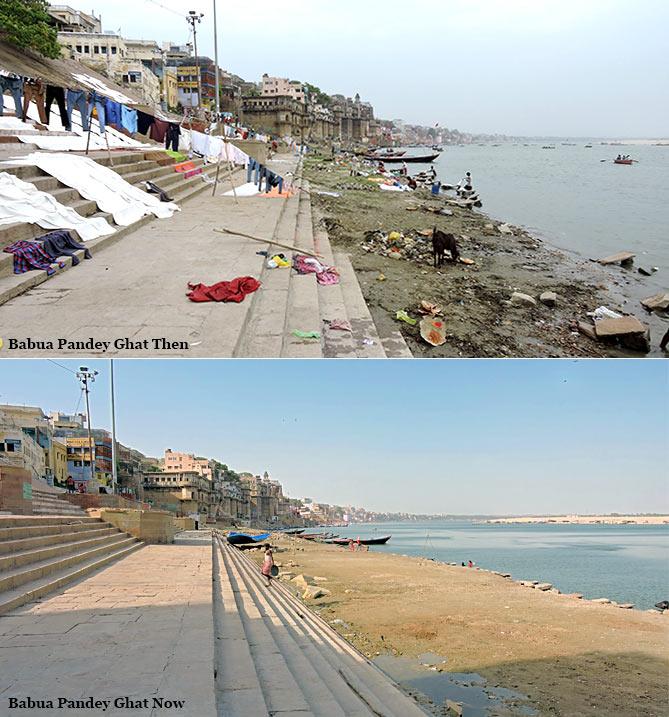 IMAGE: Just like Prabhu Ghat, Sakaar volunteers have completely changed the scene at Babua Pandey Ghat.
When he came to Varanasi, he invited us to meet him. I replied that we were 19 team members. They invited all of us. When we entered the room, Modiji smiled and said, "Yeh ghat safayi karne waale hani... (These are the people who have cleaned the ghats)."
The fact that the prime minister of India had appreciated our work encouraged us to work harder though we started working without expecting anything in return except our own satisfaction.
Now that the ghats were clean, we thought we should light diyas (small clay lamps) there. On Ganga Dussehra, we lit the Babua Pandey Ghat with 2,000 diyas; on Deepavali, we lit 10,000 diyas on two ghats. The people of Varanasi loved the sight!
Back home, more accolades
IMAGE: Temsutula Imsong with Amitabh Bachchan and chef Sanjeev Kapoor.
After Modiji spoke about me, and after I was invited to Amitabh Bachchan's show (Aaj Ki Raat Hai Zindagi), my village came to know what I was doing in Varanasi.
When I went there to celebrate Christmas, many people, including elders, came to meet me. I felt happy when they appreciated my work and blessed me. My parents are naturally very proud of me!
And now...
After what we have done so far, the municipal commissioner suggested we adopt some ghats and maintain them. We have adopted Babua Pandey Ghat and Pandey Ghat.
Prabhu Ghat, which we cleaned last year, is now taken care of by the Bank of India.
We plan to continue cleaning the ghats till people stop defecating there and learn to keep it clean.
In November, we started Shram Dhan, a project where volunteers join hands to make their own city or town or village clean across India.
After every Shram Dhan in Varanasi, we arrange a Kashi debate, as Kashi is famous for debates. After the debate, we talk to people about how important it is for the community to clean the place they live in, maintain it and feel proud of it.
Our country will not be clean unless every citizen is involved in the effort.
Temsutula Imsong's photograph: Shobha Warrier/Rediff.com
Temsutula's photographs with Prime Minister Narendra Modi and of Ghats: Kind courtesy, Temsutula Imsong