The Indian-American was one of the 8 real sheroes at the awards.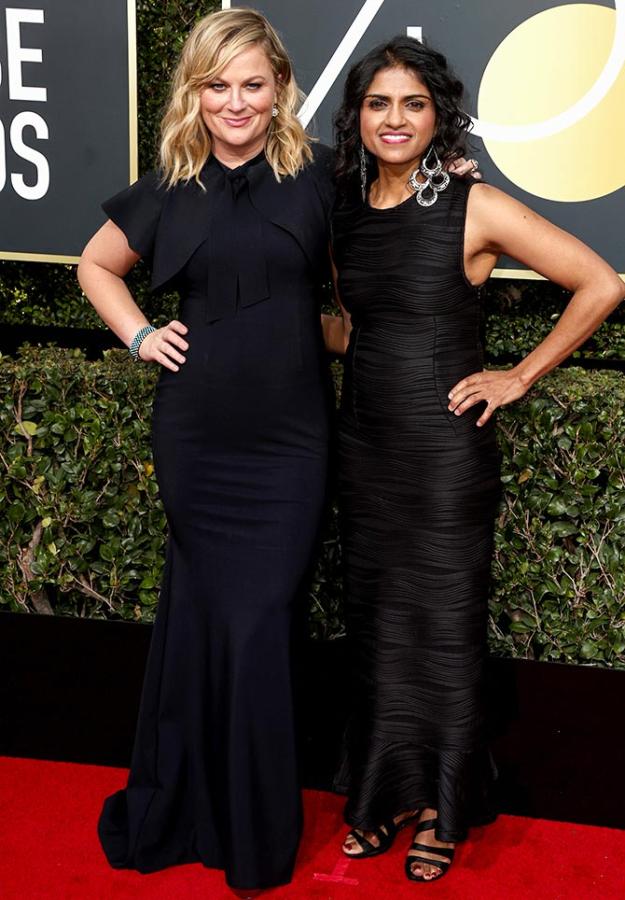 Amy Poehler (left) and Saru Jayaraman on the 75th Annual Golden Globe Awards red carpet.
Jayaraman also got a shoutout from the host of the evening Seth Meyers.
Photograph: Frederick M Brown/Getty Images.
Making a real statement on the Golden Globes red carpet this year -- probably even more than the black dress solidarity -- eight advocates and activists for gender and racial justice who have fought in the trenches for years walked in with actresses Michelle Williams, Emma Watson, Susan Sarandon, Meryl Streep, Laura Dern, Shailene Woodley, Amy Poehler and Emma Stone.
Explaining their move in a joint statement, they said, 'As longtime organizers, activists and advocates for racial and gender justice, it gives us enormous pride to stand with the members of the TIMES UP campaign who have stood up and spoken out in this groundbreaking historical moment.
'We have each dedicated our lives to doing work that supports the least visible, most marginalized women in our diverse contexts. We do this work as participants in movements that seek to affirm the dignity and humanity of every person.
'Too much of the recent press attention has been focused on perpetrators and does not adequately address the systematic nature of violence including the importance of race, ethnicity and economic status in sexual violence and other forms of violence against women. Our goal in attending the Golden Globes is to shift the focus back to survivors and on systemic, lasting solutions.
'Each of us will be highlighting legislative, community-level and interpersonal solutions that contribute to ending violence against women in all our communities. It is our hope that in doing so, we will also help to broaden conversations about the connection to power, privilege and other systemic inequalities.'
Among these activists was Saru Jayaraman -- the co-founder and co-director of Restaurant Opportunities Center, who has had the restaurant industry panicking in the past few years -- who came as Poehler's guest.
Jayaraman, a Yale and Harvard-educated lawyer, first hit the spotlight in 2008 when she was named to the Crain's annual '40 under 40'.
Crain's had cited how Jayaraman's battles with powerful restaurateurs like 'Daniel Boulud' and 'Alan Stillman' netted workers $5,80,000 in back pay.
'Helping the disadvantaged is more than a professional calling for Ms Jayaraman, whose passion was shaped by the struggles of her parents -- immigrants from India who worked hard to achieve financial success -- and those of her Mexican-American high school friends in Los Angeles,' the magazine added.
In 2013, Jayaraman published her book Behind the Kitchen Door, which talked about how restaurant workers, many of them immigrants and some undocumented, face racism, horrific working conditions, lack of benefits, and dire pay.
The book and her stellar advocacy record, landed her on the CNN 10 Visionary Women list in March 2014.
As Jayaraman's profile shot up, so did the anger of the businesses that refuse to "take the high road" as she put it in a conversation with this publication then.
Industry big-wigs like Richard Berman, who set up ROCExposed.com, went after her and ROC with full-page advertisements to spread his message about worker centers' faults; his site outlined ROC's 'hidden agenda,' 'flawed research,' and 'black eyes and hypocrisy.'
Jayaraman had said none of the critiques coming her way or directed at worker centers in general had stuck; they had failed to result in any restrictions being placed on them or their strategies. And she had called the attacks laughable, coming from a place of panic or fear at the success of the organizations'work.
She was then speaking after a recent win that got tipped workers included in a Washington, DC paid sick days ordinance, for which the National Restaurant Association had initially been able to keep tipped workers exempt from.
"This is one of the first times that we actually won legislation that tipped workers cannot be excluded,"Jayaraman had said. "It's the beginning of that happening around the country. We're moving ballot initiatives... and legislation in other places that says wages can't be lower if workers are tipped, so that's precisely what they're afraid of."
She had added, "They've had this enormous multi-billion dollar exemption special condition for themselves just because of their political power, basically saying they don't have to pay their own workers -- customers do -- they don't have to provide any of the benefits that other employers have to provide because customers pay their workers. We're actually starting to win that they should no longer have that wonderful special exemption, and that's what they're most upset by."
Jayaraman, of course, was no stranger to threats.
By the time she was named to the Crain's list, she had already been receiving hate mail for her advocacy. 'I sometimes feel threatened. But I can take the potshots if it helps us to advance,' she had told the business weekly.
Under Jayaraman, ROC has continued to win workplace justice campaigns against exploitative high-profile restaurant companies, obtaining millions for workers and improvements in workplace policies.
And what she had told this publication in 2014, still holds true, "As we've had more wins, you know moving things in Congress and at the state level, they are heating up their attack campaign because they're more threatened. They have this mobster idea about us, that when we put pressure on restaurant companies to do the right thing and follow the law, that that's somehow intimidation, even though they're multimillion dollar companies and we're a tiny little nonprofit organization. That's why it's flattering that they'd find that intimidating."
Meet the other change makers on the Golden Globes red carpet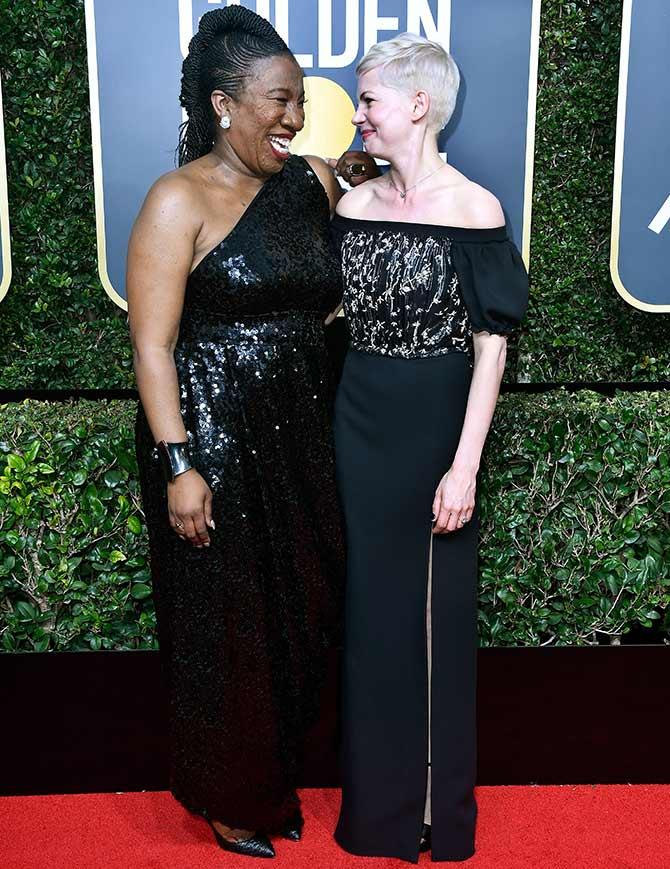 Tarana Burke, founder of the #MeToo movement, with Michelle Williams, who was nominated in the Best Performance by an Actress in a Motion Picture - Drama category for All the Money in the World.
Photograph: Frazer Harrison/Getty Images.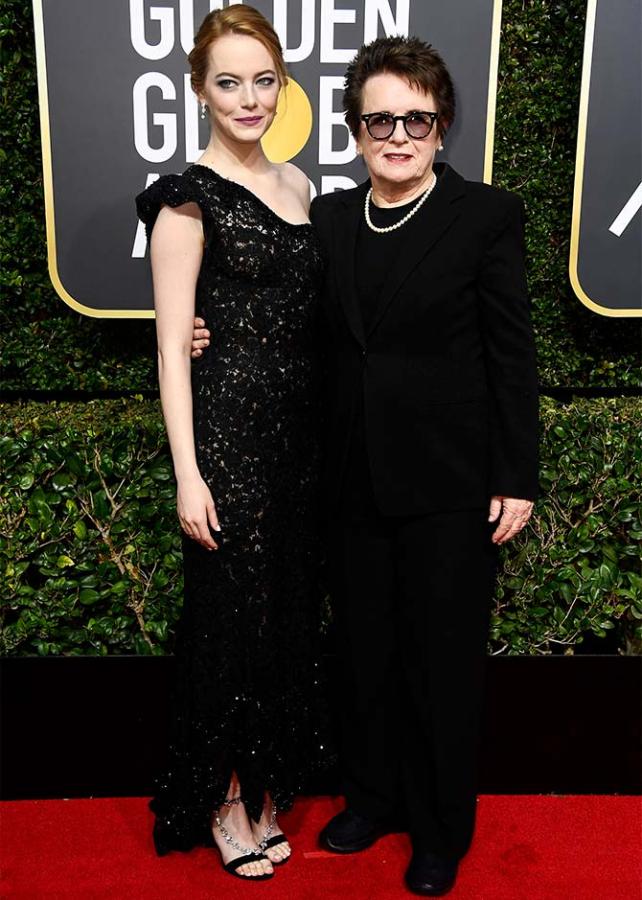 Actress Emma Stone, who was nominated in the Best Actress in a Motion Picture - Musical or Comedy category for Battle of the Sexes, escorted tennis icon Billie Jean King.
Photograph: Frazer Harrison/Getty Images.
Actress Meryl Streep, last year's Cecil B DeMille award winner and a Best Actress - Drama Movie nominee this year for her work in The Post, came with Ai-jen Poo, who organises immigrant worker women as director of the National Domestic Worker's Alliance.
Photograph: Mario Anzuoni/Reuters.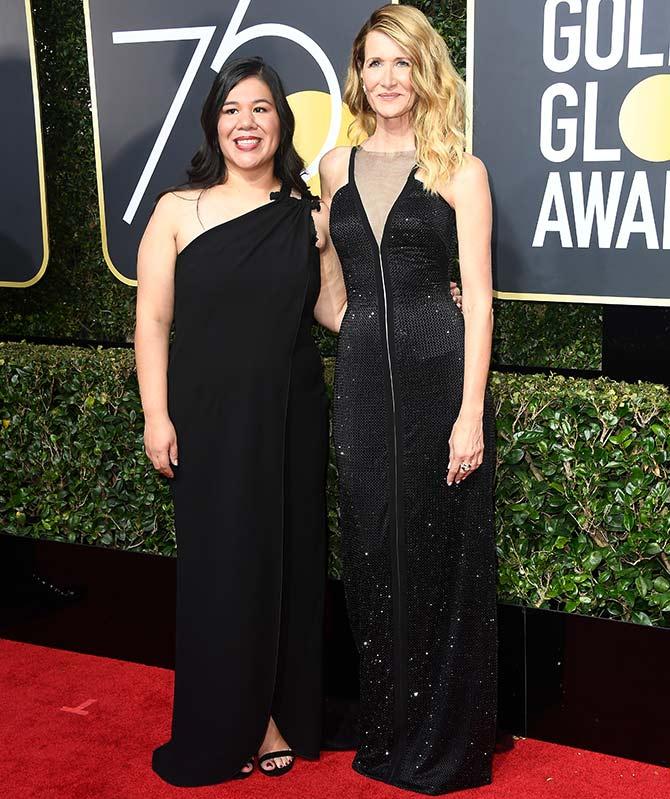 Monica Ramirez, who fights sexual harassment against farm workers was the guest of Laura Dern, who took home the Best Supporting Actress in a TV Series, limited series or TV movie trophy for Big Little Lies.
Photograph: Frazer Harrison/Getty Images.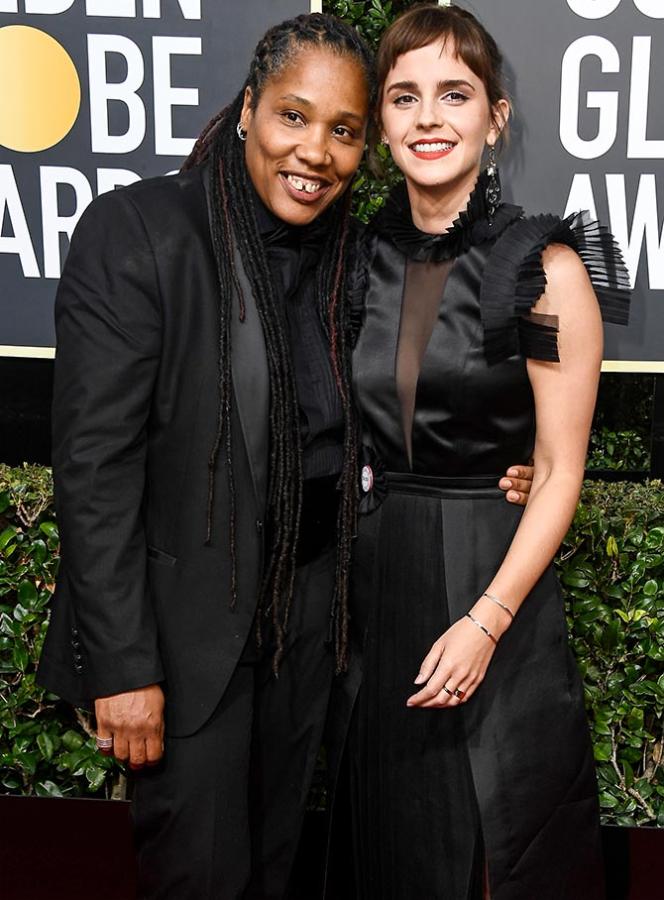 Emma Watson's guest was Marai Larasi, executive director of Imkaan, a network of organisations working to end violence against black and minority women.
Photograph: Frazer Harrison/Getty Images.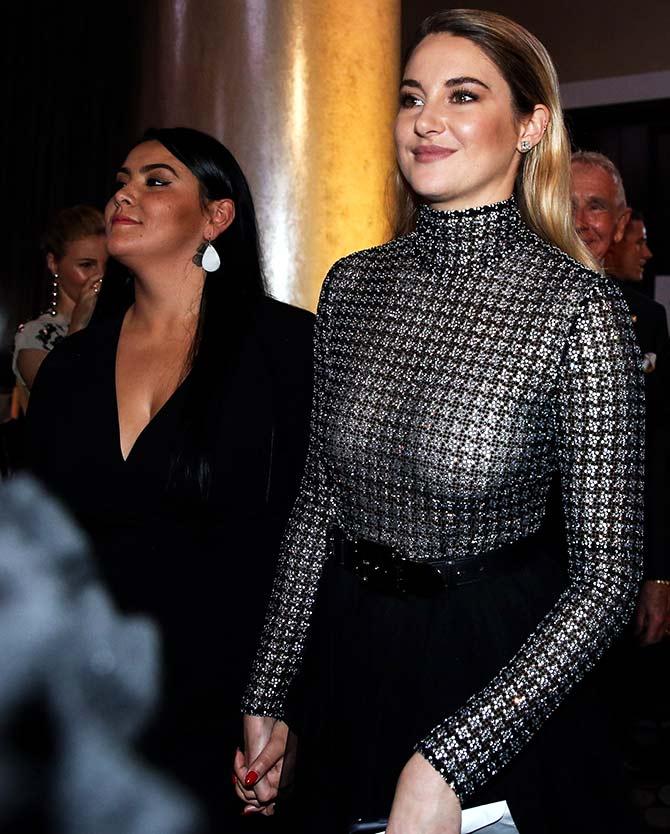 Native American activist Calina Lawrence accompanied actress Shailene Woodley, who was nominated for Big Little Lies.
Photograph: Lucy Nicholson/Reuters.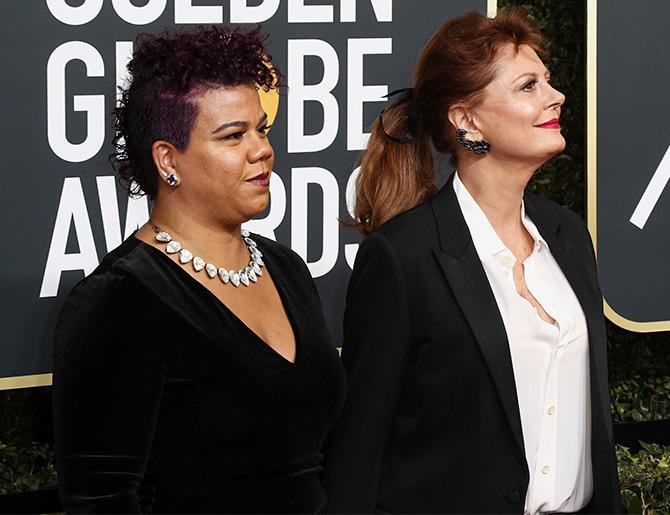 Susan Sarandon, who was up for a Globe for her performance as Bette Davis in Fued: Bette and Joan, arrived with Rosa Celmente, a community organiser focussed on voter engagement and political prisoners.
Photograph: Frederick M Brown/Getty Images.
The 2014 interview with Saru Jayaraman was conducted by Chaya Babu for India Abroad, then a Rediff.com publication.