With the arrival of the monsoon, many schools across India began the June term.
And for the first time in their lives your children began to experience online school.
Love it, like it or hate it?
How was corona-hijacked June 2020?
Did your child's school reopen for its new term last month?
You must have let out a huge sigh of relief when you learnt it would be online and your young son or daughter would not have to travel to school and be exposed to the scary COVID-19.
It was also a small, additional, blessing to realise that there would, this term, be none of those rushed early, early mornings with you and the kids scrambling about the home looking for uniforms, PE kits, schoolbooks, craft projects, misplaced homework and runaway pencil boxes.
Nor was there that race to pack tiffins and get the bleary-eyed children on the school bus.
Maybe now some of that relief is wearing off?
It's great to have the kids at home and safe, but aren't online classes pretty tough?
Between Zoom meetings and phone calls, on busy weekday mornings, you have to constantly keep an eye on The Beta, lest he switches screens and is playing some computer game, even as his teacher drones on in the background in some faraway virtual classroom.
And it's tough for children to stay focused and learn intricate concepts in math and science online. You have to invest so much more of your time in making sure your child keeps on track scholastically.
Lessons are never fun for kids, online or in the classroom, but there was always the joy of breaks, sharing lunch boxes and games.
And your child is no doubt pining for his best friends and there are no words that he can understand to explain why he can't see them.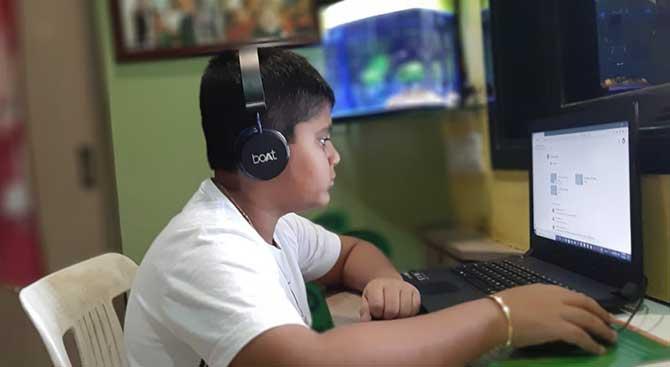 Have schools got the hang of conducting online classes?
Is your child losing out?
What are the difficulties you are encountering?
How uphill is the struggle for parents to keep their kids learning online?
Let us know your woes!
---
Dear Readers,
Please do share the highlights and details of your battle to get your child to master online learning and study from home. Tell us your problems. Describe what is working and what is not.
We would like to hear your story. We will publish the most interesting and relevant accounts right here.
Mail us at getahead@rediff.co.in. Please mention MY EXPERIENCE WITH MY CHILD'S ONLINE CLASSES in the subject line.
Don't forget to mention your name, age and where you stay. And if you have a picture or video to send in along with it, please do.
Feature Production: Ashish Narsale/Rediff.com