Jyoti Amge explains while Sadiya Upade listens in.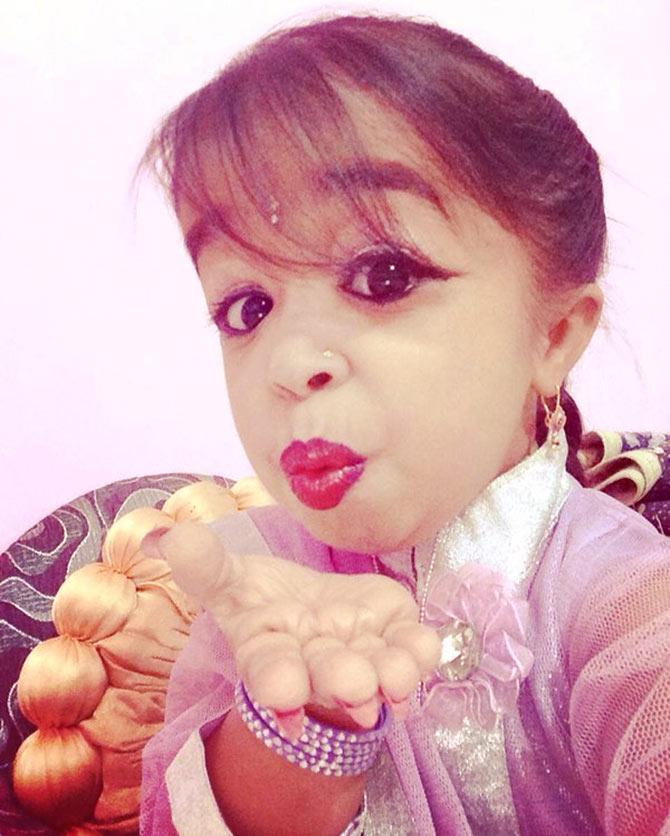 IMAGE: Jyoti Amge has been the subject of public fascination since she was three years old. Photograph: Kind courtesy Jyoti Amge/Twitter
The pyramids of Giza make an excellent backdrop no matter who's in the frame.
But when the models are the world's tallest man and the world's shortest woman, the picture that emerges is sure to startle the most jaded eye.
It's no surprise then that the pictures of Sultan Kosen, who stands at 8 feet 3 inches, and Jyoti Amge, a mere 2 feet 7 inches, at Giza went viral.
Brought together to give a leg up to Egypt Tourism, the photoshoot thrust the two record-holders into the limelight... again.
For 24-year-old Amge, none of this is new. She has been the subject of public fascination since she was three.
Standing at just over two feet tall, her diminutive stature drew stares, nasty comments, giggles and laughter as the years rolled by.
At 15, she was shorter than her two-year-old cousin.
"She used to look really small. So we decided to approach the Guinness World Records," says her mother Ranjana. The intervention turned Amge into a celebrity in her hometown, Nagpur, in Maharashtra.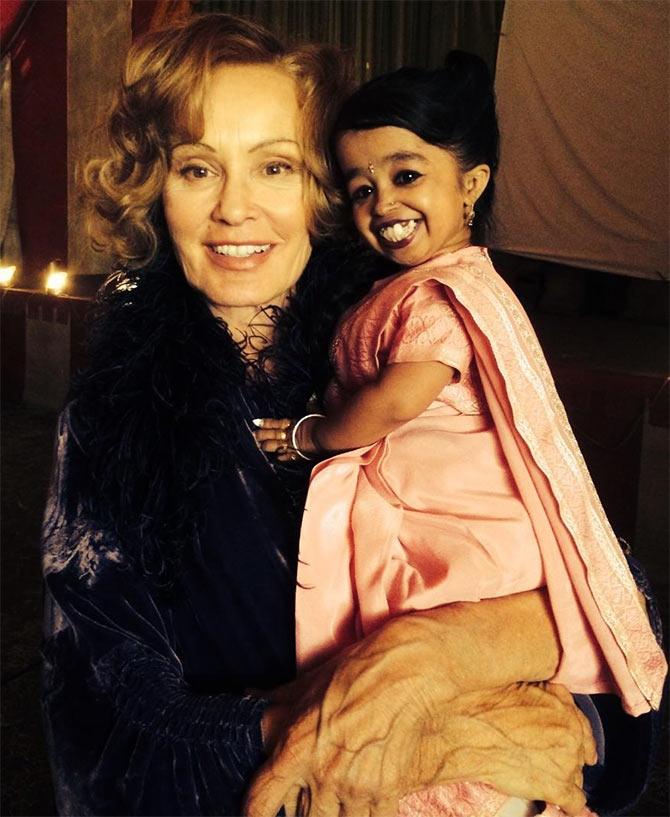 IMAGE: Jyoti acted in the fourth season of American Horror Story, the television serial starring Jessica Lange. Photograph: Kind courtesy Ryan Murphy/Twitter
Public interest in Amge started in 2007 with the Limca Book of Records.
She climbed on to the world stage two years later, when she appeared on Fuji TV's Bikkuri Chojin 100 Special No 2, a Japanese show that confirmed her as the world's shortest living female teenager.
And, on December 16, 2011, when she turned 18, she replaced the USA's Bridgette Jordan to become 'the shortest woman in the world'.
Despite her tiny stature, Amge is not the shortest woman in history. This title continues to be held by Pauline Musters from The Netherlands, who measured just 24 inches.
For Amge, the recognition helped smooth out prejudice, as also malice, but not the rigours of everyday living.
Suffering from a genetic disorder called achondroplasia, which causes dwarfism, Amge's physical development stopped around a year after her birth.
The stunted growth and calcium deficiency left her bones very brittle.
Prone to injuries and already bearing fractures in both legs, Amge is heavily reliant on her family.
While she can walk, her movement is restricted to short distances and she needs to be carried around for the most part.

IMAGE: Jyoti with Kathy Najimy, the popular Sister Mary Patrick from the Sister Act films. Photograph: Kind courtesy Jyoti Amge/Twitter
When Ranjana was pregnant with Jyoti, complications arose and the doctors had to perform a caesarean section.
"She (Jyoti) was diagnosed with the condition when she was three or four years old," says Kush Jhunjhunwala, who has been her doctor since she was a child.
"We tried growth hormones for six to eight months, but the parents eventually backed out. It was expensive and wasn't having much effect. And they weren't ready for alternative treatments for fear of further complications."
Consequently, everything -- clothes, jewellery, plates, cutlery -- had to be custom-made for Amge.
A replica of her tiny table and chair can be found in her college, where she is studying for an MA in English literature.
While she went to a regular school, at exam time she would be assigned a writer or given extra time as she could not write fast enough.
"When I first went to school, everyone was so big that I used to get scared," says Amge, explaining how she spent her initial days with the teachers. "Eventually, I made friends and they took care of me."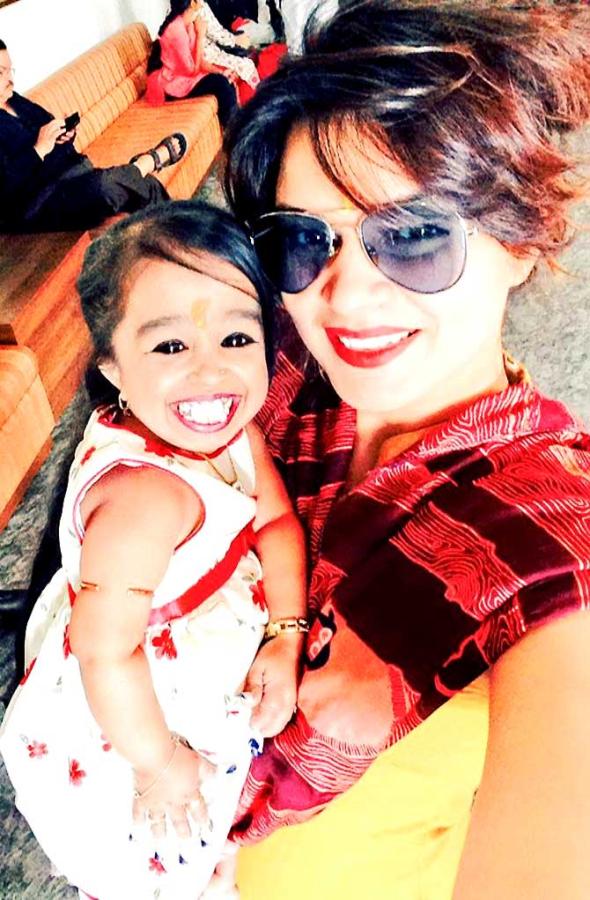 IMAGE: Jyoti spent a week on Bigg Boss Season 6, where she became friends with actress Aaksha Goradia. Photograph: Kind courtesy Jyoti Amge/Twitter
With the playground off limits, though, most of Amge's time was spent indoors watching television. And, eventually, a dream was spun.
She decided she wanted to become an actor.
The public gaze brought some opportunities.
She starred in a music video for singer Mika Singh.
A few years later, in 2012, she appeared in the reality show Bigg Boss as a guest, spending a week in the house with other contestants.
"Salman Khan is my favourite actor and I had so much fun talking to him," she says, still giddy with excitement.
Her own 'star' moment, though, came when she got a call from the makers of the cult television show, American Horror Story, to play the part of Ma Petite, a member of a travelling carnival.
'People like me might be small in stature, but they can also act,' Amge told ABC News later. 'Regular people should not underestimate people who are small.'
Soon People, Huffington Post, Slate, everybody wanted to write about her.
Several documentaries have also been made on her, including for Channel 4 and the National Geographic Channel.
The Guinness Book opened the gates, taking her around the globe, but always as an object of curiosity, not always benevolent.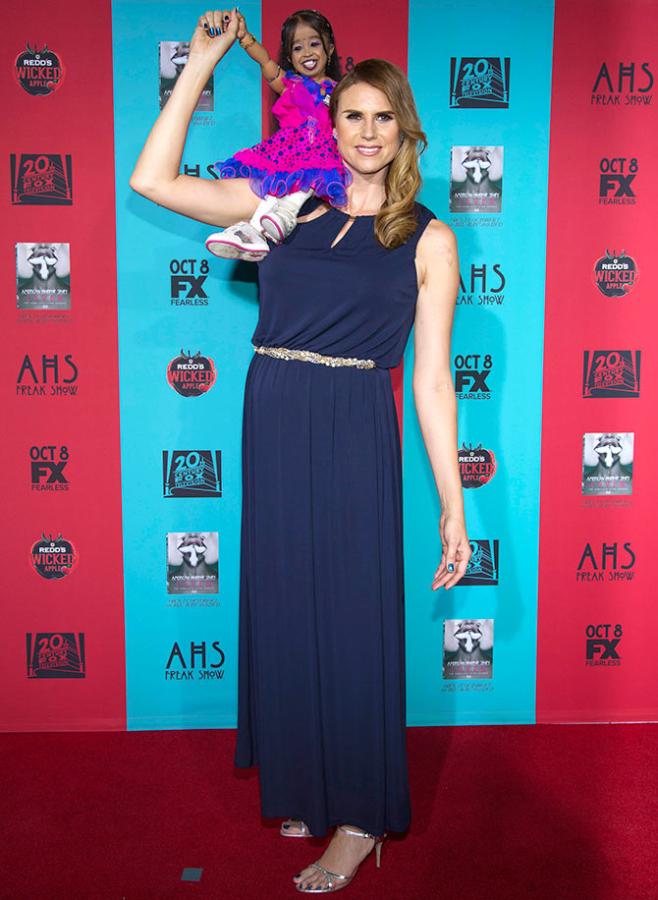 IMAGE: Jyoti with Erika Ervin, who is 6.8 feet tall and is part of the cast of American Horror Story. Photograph: Mario Anzuoni/Reuters
The Egypt shoot with Kosen in January, too, was organised by the Guinness World Records and Egypt's tourism board.
This wasn't the first time Amge was meeting Kosen. They had met earlier in Turkey and Italy.
"He's so tall that I can't look up at him for long. It's only when he sits down that I can speak to him," she says.
Over the years, the Guinness World Records has arranged different programmes for Amge, including with the 'shortest man in the world' in 2012-2013, the late Chandra Bahadur Dangi, who stood at 1 foot and 9.5 inches.
Even Amge was taller than him.
"I was taken aback on seeing him, just the way people get shocked seeing me. It felt nice to meet someone who I could relate to," she says.
"Despite being older, he worked much more than me," she adds, while letting on that she is a late riser and spends most of her day on social media.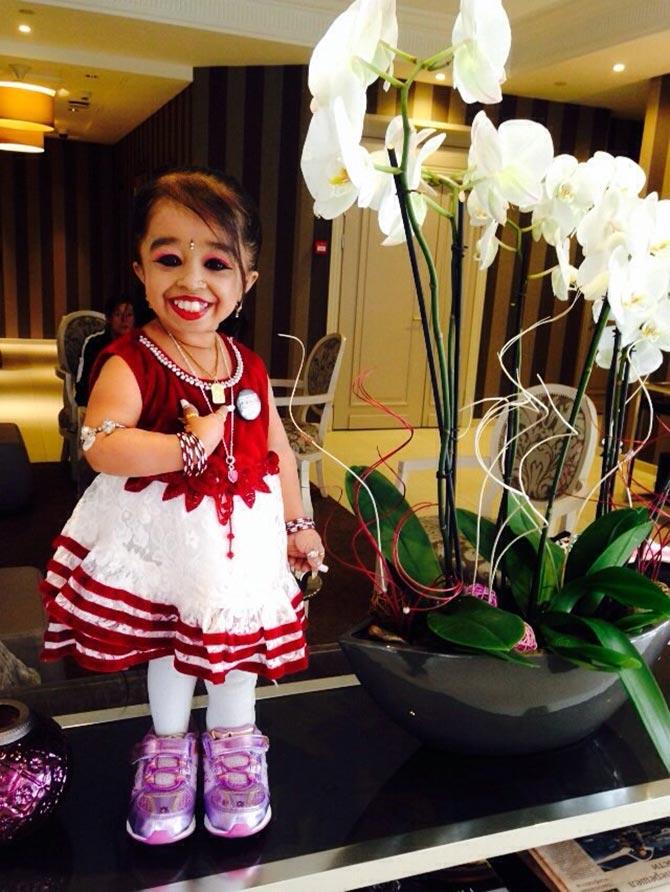 IMAGE: Jyoti loves shopping for clothes and sneakers. Photograph: Kind courtesy Jyoti Amge/Twitter
Amge's life revolves around events such as these -- and on buying clothes and sneakers, even though her cupboard is full of them.
"Earlier, I used to get stressed and couldn't go out much, but now I like doing so and speaking to people," she says, adding that she has even grown used to the constant requests for photographs.
The toothy smile and sunny personality are visible in all her snapshots. Not one to be daunted by the media glare, she says, "I love all the attention I get."
She answers her fan mail diligently and makes every effort to offer advice and encouragement to people like her who are struggling with body issues.

IMAGE: Jyoti with her Guinness World Records. Photograph: Kind courtesy jyotiamge.in
But there are incidents that push the limits.
Last year, the family had to lodge a complaint against a person of Indian origin from the US for circulating pictures of his alleged marriage with her.
Her confidence, she says, stems from her family, who takes care to guard her from any distress.
"Earlier people would say, 'She's so small, what will she do? What kind of future will she have?' But see how our girl has taken us around the globe," says Ranjana with unconcealed pride.
The family does not mind being a pin-up model for Guinness and looks at it as a way for Amge to achieve her dreams.
Detractors and critics, however, say the family now keeps looking for new ways to "monetise her".
Amge doesn't let herself be disturbed by these views. Her small world is only getting bigger and she is focused on making the most of it.