It was supposed to be a book reading, but watch out… the actor had bigger plans.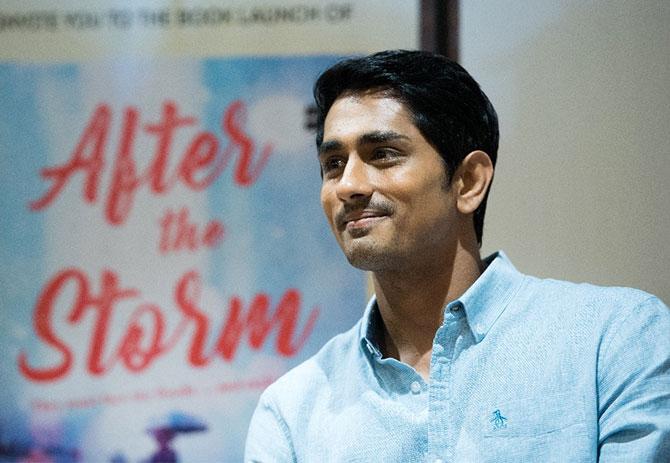 Known for his choosy roles, the dishy-looking actor Siddharth (of Kaaviya Thalaivan, Rang De Basanti and Nuvvostanante Nenoddantana fame) made a rare public appearance in Chennai recently to launch Lakshmy Ramanathan's latest book, After The Storm.
The 39-year-old actor, who hails from a family of avid readers, revealed that he had agreed to launch the book as part of his effort to encourage reading.
He also confessed that he has "read non-fiction for most of my life. But I can very happily and proudly tell you that Lakshmy is one of the very few fiction writers I've actually read and enjoyed."
Set amidst a media house and the marriage mongering sambhar mafia, After The Storm is a coming of age romance that hurtles towards the devastating rains and subsequent floods that hit Chennai and neighbouring districts in the year 2015.
The mega disaster that flooded even the houses of celebrities (including Siddharth's) saw help pouring in from everywhere -- from celebrities to uniformed personnel, from strangers to the neighbour next door.
Even though the actor's initial tweet on water entering his house was 'God save Tamil Nadu', he later emerged as a real-life hero assembling and directing help towards relief centres and citizen volunteer groups that had been formed overnight to help Chennai stay afloat.
Siddharth along with popular radio jockey Balaji created @ChennaiMicro handle on Twitter to further this effort.
Even now, as Kerala reels from devastating waters that have flooded the state, Siddharth has donated Rs 10 lakh to help with the relief work.
Siddharth, who arrived for the book launch directly from a shoot, enthralled his listeners with an electric reading. Later, he engaged them in an interesting discussion about books, movies and screenwriting.
Speaking on the rigid ways of the older generation fondly referred to as the 'sambhar mafia' in the book, the state and Filmfare award winning actor remarked with refreshing candour and wisdom, "Everybody thinks that they are climbing Everest but Everest was climbed a long time ago… and you are just going to do your version of it. That is how I approach things in my life. Even my most creative and dramatic moment has already been done better before by somebody else."
The actor will soon be seen in director Sasi's (of Pichaikkaran fame) next.
Scroll downwards to catch Siddharth's various moods during the reading.