Food blogger Vishaka Rautela tells you how to plan a surprise date at home. You can share your recipes too!
Why head to a restaurant when you can dish up delicious desserts at home?
Ahead of Valentine's Day, Vishaka Rautela brings you recipes that will melt in your mouth.
Strawberry Decadence
Recipe inspired by Ina Parmaan
Ingredients
1/2 tin condensed milk
1 lime juice
1 tsp vanilla essence / 1/2 tsp extract
150 gm cream cheese
1/2 pkt thick Amul cream
12 big chopped strawberries + 1 for decoration
1 tsp powdered chocolate
4 chopped marshmallows (optional)
Method
Blend condensed milk and lime juice well in a mixer.
Add vanilla extract and strawberries and blend once more.
Add cream cheese.
Whip the cream (use only the thick part, discard the liquid) in a separate bowl and then fold the strawberry cream cheese mixture into it.
Pour into glasses or bowls and refrigerate till serving time.
At serving time, decorate with chocolate powder and a sliced strawberry piece.
Strawberry Margarita Truffles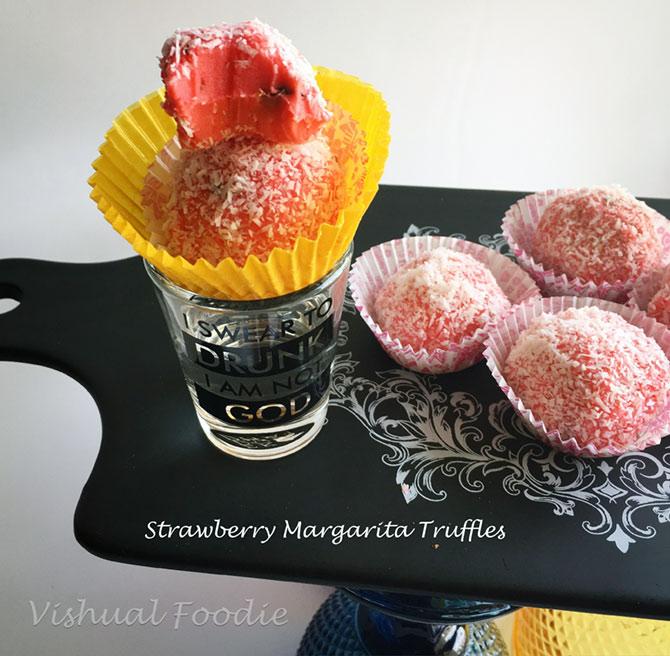 Ingredients
500 gm chopped white chocolate
1 packet Amul cream
2 drops pink gel colour
2-3 tbsp tequila
1/2 cup chopped dried strawberries
1/2 tsp salt
1/2 cup desiccated coconut
Method
In a heavy bottomed pan, heat cream till really hot. Pour over the chopped chocolate. Cover for 3-4 minutes and then mix till it melts. Let it cool.
Add tequila, salt and dried strawberries. Mix well.
Pour into a greased dish and refrigerate for an hour.
When set, scoop out portions to roll into balls.
Coat with desiccated coconut and refrigerate for four hours before serving.
Eggless Tiramisu
Ingredients
1 cup mascarpone cheese
1/4 cup castor sugar
1 cup whipped cream (soft peaks)
1 tsp gelatin
2 tbsp water
2-3 tbsp Kahlua/Baileys Irish Cream, Tia Maria/any coffee liqueur/2 tsp instant coffee mixed with a little warm water just to dissolve it. (I used Baileys)
1 cup chocolate cake crumb (you may use store bought chocolate slice cake too)
Cocoa powder for dusting
1/2 cup black coffee (1 tbsp instant coffee mixed with 120 ml water)
5-6 individual serving cups or 1 large bowl
Method
Beat whipping cream to soft peaks and keep aside.
In a mixing bowl, add the mascarpone, sugar, the coffee liqueur/coffee mixed with a little warm water and mix until incorporated.
Add the gelatin to 2 tbsp water and let stand for a couple of minutes before gently heating the same to melt the gelatin.
Once it cools, fold the gelatin and whipped cream with the mascarpone mixture and mix very gently to avoid collapsing the air from the whipped cream. Refrigerate until you prep the base.
Now get your serving cups out or if you're making one large serving and then slicing it up, one large bowl.
Arrange half of the cake crumbs (distribute evenly among the serving cups) at the bottom of the cups/bowl and press very lightly to even the surface.
Slowly dab the base with the black coffee mixture (use a pastry brush or pour gently with a spoon).
Spoon half the mascarpone mixture onto the prepared base and spread evenly.
Repeat with another layer of cake crumbs, black coffee and mascarpone mixture.
It's advisable to refrigerate the same for at least a couple of hours before serving. Cover it with cling wrap and refrigerate until needed.
Just before serving, discard the cling wrap and dust the top with cocoa powder.
Boozy Chocolate Mousse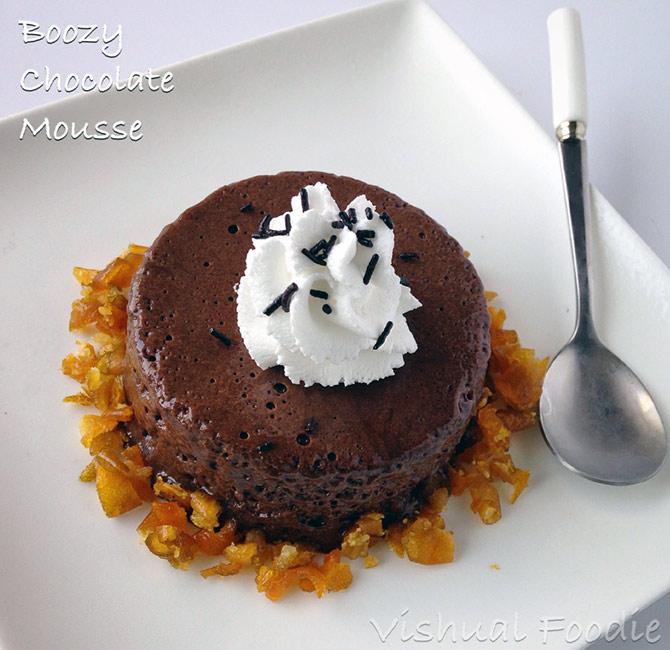 Recipe by Rhea Mitra Dalal
Ingredients
250 gm Morde pure chocolate
3 tsp castor sugar
6 eggs
2 tsp Cointreau (If you do not want to use alcohol, add 2 tsp of vanilla extract)
Dried candied orange peel, whipped cream and sprinkles for garnish

Method
Melt the chocolate in a double boiler (put a bowl with the chocolate in it on top of a saucepan with simmering water. Ensure that no water gets into the chocolate).
In one of the mixing bowls measure out the cointreau and 2 tsp sugar.
In the other bowl, put 1 tsp sugar.
Separate the eggs putting the yolks with the Cointreau and sugar and the whites in the other bowl. Make sure that the whites have no trace of any yolk.
Separate the eggs individually in a small bowl and then add into the large bowls. This ensures that in case a yolk breaks, the entire batch of whites is not ruined.
Once the eggs are separated, add melted chocolate to the yolks and beat till smooth.
Clean the beaters thoroughly and wipe clean. Beat the egg whites till firm peaks form.
Fold in the egg whites into the chocolate mixture using vertical circular movements with the large spoon. Don't stir as if you're cooking curry!! Fold in gradually incorporating as much air as you can. Scrape clean using a the spatula.
Pour mousse into a clean glass bowl, cover with foil or plastic wrap and refrigerate to set. The mousse will be set in a couple of hours.
Garnish with chocolate sprinkles and candied orange peel and or whipped cream.
Note: This recipe gives you about a litre of mousse, enough for about eight people. You can use liqueurs like Schnapps, Kirsch, Pear liqueur, Coffee liqueur or Cointreau.
Cognac infused truffles with fig and walnut
Ingredients
2 cups chopped dark chocolate
1 pkt Amul cream
2 tbsp butter
2-3 tbsp cognac
1/2 cup chopped walnuts
1/2 cup chopped dried figs (I used the ones I had soaked overnight in cognac as had some leftover, you can use without soaking too)
Method
In a double boiler/microwave, heat cream and butter and add the chopped chocolate.
Without overheating, melt and mix the chocolate, cream and butter well.
Add cognac, figs and walnut.
Pour into a greased dish and refrigerate for an hour or till it is set.
Once it is set, cut out squares and form little balls quickly.
You can decorate as per preference -- I used chopped almonds, chopped pistachios, coloured sprinkles, chocolate sprinkles, unsweetened cocoa powder, chocolate powder. Use your creativity to decorate with whatever you please.
Refrigerate for minimum four hours before serving.
Store away in an airtight box and refrigerate.
All photographs: Kind courtesy Vishaka Rautela
Dear readers, do you have interesting recipes to share?
E-mail your recipes to getahead@rediff.co.in (subject: Recipe) along with your NAME, AGE, LOCATION.
Also please provide a photograph and a brief description of the recipe (its history, significance etc), if possible.