Far from the madding crowds of north Goa, but replete with the sun, sand and shacks that one associates with a good old-fashioned beach vacation, Benaulim is one of those rare Goan villages with more starfish than holidaymakers.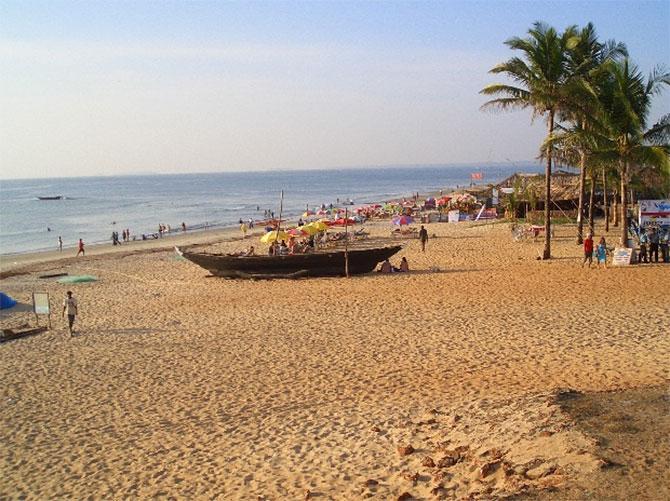 The other day, while returning from Mumbai to New Delhi, I saw that a flight to Goa was boarding at the gate next to mine.
A strange urge to jump gates came upon me, for every year at this time, the dreary North Indian winter makes my blood sing for the Konkan Coast.
Of course, I had to board the Delhi flight but spent the next two hours pleasantly daydreaming about my favourite winter destination: Benaulim in Goa.
Far from the madding crowds of north Goa, but replete with the sun, sand and shacks that one associates with a good old-fashioned beach vacation, Benaulim is one of those rare Goan villages with more starfish than holidaymakers.
And since we have returned to it time and again, it offers what more novel holiday destinations can never do — complete freedom from sightseeing.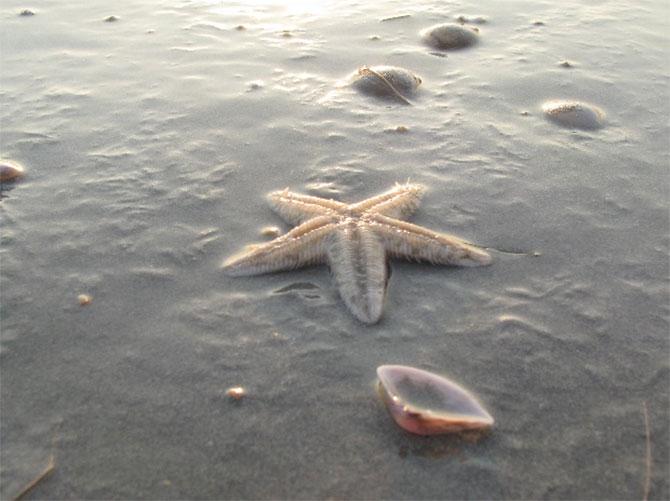 Much of Benaulim, including the local citizenry, is reminiscent of Mario Miranda's sketches.
There's Pascal, the mustachioed taxi driver who careens down the village's narrow lanes in his white Maruti van with fearless abandon, while his hapless passengers cling to the doors, windows or each other — depending on what they can get their hands on. We've often felt that whoever taught him to drive omitted to tell him about brakes.
His good humour and sangfroid, though, are unfailing, and he's helped us look for fruit bats, frisbees and public toilets with equal gusto.
Once Pascal took me to his house where his nearly blind father sat outside knotting fishnets and his mother was cooking up a storm in the kitchen.
"Never use store-bought coconut milk," said she when I asked how her curries tasted so good. I watched wonderingly as the frail old lady decapitated a coconut with deadly ease, using a scary-looking appliance from her kitchen arsenal. Other weapons included the deceptively beautiful red chilly garlands hanging in her kitchen.
Goans love to flavour their fiery curries with these chillies. So did she, I realised, as I saw her bung in a couple of dozen into her mortar, grind them into a virulent red paste with vinegar, and upturn the whole lot into what looked like a really small pot of fish curry.
There was some toddy to wash down the meal and later Pascal took me to visit a local toddy tapper (raponkar in the local lingo). By the light of the slanting afternoon sun, we tasted tiny glasses of toddy in different stages of fermentation from her medieval-looking copper still and I finally understood why Goans love their siesta so much.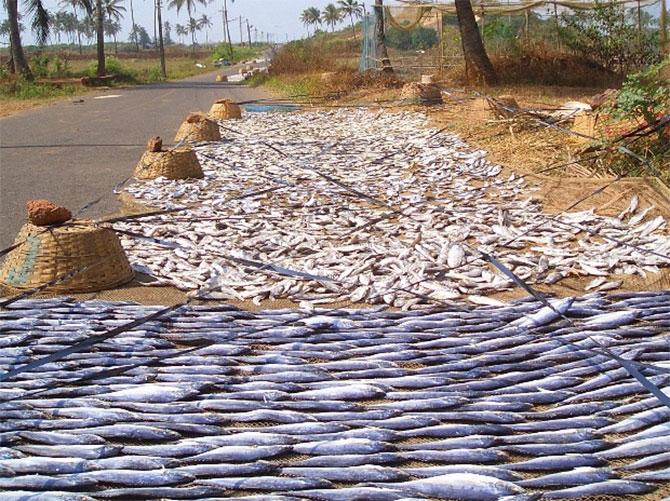 Benaulim is wonderful for aimless ambling, especially early mornings and late evenings when the sun isn't too strong.
We'd walk along the beach till the sun became too strong before venturing inland to shadier lanes. Often, we'd see fishermen spread their odiferous catch out to dry on the road. The salted fish would glisten like the sea, but so smelly that we'd have to rush past, gasping for air.
Often, we'd wind up in the 400-year-old Benaulim church. An old friar here once told us how when this was the only church for miles, brides used to arrive rather ignominiously on bullock carts dressed in their finery, while the rest of the wedding procession sweated it out on foot.
Most of our morning walks ended with breakfast, fresh papaya and chikoo washed down with some of that coconut water that Benaulim is so well known for.
I've never been able to get enough of it, even though Pascal told me that the local coconuts are so sweet because they've been fertilised by fish guts thrown in palm groves by generations of fishermen.
My reverie was interrupted by a stewardess wheeling a trolley of cardboard-like airline food and I recalled the everyday feasts we had in Benaulim.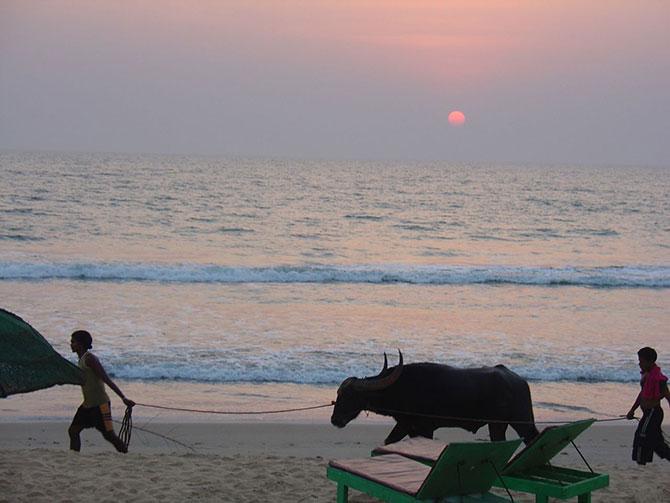 Photograph: Mandy/Creative Commons
Invariably, while we ate dinner on the beach, carolers would pause from table to table, singing "Jingle Bells" and "White Christmas" in thick Konkan accents.
I remembered tables groaning under the weight of fish and prawn curries, mackerel fried with Rechado masala (a spicy chilly and vinegar mix) and the occasional crab, washed down by not Kingfisher but the local King's beer.
In an effort to carry home some of Benaulim's magic, we'd stuffed our suitcases with local toddy vinegar, kokum, the deliciously sour berry that imparts such a unique tang to Goan food, and several strings of sausage, which we were assured was pickled well enough to keep for months.
Two hours later, when I reached home, a familiar aroma wafted to me. "We've been missing the beach in this dreary weather, so decided to get Goan fish curry made for dinner," said the kids. Great minds think alike, I thought as I sank into my chair, closed my eyes and tasted a tiny little taste of the place I'd spent the evening dreaming about.
Photographs: Business Standard
Click here for interesting travel features!