The Ministry of Women and Child Development's SHe-box deals with complaints from women employees in both public and private sectors. Aditi Phadnis reports.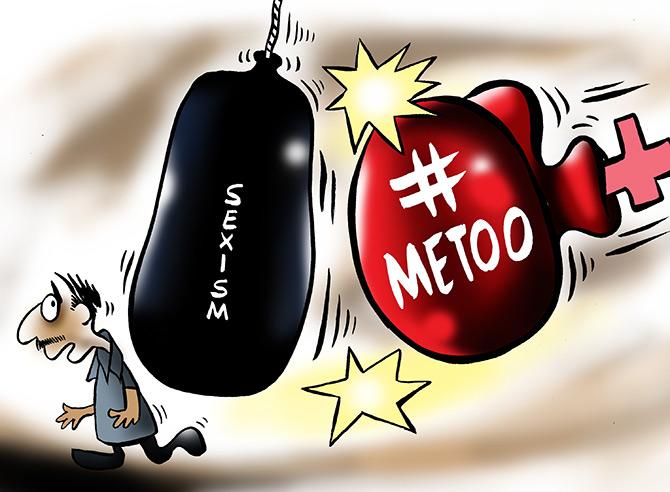 Illustration: Uttam Ghosh/Rediff.com
As many as 11,529 visitors have dropped in at the online Sexual Harassment electronic–Box (SHe-Box) available on the website of the Ministry of Women and Child Development (WCD).
This is a follow-up initiative and one badly needed to ensure the effective implementation of the Sexual Harassment of Women at Workplace (Prevention, Prohibition and Redressal) Act (the SH Act), 2013, promulgated in the wake of the 2012 Delhi gangrape.
A reserch by scholar Manisha Chachra, published in the data portal IndiaSpend, reported the dimensions of the problem, which affects all sectors that employ women: government or private.
The story of Ridhima Chopra, 25, is instructive. Chopra worked in the private sector.
"Three years ago, I was working as a fellow at a non-profit organisation based in New Delhi. At one point, I felt the need to flag the management about some coordination issues I was facing with my superior. I took my problems to another programme manager. But he started making unwanted overtures the moment I walked into his office.
"He suggested that we go to Connaught Place for a chat.
"I agreed, but then he later insisted that I accompany him to his place. Although I resisted, he persuaded me to agree.
"On the way, he started touching me inappropriately and commented on what I was wearing. When we reached his place, he asked me if I drink and when I said no, he asked me to sleep with him. Despite a clear 'no', he continued to force himself on me.
"My colleagues encouraged me to file a complaint. I found that although my contract mentioned a committee to investigate sexual harassment, there were no details. There was mention only of a panel that would be constituted in 'rare instances of sexual harassment'.
"I took up the complaint with my superior, who then took it to the human resources (HR) manager and the city director.
"But my relationship with my boss was already strained -- he said it was all my fault. I ended up leaving my fellowship incomplete. Before I left, the HR manager sought a written exit interview and even though I mentioned the harassment my complaint was not taken up.
"The programme manager's career, however, soared high."
SHe-box is designed to address precisely these situations.
Although the law mandates Internal Complaints Committees (ICCs), in a 2015 study, consultancy Ernst&Young (EY) found that two in five IT companies were oblivious to the need to set up ICCs and 50 per cent of advertising and media companies had not conducted any training for ICC members.
SHe-box is one answer: you can, without being compromised, file a complaint online.
If you are working in a Union or state government concern, your complaint will be directly sent to the ICC of the employer having the jurisdiction to inquire into the complaint. Through this portal, WCD as well as the complainant can monitor the progress of inquiry conducted by the ICC.
SHe-box deals with complaints from women employees in the public and private sector both.
The dimensions of this move are manifold.
The Government of India is the largest employer in the country, employing around 3 million people to carry out its various functions. According to the census of central government employees, 2011, women constitute 10.93 per cent (337,000) of the total regular employees. And this is just the central government.
And the problems are the same.
Although the WCD ministry is yet to post data on how many cases have been reported through the SHe-box and how many disposed (the scheme was inaugurated on November 7 this year), it does represent a move forward.
There is now someone who will actually hear Ridhima Chopra's complaint.