The unique pageant aims to show the world that beauty can have various meanings, says Geetanjali Krishna.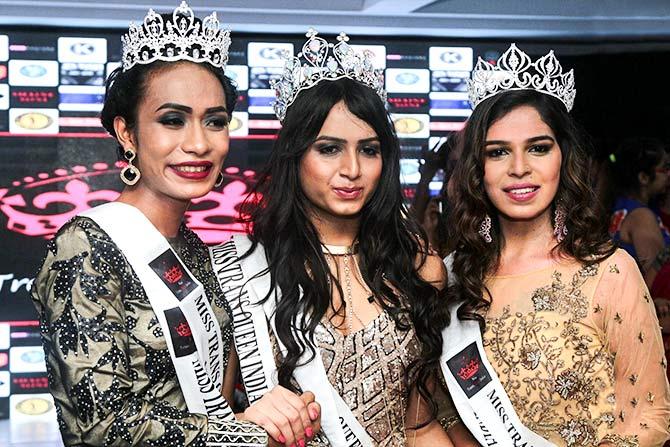 As we neared the end of our freedom month, a unique pageant in Gurugram celebrated a different kind of freedom.
At stake was much more than the crown of Miss Transqueen India 2017 -- as they walked the ramp, transsexuals from across the country hoped to break the oppressive conventions of existing beauty norms.
"Through this pageant, I want the world to see that beauty comes in all the colours of the rainbow," says Reena Rai who single-handedly organised this pageant with a single sponsor -- her husband, Manoj Rai.
The finale in Gurugram last month was the culmination of an arduous year-long journey of auditions, workshops and preparation for Rai and her company, Suhani Dreamcatchers.
"But the finale won't be the end," she points out. "We'll groom our three finalists to participate in international pageants, perhaps even for the titles of Miss Universe and Miss World."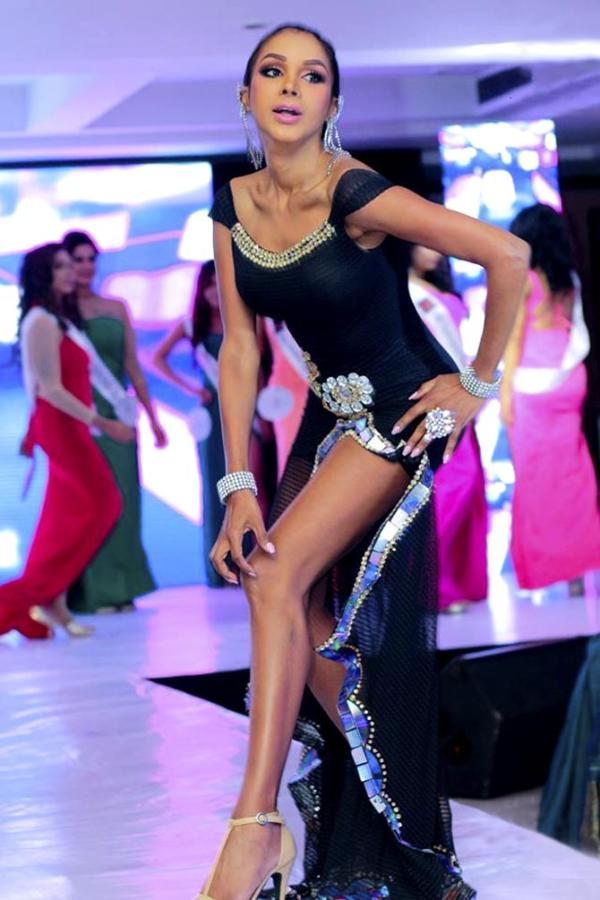 Here's a look at some of the contestants (only 16 were chosen out of the 1,500 who participated in auditions held in Delhi, Mumbai and Imphal).
Manipuri Khumanthem Rocky Singh is a professional makeup artist working with MAC cosmetics.
Nitisha Biswas from Kolkata has been a stylist at fashion Web site Jabong and is presently writing an autobiography, Nitisha: The Voice of Many.
Loiloi is pursuing a PhD in linguistics from Manipur University.
Ragasiya Ayesha, 24, is a fashion model.
And Tanu Singh is a model from Ludhiana.
For many of them, getting together for the finale has served as a chance to understand how similar many of their life journeys have been.
Many have struggled to find acceptance from family and friends.
Namitha, a 27-year-old model and actress from Chennai, talks about how hard it was to convince her parents that gender reassignment was imperative for her well-being.
"Eventually I filed a case against them, arguing that I was a major who could independently take important life decisions," she recalls.
For others, like Nikki Mehta, the decision to undergo gender reassignment surgery marked a complete breakdown of relationship with their families.
"I was a call centre executive in a Gurugram BPO when I decided to embrace my true gender," says the 26 year old. However, she faced immense discrimination afterwards. Job opportunities simply dried up.
"I tried modelling," she says, "but got no assignments."
Eventually poverty and starvation forced her into sex work.
"I long to see my family back in Rishikesh," she says, "but would only go back to them when I have achieved something. That's why this pageant is so important to me."
Many of them talk about discrimination and lack of professional opportunities.
"I've found that to get any sort of a professional career as a transwoman is not easy," says Shivali Chhetri.
"I have been a dancer for the last 12 years, adept in 20 different dance styles and yet I find it hard to get assignments."
Most of them, however, agree that though the process has been long and painful, transitioning as women has felt like a true homecoming.
Rocky Singh says she started dressing as a girl when she moved from Imphal to Bengaluru.
"People said I looked great in pants, that I had a good dress sense," she recalls.
However, it was after she changed her gender on her passport that she felt truly like herself.
"Gender transition has been a liberation for me," says Nitisha Biswas.
She hopes that her autobiography will reach many young people who are grappling with their sexual identities.
Shivali Chhetri's transitioning has been documented in a short film, Coming Out As Shivali.
"I work with an NGO to council young boys who wish to undergo gender reassignment surgery," she says.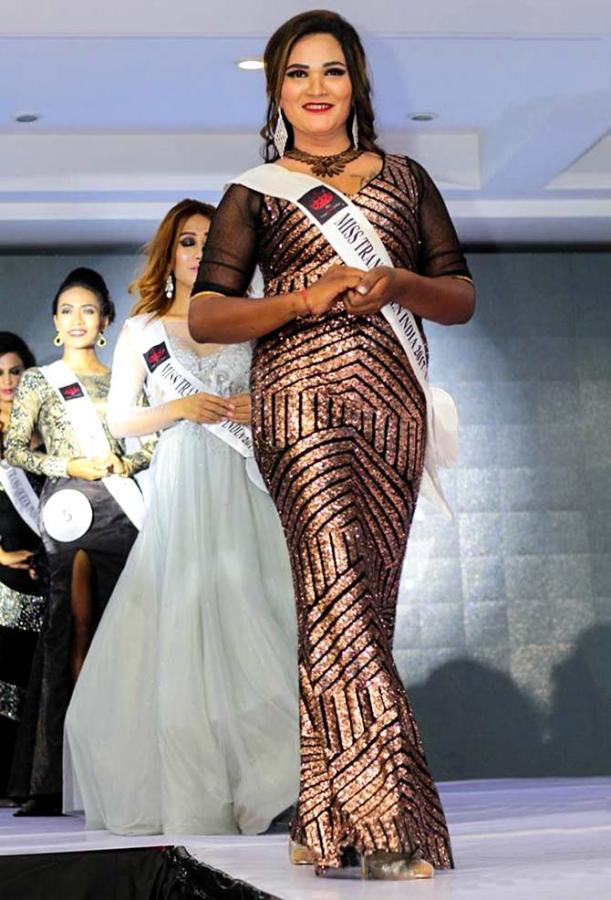 For Rai, it is such stories that make the hard work organising Miss Transqueen India 2017 worthwhile.
"I've spent Rs 10 lakhs from my own pocket so far," she says. "And I expect to spend about Rs 5 lakhs more."
Funding wasn't easy to find.
"Not many think that mainstreaming sexual minorities is a worthy enough cause," she says ruefully.
Her crowd-funding page and video on Milaap.org did generate some interest, though.
Rai managed to get several eminent personalities on board as mentors and judges.
These included fashion stylist Shaine Soni, one of the judges as well as a mentor.
Others included Sushant Divgikar (Mr Gay India 2014), Gauri Sawant, transgender activist, and Hector Ravinder Dutt, psychologist and principal of the Delhi Public School, Rohtak.
"I feel that schools have a vital role to play in developing the self-confidence of adolescents who are questioning their gender identity," says Rai.
"In fact, Dutt and I have discussed that early acceptance and support from school might prevent many transgender students from dropping out, giving them a better chance to have mainstream education and careers."
The very confident and poised five-member Manipuri contingent at the pageant bears her theory out.
"In our society and among our families, transgender people are easily accepted,' says Loiloi.
"In fact, they are recognised for their contributions and are given fair and equitable treatment."
Rava Khangembam, a law student, points out that their state government has sponsored their travel costs.
"Everyone back home wants us to show the country what we are capable of," she says.
Meanwhile, all the contestants finished getting their hair and makeup done for the photoshoot.
"It's show time!" announced Soni.
The girls stood up, resplendent in red chiffon, teetering on precipitously high heels.
"Always tuck in your tummy when wearing chiffon," says Soni, "it improves the silhouette."
As the camera begins to click, the contestants strike pose after pose.
A girl strikes a particularly saucy pose, making Rai smile.
"I want these girls to become the next Sushmita Sen or Aishwarya Rai," she says. "If they believe they can do it, I'm confident they will."
As I watch them pout and pirouette one minute and gather around Rai for a group hug the next (incidentally, they all call her mother), I wonder if these young women realise that they are making history of sorts even as they redefine notions of gender and beauty.
"I hope that when people see the wealth of talent among us in the finale, they might understand that gender isn't determined by what's between our legs," Biswas says, her brown doe eyes welling up earnestly.
Then she places her manicured hand on her heart: ";Gender is what we feel up here."
An exhausted Rai flops on a sofa and surveys the photoshoot.
"Transgenders don't just drop out of the sky," she says. "We give birth to them, you and I. We are their mothers, we are their fathers, sisters and brothers."
Accepting this, she says, is the first and indeed the hardest step towards empowering the third gender.
As we listen to them talk excitedly about hair extensions, makeup and clothes, I muse that this unique pageant has given many contestants the chance to rise above their difficult circumstances and become for the first time in their lives new queens on the ramp.
Photographs: Kind courtesy Miss TransQueen India 2017