Are we teaching our children or are they teaching us?
Divya Nair, mother of a little boy, wonders.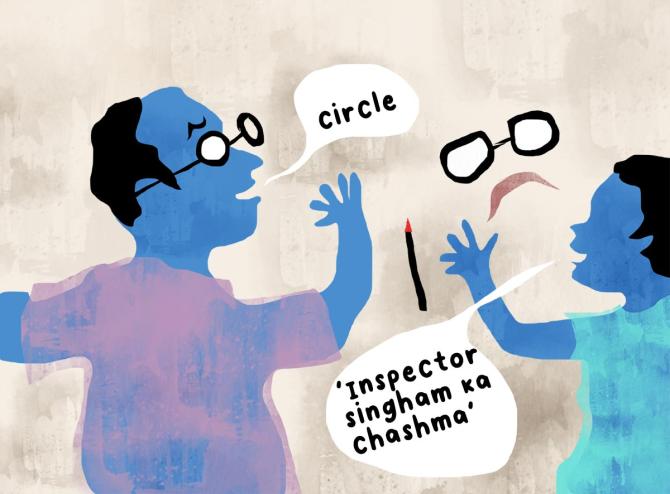 When William Wordsworth said, 'The Child is father of the Man' in his poem My Heart Leaps Up (written on March 26, 1802), he may have envisioned the future of schooling and parenting.
As the mother of a little boy, I have realised how true these words are; children do, indeed, teach us a lot.
Unlike adults who are burdened with baggage, rules and a sharp sense of judgement, kids are curious; they are open to learning and to interpretation.
They have an independent mind and heart and their own unique way of understanding things.
My son was three when I began teaching him to write English alphabets.
I showed him how make an H with two standing lines and one sleeping line.
He turned the board and told me it looks like an I.
Then, I showed him how to draw a circle. He drew a circle next to it, connected both with a sleeping line and said it looks like "Inspector Chingum ka chashma" (Inspector Chingum, a popular animated cartoon character, wears sunglasses.)
Though I think I am sitting down to teach him, he often ends up teaching me something I least expect.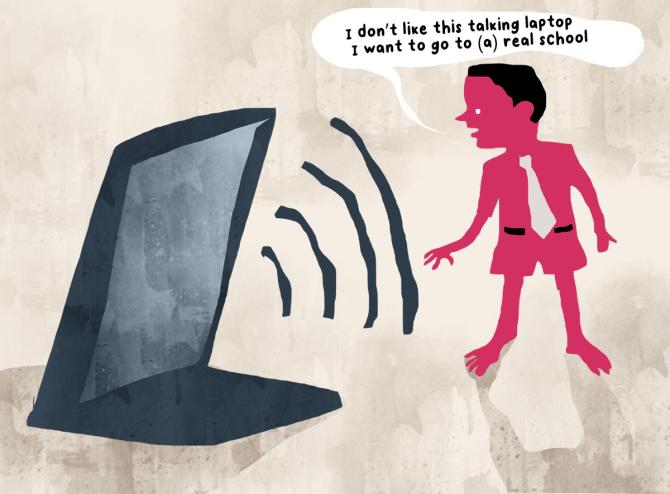 He is four now and full of questions that make me think and look at things from a new perspective.
Like, why is the picture of a hill and a mountain so similar?
Why is the small letter L similar to the capital I or the number 1?
While finding jumbled numbers to place on the magnetic board, he asks me: How do I know 6 is different from 9?
In one of his first school assignments on sensory organs, there was a black and white image of a square-shaped object. Due to poor drawing skills or the lack of colour, it looked to some like an ice cube, to others like a scrub and still others like a bar of soap. This led to a 30-minute discussion in the parents's WhatsApp group about whether the child should circle smell (for soap) or skin (for cold).
Online school, clearly, comes with its fair share of challenges.
As if all this additional, persuasive thinking wasn't enough, parents have to deal with the everyday challenge of making the child sit for two hours before a 'talking laptop' (my son's first description of online school).
His exact words were: "I don't like this talking laptop. I want to go to (a) real school."
On some days when our personal laptop is not available, we make use of his iPad to attend school.
While I am yet to come to terms with its functions and features, my four-year-old happily guides me on shortcuts to reduce volume, change his virtual background or pin a presentation.
If I struggle, he'll immediately call out and ask help from his Papa because "Papa knows how to do it."
He switches off his video when it's a break and refuses to chat with his classmates because his teacher has told him to "stretch your legs, take a walk."
It's a different story that, when we were in our hometown, he walked to the neighbour's house during the break, found their cat and was so busy playing that he had to be unwillingly dragged home to finish the rest of his online class.
Once he got angry with me because I attended his class without taking permission from his teacher.
He said, "Amma, I am in school. You have to take permission from the teacher to sit with me."
With him, each day is a learning experience.
Soon after the Raksha Bandhan festival, he asked me why Amma and Papa cannot tie rakhiz to each other because Raksha Bandhan means protecting each other.
When I ask him to close his eyes during his prayer, he points out that sometimes his teacher has her eyes open, so why can't he?
As a parent, you can't always think of the perfect answer because kids are full of surprises because their minds interpret things very differently.
My son likes the national anthem because, for him, it means school is over and he can play with his friends and toys.
As I write this piece, we are discussing if papaya is green, yellow or orange.
But that, I guess, is the beauty of learning with kids -- to be ready to unlearn and to always have an open mind.
Feature Presentation: Rajesh Alva/Rediff.com