'India is a country where many of the problems need local solutions and some be solved using basic science.'
IMAGE: The Infosys Science Foundation lectures aims to take science to the common man -- both in rural and urban areas. Photograph: Kind courtesy Mann Deshi Foundation
Indian parents still consider research and science as the last option after engineering and medical studies for their children.
There are not many pure science-focused research universities in the country.
But if the country needs to look at long-term progress, students should be trained in basic science and learning should be fun.
"This can be achieved by training the educators, thereby reaching millions of school students," says S D Shibulal, co-founder, Infosys, and president of the board of trustees, Infosys Science Foundation, in an interview with Ayan Pramanik and Raghu Krishnan.
How has the Infosys Science Foundation progressed during the past eight years?
We had started the Mathematics Prize before and, once we realised the impact, we set up the Science Foundation.
The purpose of the award is to recognise people for outstanding achievement, but the more important goal is to create role models for youngsters.
This has become an aspirational award. When I talk to scientists, they are looking forward to this prize.
Many of the winners have gone on to do bigger things and have been recognised further like (former Reserve Bank governor) Raghuram Rajan, (department of biotechnology secretary) K Vijay Raghavan and (Fields Medal winner) Manjul Bhargava.
We have launched a number of programmes; connecting with the Prize are the Infosys Science Foundation lectures that is the way to take science to the common man -- both in rural and urban places. This has been going on for three, four years.
We have to start with the children as our education system discourages curiosity among students.
This year, we have started a deep-dive in physics -- an initiative called Immersion Programme, where we have taken 50 children from all over India through an application process and taken them to the Regional Institute of Education, Mysuru.
We have some of the best teachers teaching physics. The pilot programme has started this year. We want to also teach mathematics this way.
How would you evaluate science education in India during the past decade?
If you look at recent government activity, there has been a lot of focus on basic science.
First of all, our school education is very broad-based and not experience-oriented. We don't have many research universities.
Most universities are education-oriented, but we need to have more research-based universities and there has to be a link with the research work and the industry.
Some of the research work is based on what the industry needs. Outside India, there is a close link between research and industry.
India is a country where issues are there in almost everything -- healthcare, sanitation, water, education, etc. Many of the problems need local solutions and some can be solved using basic science.
The tragedy of India's education system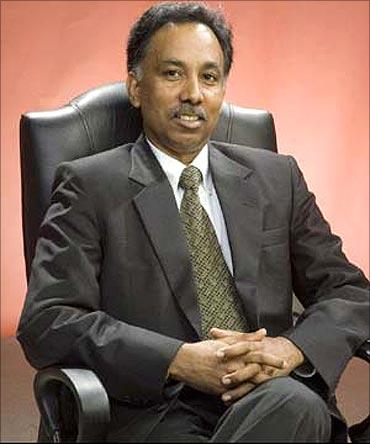 There has been enough talk about the quality of education. How do you solve the problem of academic focus versus improving concepts of basic science?
(S D Shibulal, left) If you look at courses in CBSE and ICSE, they are starting to make the shift.
The challenge is also to change teachers' mindset. That is where a programme like Gnanadeepa will make sense.
We are working with the Agastya International Foundation to train teachers from rural schools, where they have a concept called mobile science labs to reach out to schools in villages.
How do you plan to take it to the national level?
Most parents ask their children to take up either engineering or medical streams.
The idea is to promote research as a career in life.
There is a re-thinking happening.
The winners are either taking up bigger responsibilities or interacting with different stakeholders. They're the ones who should influence the ecosystem.
We are creating agents of change. That is one path we have chosen.
These numbers are not small. Under Gnanadeepa, we are training 2,400 teachers.
When they get out of the training, they are expected to teach at least 100 students each.
The most important thing for us is also to understand the impact.
People say technology can be used to deliver courses...
Our eco-system is very large and it takes time to implement things.
There is a will and sense of need; sometimes the sense of urgency is slightly less.
The scale is daunting. Technology can be used as a delivery mechanism, but you cannot replace the person.
Do you feel people who are experienced in labs will get into teaching in rural areas?
We need to figure out a way to give them respect.
There are enough good teachers in the system, but we need a lot more.
They have the ability to come out with the research work or idea and commercialising is still difficult.
Outside India, that ability and framework are there. I'm hoping the government will create those frameworks here.
Are you seeing a reverse brain drain in science in India?
Definitely, there is a reverse brain drain, especially in the commercial space. But not in the field of science.
S D Shibulal's photograph: Kind courtesy Infosys