Here's a community that stays united in its desire for facial hair in Bengaluru.
Photograph: Kind Courtesy indianbeards/Instagram
After a host of conversations that began with men and women quizzing him about his beard, Vishal Singh realised that a well-maintained beard was more than just an ice-breaker.
"People wanted to know which saloons I frequented, what products I used and if I had trouble while kissing someone or eating food," says the 30 year old, chuckling as he puts down a glass of frothy cold coffee. There's no froth left behind on the full beard that covers much of Singh's face.
Realising that a beard was beyond race, religion, caste and creed, the Bengaluru-based wedding planner and event manager decided to 'unite' his bearded brethren under the banner of Bangalore Beard Club.' The intention, he says, is to celebrate everything that beards represent.
"Though it's essentially a lifestyle choice, a well-groomed beard signifies a person with maturity and patience," Singh suggests. "Once you start working on your beard, you'll automatically start taking care of your body too; it all starts happening when you are clear about what you want."
As interest in the club continues to grow online, the first of many events saw awards being given out last week for the 'longest beard' and the 'best beard'.
While the club, with seven members at its core, focuses on building an offline community with indoor and outdoor events -- contests, bike rides, photoshoots and open-air cookouts --. only men with facial hair can join in on the activities.
"You have to show some sort of commitment to the club. Even if you have a stubble, maintain it," says Singh.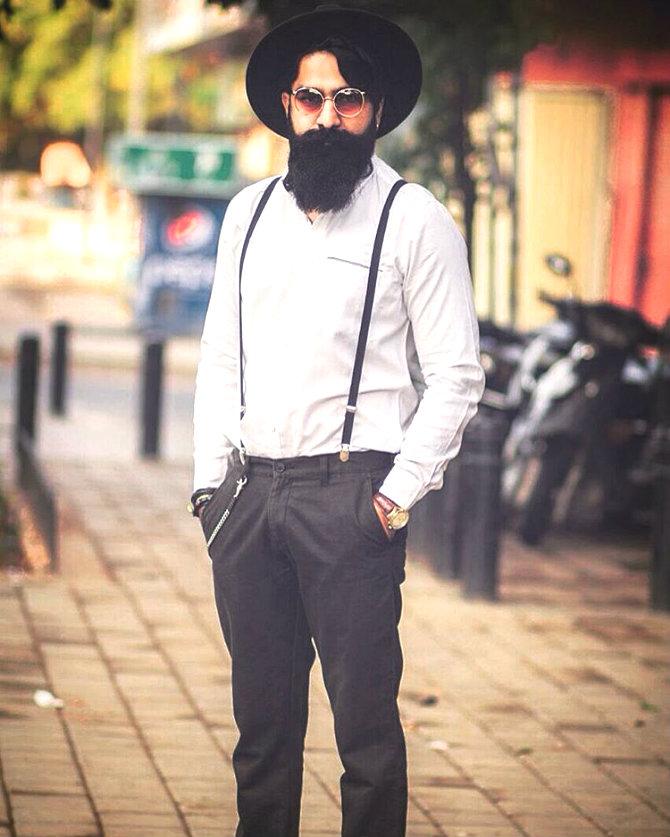 IMAGE: Looking dapper in suspenders, Vishal Singh sports a cool beard. Photograph: Kind Courtesy vishal_0801/Instagram
After shaving twice a day every day for close to 10 years as he worked in the hospitality industry, Singh kept his razors aside and let his facial hair grow with only training scissors by his side.
"Beards are becoming popular now because people are moving towards leading the lifestyle they prefer, rather than the one that's imposed on them," says Singh.
Today his grooming ritual takes close to an hour every day with a seven-inch beard.
Beards in themselves are not a new fad, but people are now moving beyond the clean-shaven look encouraged by a corporate culture. And the increasing acceptance of a beard is an indication of a changing society, feels Singh. "Beards are no longer associated with sadhus and bikers."
Every face cut and every personality requires a different beard.
"A V-cut face goes best with a pointed beard. If you have a round face, go for a full, round beard. Curly hair doesn't usually work for longer styles, so that has to be kept well-trimmed and short," says Singh, adding how a well-kept beard complements a pair of trousers and formal shirts as well kurtas.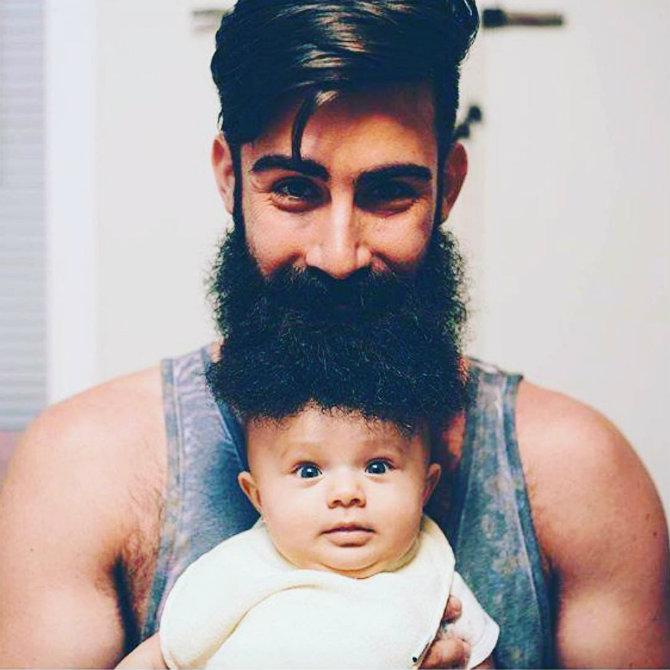 Photograph: Kind Courtesy The Bearded Man Company/Instagram
The idea is to know what beard works for you and Instagram (a photo/video sharing app) is a good place to scout for the look you want.
In his fuzzy journey, the only thing Singh does miss is the mole on his chin, now covered by a mop of luxuriant hair.

Staying razor sharp
Just a month old, the Bombay Shaving Company has seen an overwhelming response, primarily because of its novelty and quality, says Shantanu Deshpande.
One of the four co-founders of this online start-up, Deshpande suggests this is because the startup makes the process of grooming an "experiential one".
From a heavy, sturdy razor with your initials engraved on it to a towel, every one of its boxes comes with seven items tucked in it (Rs 2,995, but discounts are aplenty).
They also have a subscription offer combined with an auto-debit system depending on your grooming needs.
While grooming products are also available via Beardo, The Man Company and Ustraa by Happily Unmarried, US-based Dorco had made its foray into the Indian market last November with an ecommerce platform called Lettshave. This platform also offers gift boxes with razors, foam and blades for him (Rs 1,299/Rs 1,899) and her (Rs 1,699).