In photos: After US visa battle, all-girl Afghanistan team competes in the first International Robot Olympics in Washington, DC.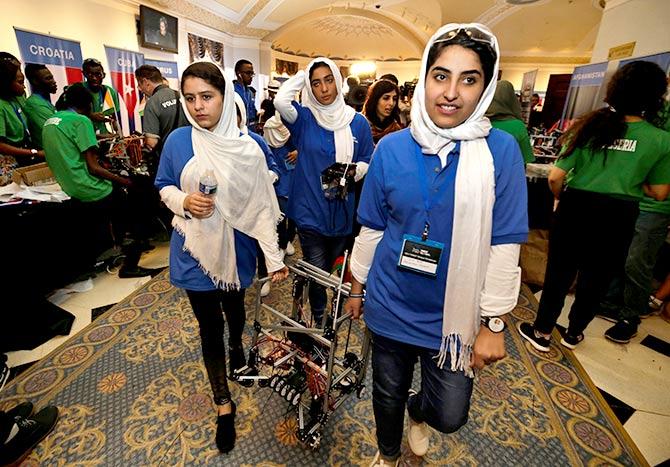 An all-girl team from Herat, Afghanistan -- which made headlines after they were rejected for US visas twice -- arrives at the inaugural FIRST Global International Robot Olympics in WashingtonDC on July 17.
The visa rejection had caused public outrage and further heated debate on the Donald Trump administration's policy towards Muslims, and led to the US President intervening to allow the girls entry.
They became the first robotics team to represent their war-torn country overseas.
Photograph: Yuri Gripas/Reuters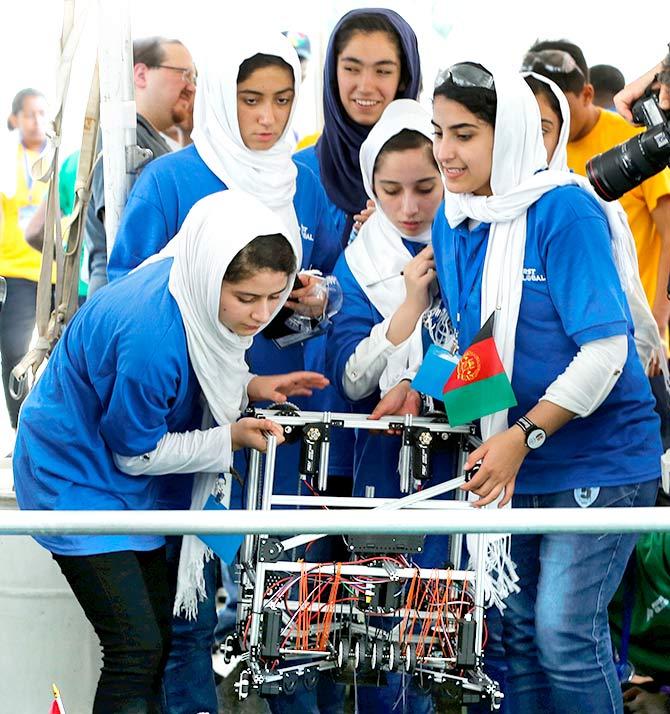 The six-girl team presented their ball-sorting robot in the three-day high school competition.
US special envoy and Afghanistan's Ambassador Hamdullah Mohib told AFP, '17 years ago, this would not have been possible at all. They represent our aspirations and resilience despite having been brought up in a perpetual conflict. These girls will be proving to the world and the nation that nothing will prevent us from being an equal and active member of the international community.'
Photograph: Yuri Gripas/Reuters
(Clockwise from lower left) Yasimin Yasinzadah, Lida Azizi, Rodaba Noori, Fatemah Qaderyan, Kawsar Roshan, and Somayeh Faruqi of Team Afghanistan listen to coach Alireza Mehraban. It took the girls six months to build their robot out of low-tech, recyclable material like bottles and boxes.
They competed with teams from over 150 countries, including one of refugees from Syria.
Photograph: Alex Wong/Getty Images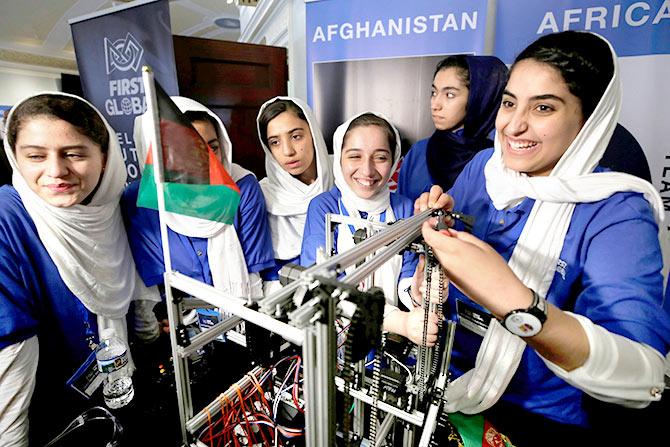 Setting up for the competition. 'We want to make a difference and most breakthroughs in science, technology, and other industries normally start with the dream of a child to do something great,' the team wrote on their competition page. 'We want to be that child and pursue our dreams to make a difference in people's lives.'
Photograph: Yuri Gripas/Reuters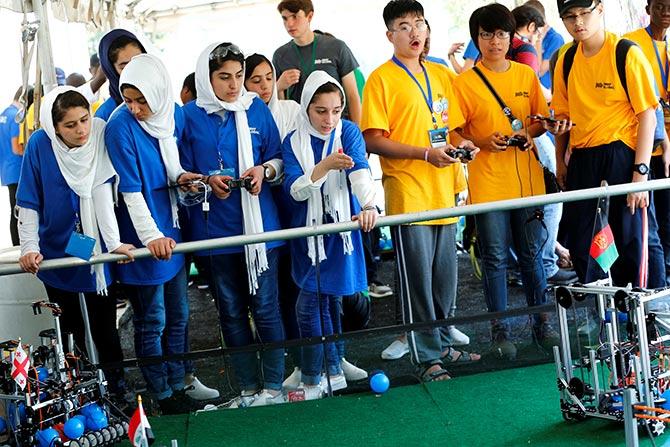 The team demonstrates their robot.
Team member Fatema Qaderyan told AFP that they wanted to 'convey that Afghanistan is not only the country of war, and there are girls who chase their dreams in robots and education… We just wanted to show the power and skills of Afghan girls.'
Photograph: Yuri Gripas/Reuters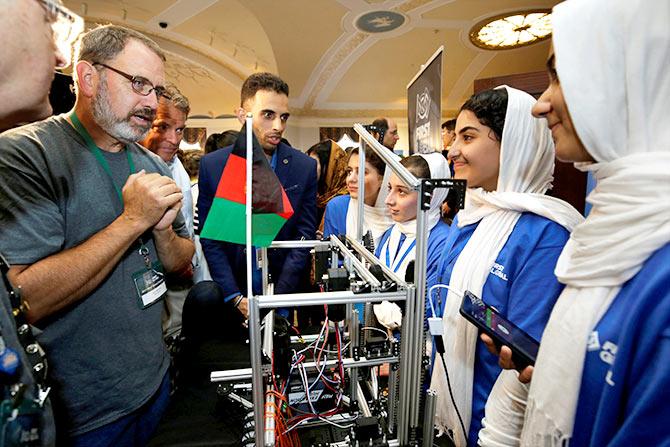 Event judge advisor Andy Marshall greets the Afghanistan team. They won a silver medal in the 'courageous achievement' category, which recognized teams that demonstrated a 'can-do' attitude under difficult circumstances.
Photograph: Yuri Gripas/Reuters
---
Don't miss: Beyond the veil in Afghanistan