'Our Indian culture system is very family oriented.'
'We value and respect the decisions of our parents to a great extent.'
'That can be a pro or con.'
'It's up to the parents to gauge how much motivation, pressure or space a child needs.'
'Every child is different.'
'We are all unique and that is what I intend to drive home to parents.'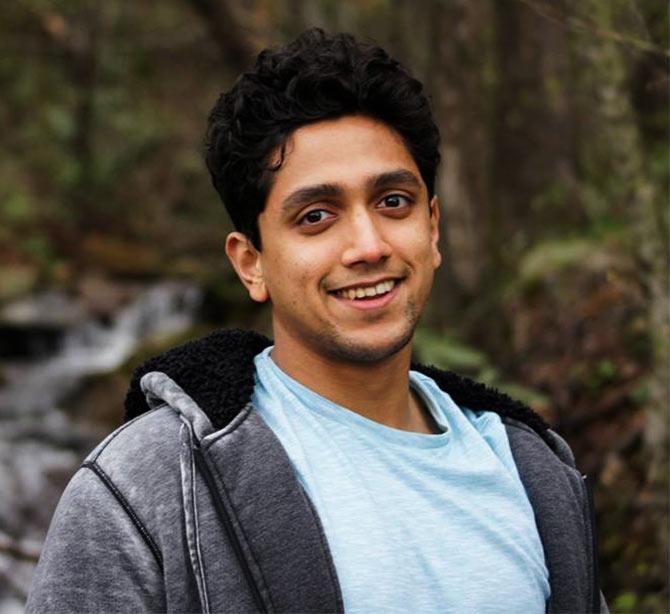 IMAGE: Agnishwar Jayaprakash, an international swimmer-turned-entrepreneur, heads the Agni Group of Companies.
All photographs: Kind courtesy Agnishwar Jayaprakash
Agnishwar Jayaprakash started swimming when he was three years old.
The Chennai-born youngster was born with a lung ailment. It gave him just 20 per cent lung function.
His father felt 'swimming would help improve his ability to breathe.' It did.
Slowly, swimming assumed a larger and larger role in his life. At 14, he was the youngest Indian to represent the country at the World Championships 2004, Indianapolis, USA.
In 2012 at the World Short Course Swimming Championships in Istanbul, he won awards in six categories (the 50m breaststroke, the 100m breaststroke, the 100m individual medley, the 4x100m freestyle relay, the 4x200m freestyle relay, the 4x100m medley relay) and was, again, the youngest Indian to achieve that!
After graduating from the Chettinad Vidhyashram School and earning a BA from Annamalai University, Agni left Chennai to study for an MBA at Queens University, Charlotte, North Carolina.
Had he continued to swim, he says perhaps he may have won an Olympic medal for India.
Three years ago, he quit swimming for a bigger, nobler, dream.
To work at building the India we all dream of.
A clean, sustainable place that boasts of a socially sensitive society.
A country that is the source of innovation to the world.
His dream was inspired and powered partly by President A P J Abdul Kalam and partly by his father who began as a Xerox company salesman and went on to found the Agni group of companies.
Agni's dad founded the Agni Foundation, a non-profit that works for the less privileged. Agni followed in his dad's footsteps, started up Ignite India in 2014 to "introduce and encourage entrepreneurship in Indian schools."
President Kalam launched Ignite April 2015 in Chennai. In February 2017, it was recognised by the United Nations as one of the top educational movements focusing on innovation and technology for young student entrepreneurs.
Agni, 26, discusses his vision for India with Rediff.com's Divya Nair:
How did swimming help you survive?
Swimming was introduced very early to me. It's a whole body functional exercise with a lot of breathing that could solve my lung condition.
My parents never played sports in their lives. I was fortunate to be introduced to many sports and extra-curricular activities during my childhood.
They felt it was important to be a well-rounded individual. So growing up, I don't remember having any free time.
I was busy with theatre class, painting, music, orator-ship and even magic classes!
In sports, I excelled at cricket and basketball. But swimming was my one true love. The idea of being an elite professional at swimming was very fascinating.
It's your own responsibility -- whether you win or lose.
I always believed in excelling at everything I did and I loved the fact that the best athlete wins.
No recommendations, no politics, it's you against the world.
I grew up with that warrior mentality and lots of self-discipline.
Today I live healthy. I don't smoke or drink. I don't party.
I'm focused on my objectives in life.
Swimming was the main reason (for that). It moulded my life into one that resonated with dedication and focus.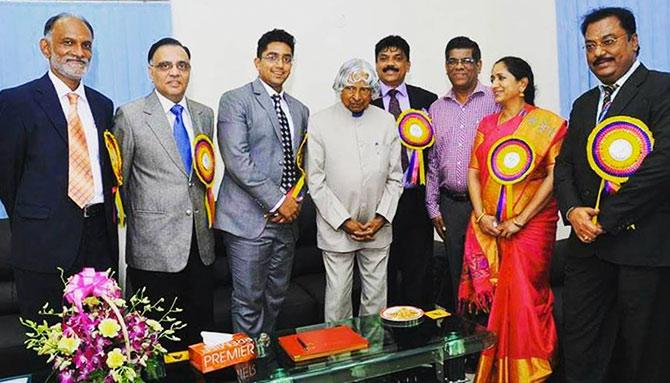 IMAGE: Agni, third from left with President A P J Abdul Kalam at an Ignite India event in Tamil Nadu. His father R N Jayaprakash is seen first from left.
Did you have any social life at all?
In school, I was named The Machine.
I was never socially active, which I would definitely undo if I had the chance.
I love conversations. When I was younger, I would think and articulate what I wanted to say a lot before actually speaking.
Also, I couldn't fit it naturally in school or college because I was never there.
I was perceived more like a celebrity and less of a peer. That made it hard to be socially active in a friends' circle.
I wasn't comfortable drinking or partying. That, in most places in the world, is considered an important aspect of socialising.
Now I'm very active -- in all forms, be it in person or online.
I mostly enjoy the company of my brothers and sisters who are underprivileged, in orphanages, homes for the elderly, mentally challenged and differently abled.
Serving them has become a great joy in my life.
If anyone wants to hang out with me, it is more likely that we would go to an orphanage.
(There) we get a (wider) perspective of life than at a party, where there's mindless loud music and alcohol.
Serving someone less privileged helps us understand how fortunate we are and how we have a responsibility to help those who can't help themselves.
How and when did things change?
It was never a sudden change. But a gradual one.
It was around 2013 when I was pursuing my MBA in the US. The exposure of being around young professionals from Fortune 500 companies and executives from the corporate world had a profound impact on me.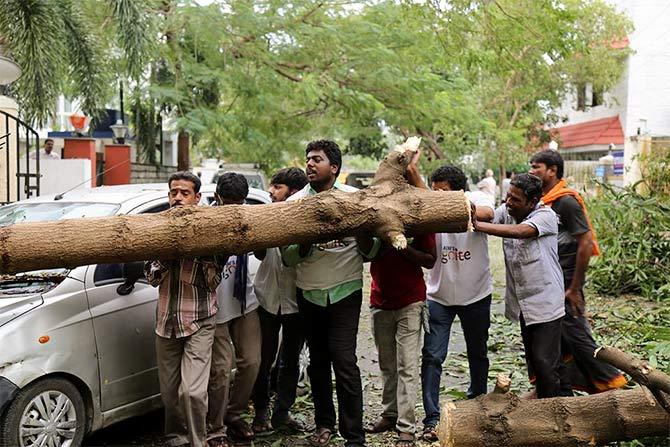 IMAGE: Volunteers from Agni help out during the 2015 Chennai floods.
How did meeting President Kalam impact your life?
I first met Kalam Sir when I was in Class 11. He'd come to our school for an event where I got a chance to ask him a question which he answered. It was a brief interaction. I was inspired by his thoughts and vision for India.
A few years later, when I considered entrepreneurship, I spoke to him a few times over the phone. And he guided me well.
I met him on April 15, 2015 at Raj Bhavan (in Chennai) and had a long conversation with him.
He told me schools syllabuses were outdated. It encouraged memorising information...
He stressed the importance of introducing young minds to innovation and entrepreneurship at an early age.
In schools. To channelise the youth. To think without fear and limits.
The conversation had a deep impact on me.
I told him that social entrepreneurs were not treated (taken seriously) like a politician or a celebrity in India.
He told me to be positive. That things will change for the better.
He told me not to limit my vision to Tamil Nadu. That I should take Ignite India to the world.
He was 83 at the time and launched Ignite India in Chennai on April 17, 2015. He spoke to the participants and encouraged them to dream and aim higher.
A few months later (July 27, 2015) he passed away. I felt a vacuum. I felt it was unfair that we could not get enough of him.
Why did you quit swimming to become an entrepreneur?
I realised I (had) achieved as far as I (could) in swimming. Of course, there were still a lot more I could have achieved, like an Olympic gold medal.
But going further would mean I wouldn't be able to execute the great things I've been doing for the past three years.
Winning in swimming was an individual accomplishment.
Over the last three years, I have created a platform for young talent like me, to break the shackles that limit them and excel.
Serving others and getting a smile on their faces has more meaning to me than winning an Olympic medal.
Whether it was representing the country in swimming or empowering the youth of India, my underlying core belief is to the serve the country.
I felt I could appeal and make a difference to a larger segment of the population.
Why is your father your role model?
All he ever wanted/wants is the best for his family.
The man would work endless hours and sacrifice anything for it.
He is equally supported by my mother, who is a stellar academician and had the potential to become a high court judge.
Both my parents are very focused and goal oriented.
I can proudly say I get a lot of my character from them.
He started out as a salesman in a photocopying company (earning) a monthly salary of Rs 500. His first business was as a dealer for MRF Tyres. It's nostalgic to go through that place.
He founded an advertising company called Flame. Then a real estate company -- Agni Estates and Foundation.
He has moved from strength to strength. His hard work, determination and optimism even under gloomy situations are what I wish to emulate.
What is your current role at Agni?
Agni has various verticals in diverse fields of business. I serve as the director of the group.
What are the problems you hope to tackle through your organisation?
I handle diverse business interests. Each vertical has a different challenge.
My father always says, "If there are no problems, it has to be a Sunday!"
The big problem would be my age. Usually young professionals my age work in teams or manage small teams. Some young entrepreneurs who lead start ups manage 50 to 100 employees.
I head an organisation where I'm leading 800 employees all around the world.
And sometimes when you are 26, despite being the boss, it's hard to drive the vision of the company to each and everyone in the team.
Success in business is a team effort. From the CEO to the office staff who offer guests coffee, everyone has their share to contribute towards that success.
So as a leader my constant challenge is to drive my grand vision of the organisation from the bottom to the top of the ladder and that is easier said than done.
What are your solutions?
Exceptional leadership. History had shown whether it's business, sports, films, politics,etc, it's the leaders, the captains and the stars who have to step up and carry the team.
I intend to be a pioneer, a trend-setter and an inspirational leader to get the best out of each and every team member.
We are all capable of greatness, like a diamond.
The beauty of creation is that a diamond in the rough is just a stone. It needs a diamond cutter to make (the stone an object) of adoration.
So it's up to the leader to be the diamond cutter and be patient. Some diamonds take a lot longer than others.
IMAGE: Through E7ham Arivu, a science reality show and Ignite India, Agni aims to empower youth to use their abilities to think and solve problems.
How can young Indians contribute to your cause?
Young Indians are my cause. I work for them...
My goal is to rally the youth, not just in India, but all over the world.
Young Indians must just be willing to believe that they, themselves, are the change they want to see.
Empowering young people in the country with knowledge and opportunities is the next step.
You wear many hats: Swimmer, entrepreneur, mentor, filmmaker (he produces E7ham Arivu, a science reality programme on DD Tamil). How do you find the time?
You missed out UN youth champion and vice-chairman of a college. Just kidding.
I love my hats. That's the only way you find time for it all. You can never do anything well and excel if you don't love it.
I prioritise my goals and I don't have too many distractions. Mindless films, video games, sitcoms, TV shows, don't appeal to me.
Today, time management is more critical than ever.
My father has always taught me we have 24 hours, and it is plenty, if we use it well.
The reason I'm able to take up a lot of responsibilities is because I have always multi-tasked right from childhood.
So all credit goes to my mother who kept me occupied and made me believe that no matter how many roles you play, you can do it all.
I firmly believe that I have so much of time, and I love everything I'm doing. In fact I'd love to take up more.
IMAGE: Agni volunteers provide food, water and other essentials to Chennai residents during the 2015 floods.
You work with kids and parents. Is there a lot of pressure on Indian kids to perform and excel?
From a broad perspective, Indian kids do have pressure on them to excel.
They are compared to other children their age and sometimes ridiculed by parents. It is a growing concern.
I've actively campaigned against such behaviour at over 200 Ignite India school innovation conferences.
I feel, the pressure, if applied strategically, most times, impact the child positively.
Our Indian culture system is very family oriented. We value and respect the decisions of our parents to a great extent. That can be a pro or con.
It's up to the parents to gauge how much motivation, pressure or space a child needs.
Every child is different. We are all unique and that is what I intend to drive home to the parents.
In this digital age, children are introduced to smartphones and technology very early. How can we use technology for productive purposes?
For Indian youth to have access to technology and smartphones and use of the Internet is a great privilege, compared to youth from other countries where young people have no clue how a phone looks like.
When we have such access, we must be grateful and use it responsibility and judiciously.
If I was the education minister of the country, I would honestly revamp the educational system to an adaptive learning culture where technology and innovation are taught in schools.
If you teach young Indians how to use the Internet responsibly, we would be able to direct the attention of the largest youth population in the world to productive thoughts, ideas and activities.
How can we build a better India?
We must first take pride in being Indian.
We must value and preserve our native tradition and culture. We must support and encourage our countrymen who represent the nation.
We must respect our jawans who protect us and we must love being in such a great country like India.
I want Indian youth to envision our nation as it is right now, with the problems that we face individually and collectively.
All the problems that we keep discussing and debating on how to make a better India.
Now dream of a new India with me.
An India without poverty or pollution.
An India without hunger or corruption.
An India which protects justice and rights.
An India where we cease wars and fights.
An India where every person has access to affordable healthcare.
An India where people from different cultures and gender are treated fair.
An India offering sanitation and quality education.
An India where economic growth enables responsible consumption.
An India that is green and clean.
An India we dream, but yet to be seen.
Now imagine the old India which we dreamt at the start.
And compare it to our new India which we dream within our heart.
This poem is my dream and now it is ours.
I hope we realise this dream by uniting and working together.
DON'T MISS reading the features in the RELATED LINKS below!