Saurav Chordia's morale patches celebrate bravery and glorify events that are significant for different IAF units or squadrons.
Amrita Singh reports.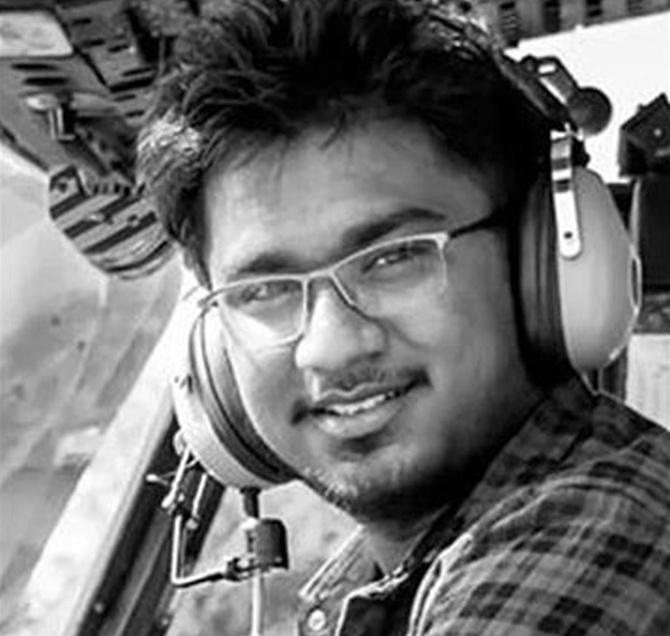 Frequent migraines and poor eyesight haven't stopped Saurav Chordia, a 21-year-old graphic designer and aviation enthusiast, from contributing to the Indian Air Force.
Sure, he's not flying combat planes, but he has managed to put his skill and creativity in the skies by designing 'morale patches' for various IAF squadrons.
Chordia has designed over 100 such patches, with the latest one depicting the aerial fight where Wing Commander Abhinandan Varthaman shot down Pakistan's F-16 Fighting Falcon aircraft.
Morale patches are chest or shoulder cloth patches worn on the uniform by troops.
These are not part of the official uniform but are designed to be an inside joke or a significant event applicable only to a specific unit or squadron.
But before the troops sport these patches, they need to get the approval of their unit commander.
Chordia makes it clear that he was assigned to make these patches not at the order of higher authorities in the IAF, but by squad commanders who came across his work.
The patches he has designed for Varthaman's MIG-21 Bison squadron have 'Falcon Slayers' and 'AMRAAM Dodgers' embossed on them. AMRAAM stands for Advanced Medium-Range Air-to-Air Missile.
"A lot of veterans liked the aviation art I shared on my Facebook page. One of them even shared its picture on Twitter," says Chordia.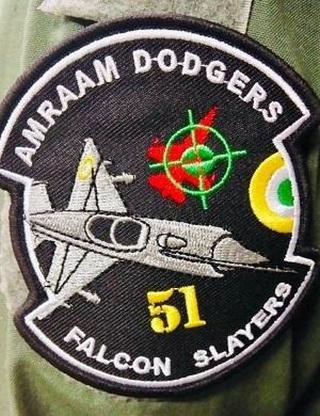 IMAGE: A patch designed by Saurav Chordia called AMRAAM dodger shows an IAF Su-30 MKI fighter.
While Chordia graduated in political science from Amity University, Noida, his passion lay in graphic design, a hobby he picked up when he was 15.
As he grew up playing video games that offered virtual flight experiences, his interest in aviation soared.
Whenever he visited his hometown in Rajasthan, he would see planes flying overhead, which instilled in him the desire to fly.
That desire remained unfulfilled. But he has now managed to combine his passion for design, aviation and gaming by working for a game-designing company in Delhi.
Chordia's morale patches celebrate bravery and glorify events that are significant for different IAF units or squadrons.
He designed his first patch in 2015 for the Sukhoi Su-30MKI squadron when he was still in college. He has also designed patches for the first HAL Tejas squadron in the country.
"Designing a patch can take from a few hours to a few days," says Chordia. It's a two-step process that involves first understanding what the unit wants to depict and second, an approval of the design.
"Sometimes they (IAF squadrons) ask for certain changes and I make them accordingly," says Chordia.
Once the design is approved, the unit prints it on cloth that is later stitched onto the squadron's uniform.
Though the patch he designed for Varthaman's previous squadron -- he has now been posted to the Suratgarh air force base in Rajasthan -- is probably responsible for bringing Chordia into the public eye, his personal favourite is the one he designed for the Suryakiran Formation Aerobatic Team in 2016.
"It's a simple patch, but I like it the most because it has nine fighter planes," says Chordia who still dreams of being able to fly.
At some point he plans to apply for a commercial pilot licence, but for now he is happy contributing to the IAF in every little way.