The 23-year-old champion wrestler's Asian gold medal tells us that tough times don't last, tough people do.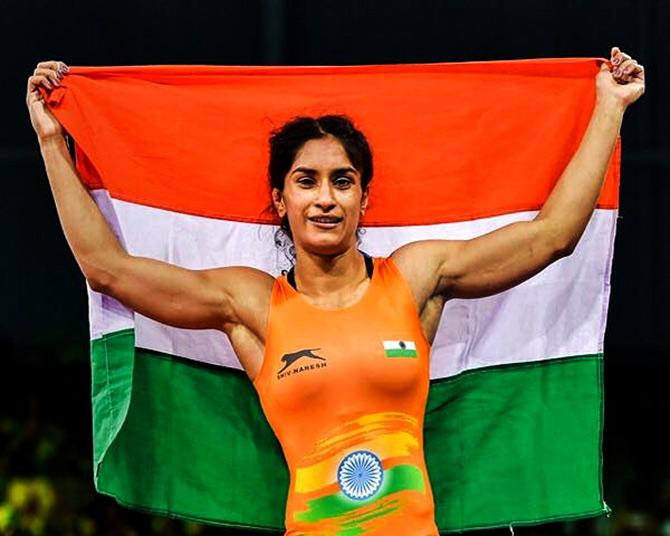 Photograph: PTI Photo
It's every sportsperson's dream to win an Olympics medal.
While a lucky few turn their dreams into reality; some return home with bruised memories.
Wrestler Vinesh Phogat's Olympic dream came crashing down in 2016 when she injured her knee and was helped out in a stretcher.
After the setback, if anyone had even an iota of doubt whether she'd perform, Vinesh's historic gold at the Asian Games in Jakarta was the answer.
The wrestler's amazing comeback is a reminder that tough times don't last, tough people do.
Here are some takeaways from her success:
Get rid of the baggage
Vinesh comes from a family of proven wrestlers.
She is wrestler (Dangal) Mahavir Singh Phogat's niece, his younger brother Rajpal's daughter. Wrestling champions Geeta, Babita and Ritu Phogat are her cousins.
There was a time when the Phogats struggled, faced criticism for letting its girls enter a sport, a part of conservative rural India believed, was meant for men only.
Naturally, there was pressure on Vinesh. But every time she got into the ring, she'd prove her naysayers wrong.
'I have always been rough and tough. I take risks in life and they pay off. I have self-belief. I feel there is nothing that I can't do,' Vinesh said.
When you get rid of the baggage, the criticism that pulls you back, your true talent shines through.
Never dwell on failures
Her knee injury was the turning point in Vinesh's career.
When she was stretchered out of the Olympics arena in Rio after reaching the quarter finals, she made us weep in despair.
When she emerged in a wheelchair to collect the Arjuna Award that year, she gave us hope. That the fight wasn't over yet.
After her win on Monday, August 20, Vinesh mentioned how she fought her injury and emerged victorious.
'Injuries are part of an athlete's career. It is difficult both emotionally and physically. But I shrugged off everything to deliver some good medals recently. Someone has said an athlete becomes strong after injury and I feel I indeed have become stronger than before,' Vinesh told the media.
Success is the best revenge
Vinesh didn't have a good record against her Japanese rival Yuki Irie.
Of the four times they faced each other, Yuki always won.
On Monday, the tables turned in Vinesh's favour and she cliched the opportunity with both hands.
'There was pressure, but it was to prove that I am actually stronger than her. I wanted to prove this today because I lost thrice to her before. And I have done this today,' Vinesh asserted after the championship bout.
How many athletes have been lucky to taste their best revenge in the ring?
Vinesh may or may not win a medal at the Tokyo Olympics in 2020. She may or may not create history again.
But one thing is certain.
Vinesh Phogat will no longer be remembered as the 'other Phogat' who missed an Olympic medal.
She will go down in history as the first Indian woman wrestler to win a gold meadl at both the Asian Games and Commonwealth Games.