Use your phones not just to take selfies but also to name and shame the culprits.
Fuel your courage by standing up to atrocities.
Technology and social media are great tools to fight injustice use them, says Abhijit Masih.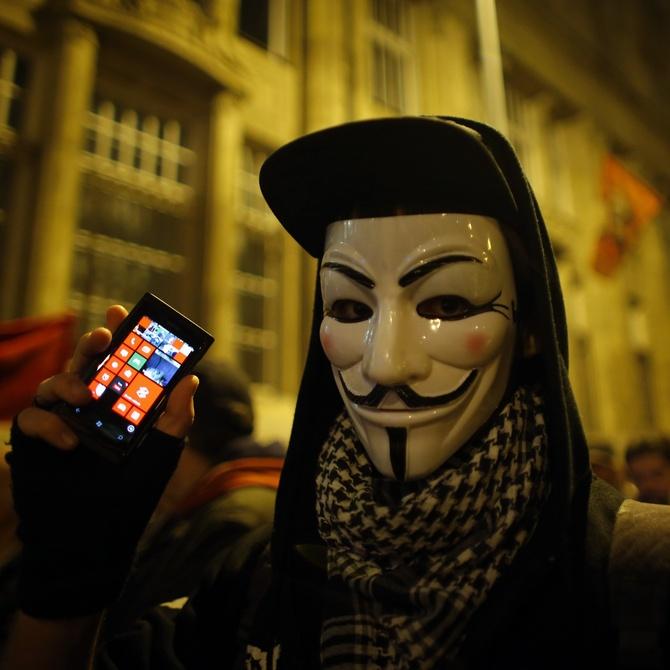 It has been 20 years since my college days at St John's College, Agra.
I just read that the Hindu Mahasabha, an unknown outfit has threatened to get couples married off, if they catch them together on the February 14.
It got me thinking that not much has changed in the smaller towns of India.
I would like to relive an incident in time, which occurred while I was a student way back in 1995.
A small group of hostelites were standing in the winter sun right outside the principal's office in college.
A larger group, of men who were from a neighbouring college came in to the campus, called out to a guy who was not a midget himself and thrashed him good, by the sheer advantage of numbers.
No questions asked, no explanation, no chit chat whatsoever, just a beating which even though may not have hurt him physically but must have been a huge blow to his ego in front of the whole college.
Particularly, since the majority being girls since it happened in the Arts section of the college.
Well, his fault being that he was friends with a girl in his class, no amorous relation that, just friends.
And apparently this did not go down well with another boy from the same class who had friends in the neighbouring college, which had a somewhat notorious reputation.
I read the news today, which immediately takes me back in time to that very same day when this incident occurred. It gets me thinking, nothing has changed.
It is still the bullying mentality which gets voice and strength in numbers encouraged by the lack of opposition and the apathy of the onlookers.
Well, in those days we did not have the power of the social media and the advantage of a camera right there in our pockets.
Use that now, not just to take selfies, but to name and shame the culprits.
Take a leaf out of the recent Indigo airlines incident, where the girl tore into the old man.
Fuel your courage by standing up to such atrocities, one voice is all it takes for a few more to join in behind you. The people around you are not apathetic anymore.
As has been proved by the social experiments done by NDTV where people do not let go of any inhuman or insensitive acts.
To all the couples, I say, don't be stupid and go to places where you are bound to get accosted.
I am sure you know of places other than the regular 'lovers' lane'.
And if you are stuck in such a situation, fight like a cornered tiger.
You will see a million hearts in the eyes of your other half.
Besides if you manage to get a video and post it on the social media you will be a hailed as a star.
To the leader of the Hindu Mahasabha I say, "GET A LIFE! Because surely you cannot get a girl or a wife on your own!"
Even that your pujya parents will do for you when you are old enough. Old but not a man.
To each individual members of the so called outfit, trying to cash in on this day, I say try and go up to a couple on your own, alone, and attempt to get them married. I swear on the flickering flame of humanity, you will not stand a chance even in front of the girl, leave alone the boy.
Photograph: Laszlo Balogh/Reuters
Surprise Your Special By Giving An Awesome Valentine's Gift from Rediff!