The Duke of Cambridge has come out strongly against any form of bullying.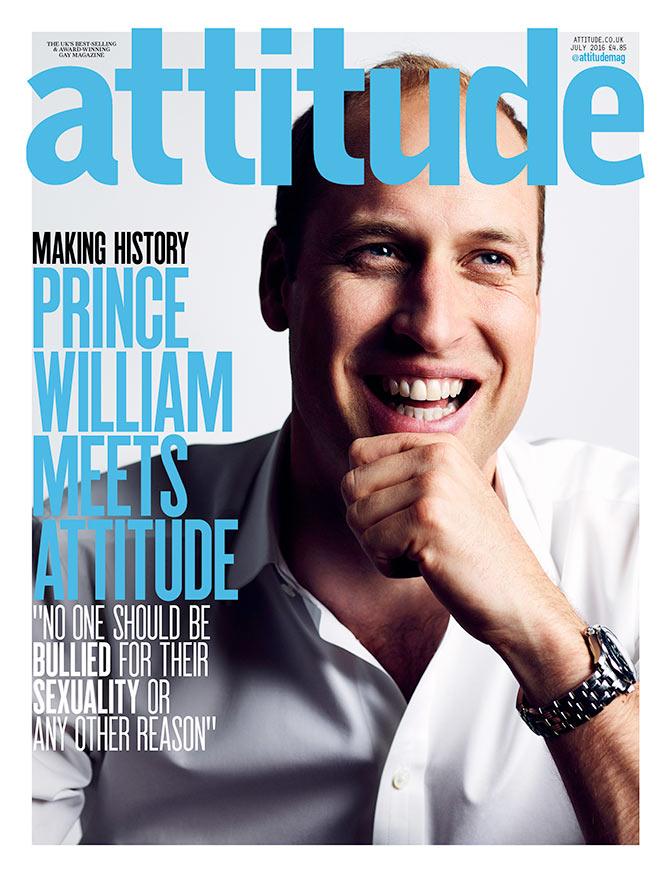 IMAGE: Prince William on Attitude magazine's July 2016 cover.
Prince William must have turned 34, but for this hot looking prince and doting father of two, age is just a number.
The Internet is obviously very proud of every little thing he does in an attempt to make the world a better place to live in.
Not the one who shies from taking a public stand, he recently made history by featuring on the cover of Attitude magazine that caters to the LGBT community.
The Duke of Cambridge is photographed smiling, wearing a white shirt in the UK-based magazine cover.
"Making history, Prince William meets Attitude," says the July 2016 cover.
"No one should be bullied for their sexuality, or any other reason," reads a quote from William on the cover.
In the past, William's mother Princess Diana was featured on the cover of Gay Times, as part of a tribute feature after her unfortunate death.
While the majority of the Internet had only good things to say, a certain tweet by Westboro Baptist (godhatesfags.com) wasn't in good taste.
"Prince William is oh so blind if he thinks this is gonna end well for him," it tweeted.
At a time, when the world needs peace, love and acceptance, both Prince William's cover and his statement, we think, serves as the much needed hope for a bright future.
We are asking you, dear readers, what you think of the cover? Take the poll and share your views on the messageboard below.