We'd asked you, dear readers to share your love stories with us.
Raj Iyengar tells us how he met his wife Taru Dewan.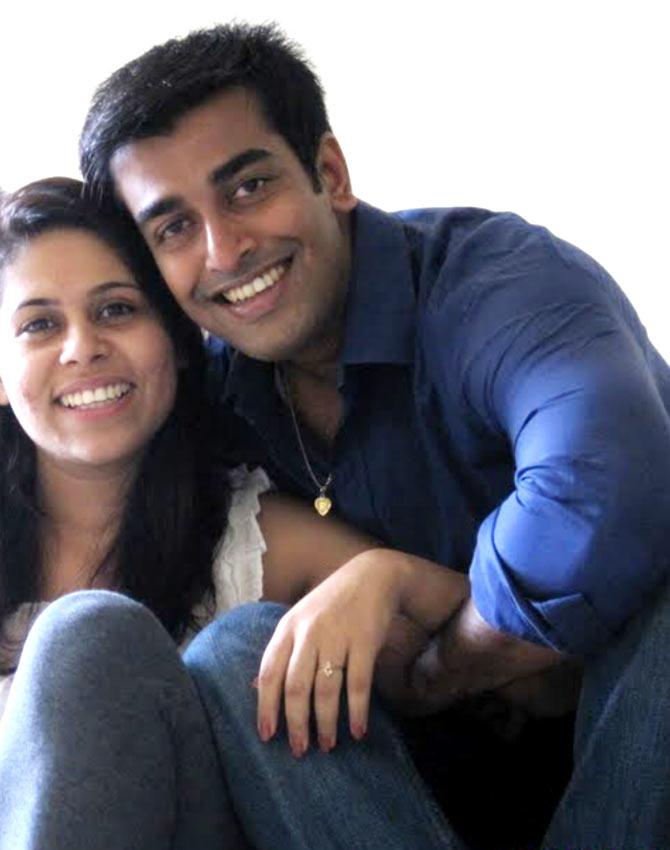 Ours is a story of two states -- I am from Tamil Nadu and Taru is from Punjab.

We met on January 8, 2008 at an office conference in Mumbai.

She had travelled to Mumbai from Delhi.
As usual, the meeting went on for the whole day and by the end of the day, everyone wanted to take a break.
The team decided to go for a small outing around office, to be followed by dinner.
We went to Worli Sea Face -- one of the peaceful places in Mumbai where one could sit for hours.

We had a nice dinner followed by ice cream.
The next morning Taru wanted to attend a satsang.
She enquired with me on the whereabouts and how she could attend it around 6 am.
Besides guiding her, I went ahead and asked if I could drop her.
I had realised that it would be difficult to reach there and return to office enroute the Western Express Highway.
I had a two-wheeler which helped us get there on time and later, attend the conference as well.
We stayed in touch and during the conversation, we understood that both of us are focussed in our careers.
I decided to travel to Delhi. My first visit was during winter and it was tough for me to move on. However I did and succeeded too.
A couple of times Taru surprised me along with my friends. It was overwhelming.
Gradually, we discussed how we could take our relationship to the next level and left it to our parents to decide our future.
We knew nothing would go against us and likewise our marriage got fixed.
We got married on October 21, 2009 following rituals and traditions of both sides. It was fun and everything went well.