We'd asked you, dear readers to share your love stories with us.
Here Seshadri Viswanathan tells us how he fell for Sunita without seeing her photograph.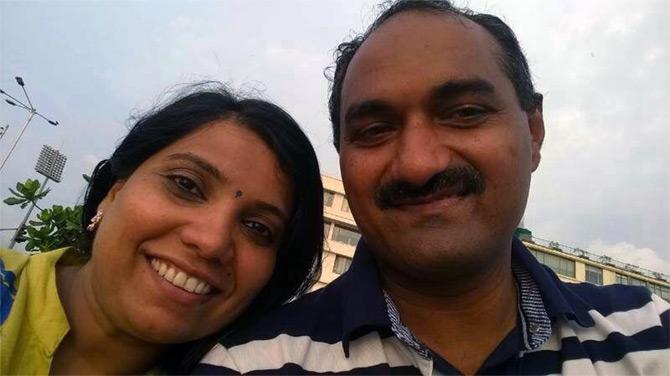 on February 9, 2015, I first contacted Sunita (my wife now) on WhatsApp.
She was an acquaintance of one of my cousins.
We came from different backgrounds -- I am a Tamil Brahmin and a vegetarian from New Delhi, whereas she spoke Tulu and is a non-vegetarian from Mumbai.
On February 8, the day before contacting her, I had a long discussion with the cousin who knew her.
Our chat was about what I looked for in my life partner.
After a long chat, my cousin gave me Sunita's number and also informed her that I would be connecting with her soon.
I wanted to see how it went.
I did not want to go by appearances. So I didn't ask my cousin or Sunita for her photograph.
I decided that we will first start interacting, and if we found ourselves comfortable talking to each other, I would take this forward.
We continued chatting for a month.
I hadn't yet seen her yet, but she had a photograph of mine.
Finally, after a month, she shared her picture.
In March, I travelled to Mumbai to meet her.
We met at Lower Parel station on March 29.
We were both nervous.
We spent the day having icecreams, watching a movie at Phoenix Mall, Parel and later going to Marine Drive.
By now, we were already comfortable in each other's company.
The next day, on March 30, we met again at Marine Drive.
While returning from Churchgate station, I got her into the ladies compartment while I myself rushed and got inside the general compartment.
During the journey, she sent me a message, "Theek se see off nahi kar sakte the" (Couldn't you see me off properly?)
I too had felt something was missing.
She was to get off at Dadar station.
At Dadar, I too got down and called her out, which was a surprise for her.
I gave her a tight hug right there at Dadar station.
We knew that we were meant for each other.
I broached the subject with my father if he was okay with a daughter-in-law who did not belong to our community.
Meanwhile, without my knowledge, my cousin had already mentioned about Sunita to my father, though neither she nor he let me know about it.
In June, our families met and thankfully the meeting went off well.
We got married on November 30.