'There is no audience anymore for my graphic novels. Few people seem interested in what I find interesting,' Sarnath Banerjee tells Uttaran Das Gupta.
Illustration: Dominic Xavier/Rediff.com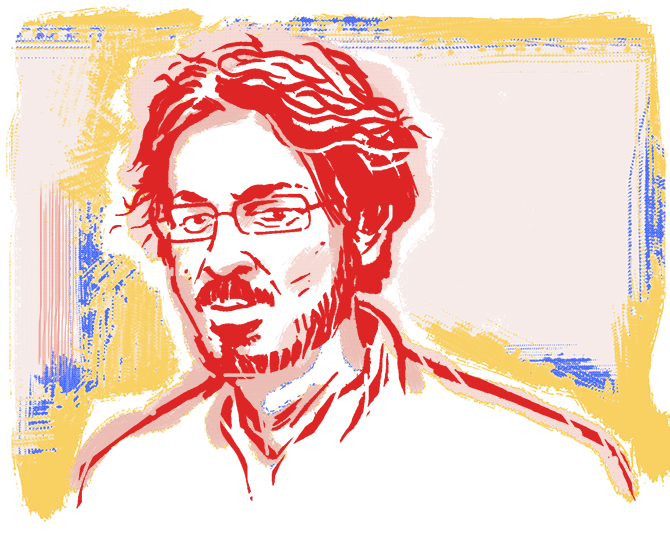 Imagine taking the underground from Tegel, Berlin's international airport, on a wintry evening, and sitting opposite a stranger, trying to decipher his thoughts.
Suddenly, the unimaginable happens: The stranger reads yours.
"Within the normalness of the urban landscape, something changes very slightly -- always in the area of fear," says graphic novelist Sarnath Banerjee.
"The German word unheimlich means 'unhomely'. It is a synonym for uncanny. In a typical German manner, it suggests that the nest of the uncanny is in the most normal circumstances."
For Banerjee, cities, especially those with a dark past, have a phantom city beneath them, and Berlin is no exception.
The German capital has been Banerjee's home since 2011. He moved there with his then wife, Pakistani artiste Bani Abidi when living in an "increasingly jingoistic" India became difficult for the couple.
"We were vacillating between Colombo, London and Berlin, when Bani received a prestigious grant that made the choice for us. What was meant to be a temporary arrangement soon started to look permanent," says Banerjee.
Abidi and he have a son. "I had first visited Berlin many years back as a student in London. It was a sleepy town, full of charming particularities. Russian nightclubs were all the rage. I had no idea I would be living here a decade later," he says.
It was in Berlin that he started writing his acclaimed text-and-picture column, 'Enchanted Geographies', for The Hindu.
"Having worked all my life with South Asian themes, I found the German context alien. But keen to find a connection, I looked back to my early visits, the great sense of the uncanny that Berlin gave me. Like the cities of north India and Pakistan, Berlin too had its ghosts. That's how I began working with the uncanny," he says.
For this, Banerjee resurrected, Brighu Sen, a collector of obscure books and items, from his debut novel, Corridor (2004), which had been hailed as India's first graphic novel, though Orijit Sen's The River of Stories came a decade before.
A MacArthur Foundation grant in 1999 provided him with time to work on this book. He followed it up with The Barn Owl's Wondrous Capers (2007).
Banerjee and I meet on an uncharacteristically cold day at the B-Lage pub near Sonnenallee, the street which served as a border crossing in Berlin before the fall of the wall in 1989.
Built in the 19th century to accommodate rural migrants to the city, the area is now called 'Little Beirut' or 'Gaza Strip' because of the high number of Arab immigrants settled there.
Banerjee gives me a short walking tour of Neukölln, the southeastern borough of the city where he lives.
"This is my hood," he says, "though, with the swift rate of gentrification, the rents might soon be unaffordable."
At B-Lage, he orders a spicy ginger drink; I take a beer from the tap. Our conversation is conducted mostly in Bengali, with him jumping nimbly from subject to subject.
His pronunciation has a distinct twang of north Kolkata, while mine would sound south to him. We have another difference that is a little disappointing to him: He is a Mohun Bagan fan while I support East Bengal.
We start talking about how Berlin is similar to Kolkata, where both of us were born and grew up. (He studied biochemistry at the University of Delhi for his BSc and got his masters in image and communication from the University of London.)
"Everyone opens their shoes before entering your house," he says.
Banerjee laments Kolkata does not feel like home anymore, adding that his son Mir likes Salt Lake, the residential suburb in the east of the city where his parents live.
"Salt Lake is the Istanbul of north Kolkata. It was very convenient when I was writing Barn Owl," he says. The older, northern parts of the city have always been a mythical landscape.
"We heard stories about Aurobindo Ghosh and Barin Ghosh making bombs in some dilapidated house," he recalls. "People would tell you that if you wanted your dhuti to be properly pressed, you had to go to that old man in that street."
However, if he were to write Barn Owl now, he would look for a stricter editor, who would discipline the excesses of imagination.
Though he has lived in Berlin for the better part of this decade, Banerjee does not plan on dropping roots there.
"My interest is specificity," he says. "Can you imagine people here really appreciating Barn Owl or Vikaspuri?" (Banerjee's third graphic novel, All Quiet in Vikaspuri [2015] takes the reader on a labyrinthine subterranean journey beneath Delhi plagued by water wars, with Girish, an industrial plumber, in search of the Saraswati river.)
He says, "Most of my income comes from the UK, where I get commissioned."
In 2012, he was commissioned by the London 2012 Festival and CREATE to make site-specific works for the city hosting the Olympics. He produced an exhibition spread over 48 billboards, celebrating those who did not win medals at the Games. It was called the Gallery of Losers.
Is it easy for him to reject international fame because he has it? And, how can a fledgling writer aspire to get it?
"A friend of mine -- a writer -- was looking for an international agent," replies Banerjee. "So I asked him to go on the Web site of The Guardian and search for 'India'. Whatever keywords he found, I told him to include in his proposal. It actually worked!"
Banerjee claims he is not a great believer in internationalism. "I cannot explain India to the West," he says, adding that perhaps too much thinking about what readers might want to read was afflicting contemporary literature.
"There are, of course, exceptions," adds Banerjee. "Look at how Ghachar Ghochar (by Vivek Shanbhag) has been celebrated. It is a great book but it also provides a sense of relief that we can write good books."
"But there is no audience anymore for my graphic novels," he says. "Few people seem interested in what I find interesting. I cannot write about identity politics or motivational subjects like Ted Talks. It would have to be a niche audience."
He claims to have not written even a page of comics since his last book.
In search for a new medium, he is drawn to speech.
"Like old radio," he says. "Radio has texture, visuals (which many people don't get), sound. It might be the most suitable medium for me."
His new project, The Spectral Times, is a collection of audio stories, imaginary interviews with people who have had otherworldly experiences in Mumbai. For this, he has resurrected Brighu. "I have a new agent, young, dynamic," he says.
Some of these stories would be part of his solo exhibition at the Bhau Daji Lad Museum in Mumbai later this year.
"The stories I am writing are a bit like an IKEA catalogue," says Banerjee. There is not much evident craft in it. The influence of minimalism is from Japan where he went for an art biennale.
The mayor of Shodoshima, the island where the biennale was held, asked him to write an imaginary and incredible history of the place.
"You know in Japan, they say one needs to string a bow for seven years before one can shoot an arrow," he says.
Now he is on the lookout for a good editor: "Someone very strict."
It is a search more challenging than finding the uncanny in the common.