Rediff reader Reshma Aslam shares some traditional soup recipes for the winter. You can share yours too!
Keep yourself warm with these delicious soup soups.
And yes, don't forget to tell us how it tasted :)
Chicken Yakhni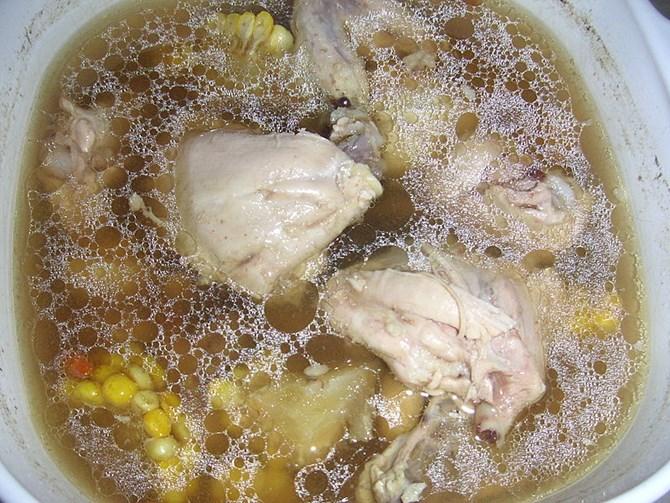 Photograph: David/Wikipedia
Ingredients
500 gm chicken pieces (bony pieces)
2 medium sized onions chopped
1 tsp cumin seeds (jeera)
2 black cardamoms
6 to 8 peppercorns
3 to 4 cloves
1-inch pieces of cinnamon
1 tbsp coriander seeds
2 tbsp ginger garlic paste
1 tbsp fennel seeds
Water
Salt as per taste
Method
Wash and drain the chicken well.
Place a big pot over the gas and add the chicken pieces.
Add salt, ginger garlic paste, cumin seeds, black cardamoms, peppercorns, cloves, coriander seeds, fennel seeds and chopped onions.
Add water to it. The quantity of the water should be so much that the chicken gets immersed in it.
Cook over high flame and bring it to a boil.
Reduce the flame. Let it cook for about half an hour or till chicken becomes tender.
Once it's done, strain it in a big colander and keep the solid stuff one side.
If you want, you can shred the chicken and add it to the Yakhni.
Serve hot.
---
Paya soup (Mutton Trotters)
Photograph: Jean Wang/Creative Commons
Ingredients
4 mutton trotters
2 medium sized onions (made into paste)
2 tbsp ginger garlic paste
1 tsp cumin seeds (jeera)
1 tsp fennel seeds
1-inch piece of cinnamon
2 to 3 green cardamom
3 to 4 cloves
2 black cardamom
Few pepper corns
2 tbsp oil
1 tsp turmeric powder
1 cup milk (optional)
Water
Method
Wash and clean the paya well.
Heat oil in a pressure cooker, add onion paste and fry well till the paya is pinkish in colour.
Add ginger garlic paste and fry for two to three minutes.
Add paya and stir it very well.
Take a small piece of cloth. Put the fennel seeds, cumin seeds, cloves, green cardamom and make a small potli. Add it to the paya.
Add turmeric powder and stir well.
Add enough water for the payas to immerse in it.
Close the lid of the cooker and cook on low flame for an hour.
After an hour, open the lid and see if the payas have become soft. If not, cook till it becomes softer.
If need be, add more water.
If you are adding milk, add it in the end and bring this to a boil.
Serve hot.
---
Chicken Corn Soup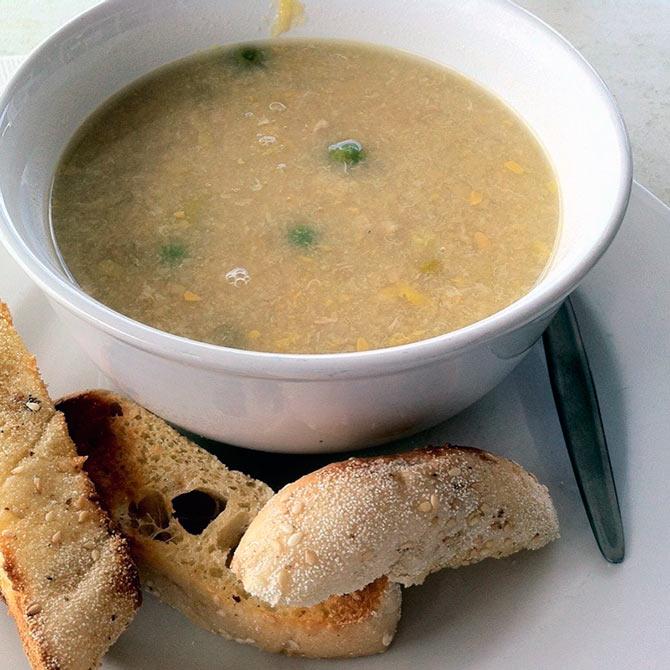 Photograph: Brian Yap/Creative Commons
Ingredients
250 gm chicken
Chicken stock
1 tbsp butter
3 to 4 garlic flakes finely chopped
2 eggs
1/2 tsp salt
1/2 tsp ajinomoto
1 cup corn (boiled and coarsely ground)
1 tsp white pepper powder
5 to 6 tbsp corn flour
6 to 7 glasses of water
Method
Wash and drain the chicken well.
Put it in a vessel, add salt to it and around 6 to 7 glasses of water.
Cook it for 20 to 25 minutes.
Once done, keep aside for cooling and separate the chicken from the water.
Shred the chicken and keep it aside.
Take a big vessel, add butter and add the chopped garlic to it and fry for five minutes.
Add chicken stock to it. Bring it to a boil.
Add ajinomoto and salt as per taste.
Add coarsely ground corn.
Add shredded chicken to it.
Make a paste out of corn flour by adding very little water. Add this slowly to the broth.
When it starts to boil, whisk the eggs, add them and keep on stirring continuously.
Let it simmer for some time.
Serve hot.
Note: All images used for representation purposes only.
ALSO SEE
Recipes: 10 hearty winter soups
You can send us your favourite recipes too. Write in to us at getahead@rediff.co.in (subject: Favourite recipes) with your name, hometown and any interesting details about the origin of the recipe, along with a photograph if possible. We'll publish the best preparations right here on Rediff.com and in India Abroad.