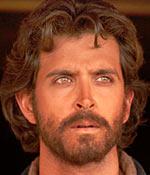 What do women really want?
It's a question that men have been asking since time immemorial and when it comes to facial hair, it's a subject that leaves them particularly stumped!
Do women prefer a man with a moustache, a beard, stubble or clean-shaven? Of course, it can never be generalised, but surveys are now revealing which way the majority sways.
According to an AC Nielsen survey conducted in 2009, Indian women seem to have little tolerance for the moustache and beard, even though it's something of a tradition when it comes to the Indian male.
In Mumbai, 72 per cent of the women surveyed revealed that they were more likely to kiss a clean-shaven man, while 83 per cent in Chennai were of the same opinion. And the numbers were not much different in Delhi and Kolkata. In fact, 90 per cent of men surveyed by Nielsen would prefer to remain clean-shaven too!
Facial hair has always been a sign of masculinity in Indian society, but today's Indian youngsters would rather whip out the shaver when it comes down to it. But stubble -- ahh, sexy stubble -- that's a different matter! According to a whopping 64 per cent of Mumbai women surveyed, stubble increases the sex appeal of a man.
And it would seem that girls across the world don't seem to think too differently. A new UK-based study, conducted by www.OnePoll.com says that females prefer a geek with facial stubble.
According to the study, a man with facial stubble and a geeky personality are women's biggest secret turn-ons. Despite complaining that it looks unkempt and feels rough to touch, the unshaven look on a man is actually a turn-on for 41 per cent of women.
A slightly geeky personality came second, proving that women really do like a guy who knows his stuff when it comes to technology. A hairy chest was voted third, followed by a man who loves to read or cries at a soppy film. Other secret turn-ons to feature in the top ten include grey hair, glasses and being a passionate supporter of a sports team.
So now we're asking you -- are you in favour of facial hair or not? Take the poll below and let us know!
Inputs: PTI