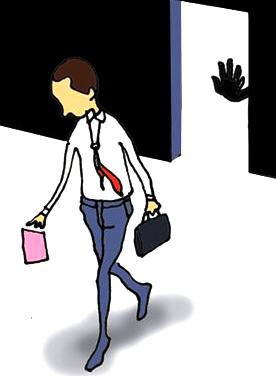 No one is indispensable, says Lakshmi Murthy, chief people officer, ITM Group of Institutions.
Illustration: Dominic Xavier/Rediff.com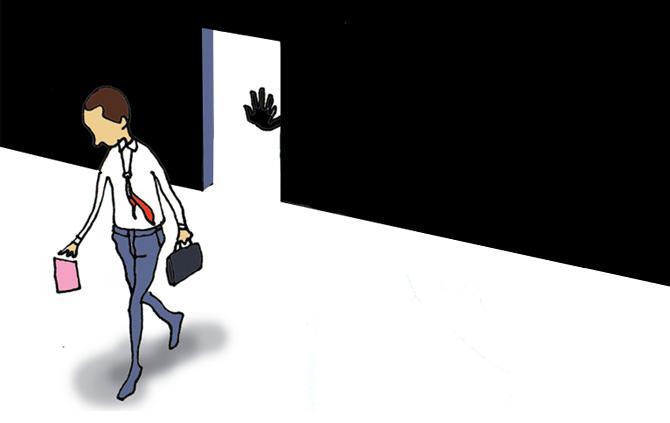 With Indian manufacturing conglomerate Larsen & Toubro firing more than 14,000 employees in what is said to be one of the biggest layoffs in India, a cloud of fear now hangs over Indian professionals across the country.
Add to that the anxieties of thousands of Indian professionals in the US worried about losing their jobs if any of the immigration reforms threatened by US President-elect Donald Trump come about.
In these times of uncertainty, it is important to stay calm, think wisely and take the best career decision.
Lakshmi Murthy, chief people officer, ITM Group of Institutions, which provides vocational education and training to Indian students, shares crucial advice with Rediff.com's Divya Nair.
First and foremost, get your head around these two facts:
Pink slips are a reality; you have to deal with it.
No one is indispensable, not even people in so-called 'stable government jobs'. If the situation arises, you can be thrown out of the company.
Now that you have digested the above, let's get to understand what you need to do when you have been given the pink slip:
Emotional outbreak
Pink slips impact both men and men.
If the news came to you like a bolt from the blue, take your time to cry it out or vent out your immediate expressions in private. This will help you settle down and think clearly.
Next, try to assess your options -- immediate and long term.
Update your (close) circle of business if they can connect or recommend you for a relevant job role.
If you have been terminated with immediate effect and don't have a financial backup, you can try some stop-gap options -- take up a contract job, freelancing, teaching or a consulting opportunity that will keep your house running till you find your next perfect job.
Get over the stigma
A pink slip is no longer considered a stigma if you are willing to look at it positively.
Understand the cause of your termination. Is it because of your non-performance? Or because of your company's dire circumstances? In the latter case, it's not entirely your fault.
If it's due to non-performance, it is time you evaluate your work methods, update your skills and prepare yourself before considering a new opportunity.
Once you are over the stigma attached your pink slip, you will be in a better shape to explain the termination or gap in your career.
Optimise your network
Don't hesitate to send a message to your friends, colleagues or senior managers who you think can help you in the situation.
Remember to ask for help with grace and dignity, without sounding desperate.
Practical tips for YOU
Revise your financial planning for the next few months. Prioritise your spendings and cut down on luxuries.
Don't live in denial.
Understand the terms and conditions of your termination letter. Does it mention non-performance? Find out how the letter will impact your future.
Talk to your HR manager and find out about your notice period, severance pay. Who will you hand over your responsibilities to?
If you have completed four years and six months, you are entitled to gratuity. Find out if that is included in your final account settlement.
Not many companies follow the voluntary retirement scheme; but you can always ask if you can avail of the offer.
Find out what are the facilities or perks you will be foregoing because of this termination.
Ask for time to consult an expert who can guide you.
Find out about leave encashment options, performance linked incentives, if any.
Be professional to settle your professional accounts with existing clients.
On the final day, get a written undertaking stating that you have no liabilities whatsoever with the company.