'Since sending my son to DU has been my only viable option, his result is a disaster.'
'The prospects of getting a good course in a good college with an aggregate of 92 per cent are bleak,' says a parent.
Geetanjali Krishna on the state of college admissions.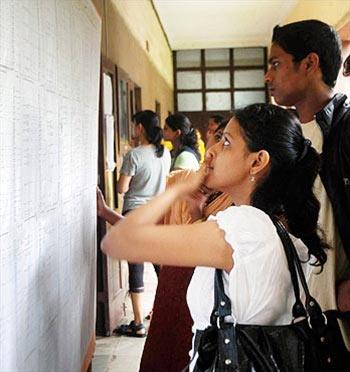 It's that time of the year when the Class 12 board results have been declared.
With an unusually high percentage of students securing over 90 per cent marks, the general mood is somewhat sombre, as it is predicted that the cut-off marks at Delhi University (DU) would be higher than usual.
Given that my son is amongst the hordes passing out of school this year, I've had more than a casual interest in the subject. So when I recently met a government school teacher, whose son is the same age as mine, naturally the conversation veered to the subject of their results.
It turned out that his son, like mine, had secured marks in the early 90s.
While our family has been very happy with my son's performance, a pall of gloom hung over the teacher's residence.
He grimaced when I congratulated him.
"Your son wants to join a professional course where his Board percentage does not matter," he rued. "But for me, since sending my son to DU has been my only viable option, his result is a disaster. The prospects of getting a good course in a good college with an aggregate of 92 per cent are bleak."
When I asked why he wasn't looking beyond DU, he said, "While private universities are relatively easier to get into, and some also provide a good standard of education, a man like me who earns Rs 60,000 a month cannot afford to shell out their fees. I'm not poor enough for my children to be awarded scholarships but not rich enough to afford private universities."
Clearly, the man had done his homework, for he reeled out the exact amounts that private universities such as Amity, Ashoka and O P Jindal charged as admission fees. What about, I suggested, options in Mumbai, Bengaluru and Pune?
They were unaffordable too, he said. "And there will be the added expense of hostel fees," he said.
He told me that when his elder son had appeared for his Class 12 examinations, he'd gone underground for eight months.
"Being a teacher myself, I ensured he had the best books even though I couldn't afford extensive tuitions," he said.
The boy received an aggregate of 96 per cent and was able to get into a college of his choice. "Now he's in his second year of college and I'm making him study for his chartered accountancy exam simultaneously. He's a hard-working boy, he'll do it," he said proudly.
His younger son, on the other hand, was not so focused, he said.
"If he had his way, he'd play cricket all the time. I told him that if you want to play a sport, at least work hard at it so you can play at the state or national level and avail the sports quota in DU."
When the boy didn't perform well enough to be selected in the state team, his father harangued him into giving up the sport. "I want my sons to do better in life than their father. That's why I'm pushing them so hard," he said.
As I listened to him talk, the obvious was forcibly brought home to me: The fierce competition for seats in DU and its consequently skyrocketing cut-offs demonstrate how utterly the government has failed in its task of providing affordable and good quality higher education to all who want and need it.
And when I think of my teacher friend haranguing his son to stop playing cricket and study a little more, it strikes me that in the intense competition for seats and the pressure to secure the highest possible marks in the Boards, there is a critical aspect of education that is unfortunately getting sidelined -- learning.
Lead image published only for representational purposes. Photograph: Sahil Salvi