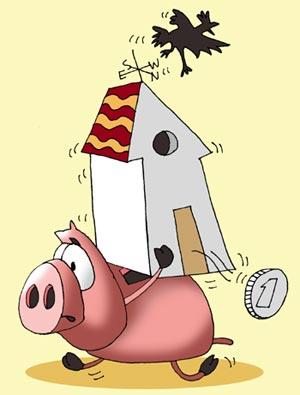 Don't think twice to secure your most prized possession. It protects your precious home against unforeseen calamities...
In India, it is clear that the rentals for quality accommodation are increasing by the day. That is one major reason why many people choose to purchase a property instead of renting. Many times the rent one pays is almost the same as the EMI a person has to pay when buying a house.
A self-owned property is long-term asset. But it is an expensive investment and buyers have to break their savings and take loan from banks. Whatever the way you choose to buy a home, it is essential to consider home insurance. It will protect your precious home against any unforeseen calamity.
Nowadays, home insurance provides coverage against different types of calamities such as earthquakes, floods, fire, explosion, cyclones, lightning, etc. Even theft and burglary losses get insurance coverage. An effective home insurance plan provides coverage to the structure of the home and its contents as well. The assessment procedure is based on multiplying the area by the cost of construction. The cost of in-house content is ascertained by using market rates and depending on the type of domestic insurance policy you take, you get coverage for distinct kinds of dangers.
Construction insurance
Construction insurance allows you to insure your property during the phase of construction itself. It safeguards your under construction house from any perceived damage. It may seem strange to you to buy insurance protection during this phase but you need to remember that your house is vulnerable at every phase of construction to various mishaps that may happen.
Content insurance
As the name indicates content coverage simply covers the things within the house. This has become essential due to the increasing number of crimes in urban areas. It also protects your valuables in cases of fire, theft, unintended breakage, damage caused to electric appliances due to electrical and mechanical breakdown.
Consequently, considering that a person invests her/his life's financial savings in buying a house it is critical to get it insured for the following reasons:
To protect you and your family's interest
To safeguard yourself if you have taken a housing mortgage
To guard yourself against third-party legal responsibility
However, before making a decision on buying house insurance coverage, it is crucial to check a few things.
Several agencies in the market provide policies with amazing and effective features with one time yearly premium. It is, therefore, crucial to understand the features of the coverage before you decide on buying one.
It is always advisable to purchase home insurance after thoroughly comparing different plans and policies from various companies. Make sure that the plan you buy includes all the features that you are looking for and provides cover against damages or theft of almost any type. Don't think twice to secure your most prized possession -- your home.
Naval Goel is CEO and Founder, PolicyX