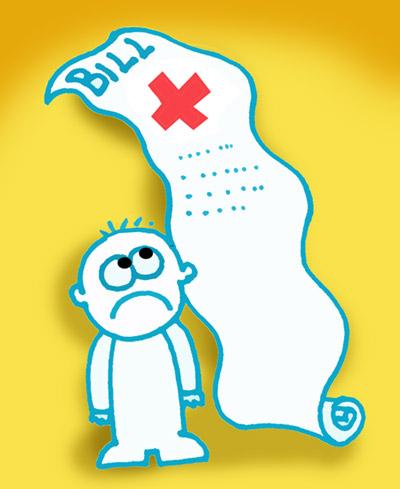 Well, there are five good reasons why you must!
Illustration: Dominic Xavier/Rediff.com
Insurance is basically defined as mutual arrangement between a company that guarantees compensation for some damage, loss or illness to the insured, who avails the services of the company by paying a regular fees in the form of a premium monthly, quarterly or yearly.
Insurance is required as a back-up since we do cannot control our future and it serves as the best way to protect from unfortunate circumstances that might pop up in front of us. Insurance is one product that is required by all in some form or the other.
These are the top 5 reasons to buy critical illness insurance
Purchase while you are healthy
It should be always remembered that critical illness insurance policies can only be purchased while one is healthy as once you are diagnosed with an illness, you are no longer eligible to purchase the policy.
If one has not purchased critical illness insurance till now, purchase it without any more delay.
'Now' is the best time to buy
One should realise the fact that the cost of treatment for critical illness is only going to increase owing to the rising medical costs. Hence it is rightly said that purchasing the insurance now is only the best time to do it.
It's tax free!
Tax benefit is one of the greatest advantages of insurance policies.
When premium is paid for a particular policy that premium amount is not taxable and can be easily claimed while filing your tax returns.
Now when a claim is made for critical illness coverage, the insurance company pays out a lump sum amount to the insured person. Most importantly this amount paid to the person insured is tax-free.
One less thing to worry about
Once a critical illness insurance policy is bought, at least you are short of one worry.
Personal critical illness plan allows the insured person to take the time that is necessary to recover without worrying even for the day to day expenses or how the additional medical services would be met.
All this is covered by a health insurance policy, which is not the case with traditional health insurance policies.
Peace of mind
Last but not the least, critical illness insurance policies are underwritten at the time of application process. This means that one will come to know who and what is covered up front and not left to chance at the time of the claim.
This proves that the policy rules are very much transparent and everything is made absolutely clear at the time of purchasing the policy. So one can be sure that s/he will not have to face any kind of problem or harassment at the time of claim.
Naval Goel is CEO and Founder, PolicyX.com