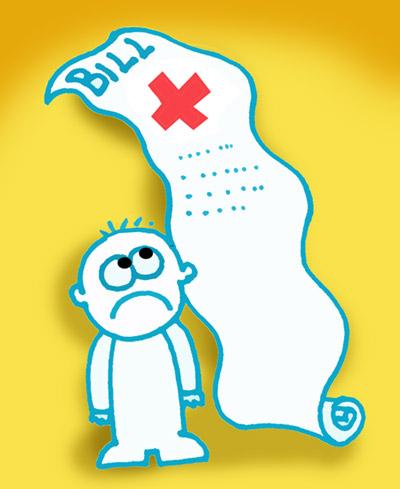 Health insurers incorporate conditions like 'Waiting Period' in their offerings to prevent customers from taking undue advantage of a service that is essential, says Mukesh Kumar, Executive Director, HDFC ERGO General Insurance Company
With medical inflation estimated to be in the double digits since the last one decade, a financial backup by way of health insurance plan is essential. There are a number of variants of health insurance: Individual plans, Family Floaters, Personal Accident Insurance and Critical Illness Insurances that are available to suit the requirements of individuals and families. While having a health insurance is a norm in most developed countries, it is yet to be so in India.
Launched in 1986 in India, the health insurance has grown modestly post the liberalisation of economy and rising general awareness. Unfortunately, even after three decades since its introduction, the penetration of health insurance in India is low compared to our western counterparts. Estimates suggest that only 11-13 per cent of population is presently covered under some kind of health insurance. This means that a majority of population is still not covered under health insurance, which is alarming. A World Bank analysis of financing of hospitalisation shows that large proportion of people in India still borrow money or sell assets to pay for hospitalisation. And a majority of Indians are vulnerable to major ailments. Amid this backdrop, not being covered under a health insurance plan can be risky.
Health insurance policies offer a number of features that are beneficial to the policyholders' physical and financial health. From a legal point of view, a health insurance policy is a contract whereby the insurer agrees to offer sufficient and fair reimbursement to the insured, and in some cases, a cashless treatment, in the event of the policyholder getting hospitalised for an unexpected medical condition. The reimbursement from the health insurance policy helps individuals and families in dealing with the financial adversity as it covers around 90-100 per cent medical and hospitalisation expenses.
A health insurance plan is essential as it has many benefits attached to it and it is probably the only way to negotiate high medical expenses in a planned manner. However, it must be noted that to avail the benefits of this product, the policyholder must fulfill certain pre-determined conditions.
One such condition is Waiting Period, which is the duration for which the policyholder has to wait to avail the insurance cover.
When you take a health insurance policy, your coverage does not commence from the day one. Instead, you may have to wait for the period of up to 30 days from the date of issuance of the policy.
This period can stretch to even up to 90 days for some people with certain medical conditions. However, you get covered for a treatment that requires hospitalisation or surgery due to accidental external injury, but no coverage would be provided if hospitalisation occurs due to any sickness reason.
Health insurance companies also do not cover diseases that are already detected in the policyholder. Generally, pre-existing diseases are not covered for the initial few years (typically, three-to-four years).
For instance, if someone is suffering from high blood pressure, then any medical expenses related to blood pressure treatment will not be covered for the first few years. This is done to prevent people from taking insurance just before getting admitted to hospital for an existing medical condition (Some pre-existing conditions are covered in the group health insurance offered by many insurance companies). However, the insured can avail the coverage on other ailments during those initial years of commencing health insurance.
Health insurers incorporate conditions like Waiting Period in their offerings to prevent customers from taking undue advantage of a service that is essential. People with deceptive mindsets can raise large claims and after receiving the reimbursements can call off their policy. Consequently, insurers will have to bear the loss.
Therefore, the condition of the waiting period has been designed to protect the insurers' funds being misappropriated. All health insurance policies come with a common exclusion like the Waiting Period, without which the health insurance business may not be sustainable.
Illustration: Dominic Xavier/Rediff.com