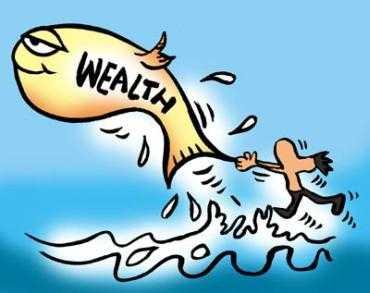 These were the fastest and most consistent wealth creators over the past 5 years.
According to the 19th Annual Wealth Creation Study by Motilal Oswal, TCS is the biggest wealth creator while Eicher Motors is the fastest, over a five-year time frame spanning 2009 to 2014.
TCS has emerged the biggest wealth creator, retaining the top spot it held even for the period 2008-13.
The stock created Rs 3.6 trillion (in terms of wealth) -- the highest ever in any five-year period in India's stock market history.
Eicher Motors was the fastest wealth creator with a price CAGR of 94 per cent, marginally higher than 93 per cent for Bajaj Finance.
HCL Technologies enjoys the unique distinction of being in the top 10 of both, the biggest and fastest wealth creators.
Kotak Mahindra Bank emerged as the most consistent wealth creator over the past decade spanning 2004 to 2014, with the highest 10-year price CAGR, followed by Asian Paints and Sun Pharma.
This table lists the biggest, fastest and the most consistent wealth creators in the last five years.
Source: Motilal Oswal's 19th Annual Wealth Creation Study (2009-2014)
Illustration: Dominic Xavier/Rediff.com