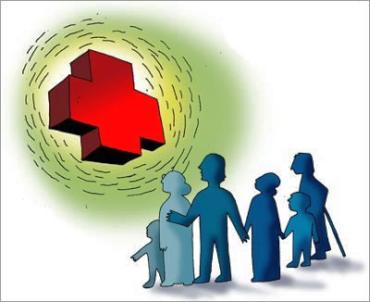 Naval Goel shares a useful list of things to get the maximum bang out of your health insurance buck
Illustration: Dominic Xavier/Rediff.com
We all know the importance of health insurance and also know that it is important to have one. But you need to have a better understanding of the same to make the best of it.
You have to make sure that you purchase a policy which covers all your needs and takes care of your health care bills and expenses in the future. But first, let's understand what health insurance is.
Health insurance is a boon in today's time as more people are prone to falling sick due to various reasons like, unhealthy eating, undisciplined lifestyle, work pressure, stress etc.
Health insurance ensures cashless treatment or reimbursement of the expenses in case you fall ill. It covers all your medical and surgical expenses.
There are network hospitals which are covered under your health insurance policy and the insurance company facilitates you to avail cashless hospitalisation or provide reimbursement for the expenses incurred.
You may have done your research and weighed the options and found the best health insurance plan for you and your family. You may have even received the documents. But the job is not done yet.
Here is the list of things you need to take care of to put your health insurance to a good use:
Early purchase of your policy
The primary thing to do is 'No delay' is buying your health insurance. It is better to buy a suitable, good policy today than 15 years later as there will be fewer benefits associated to it at that time.
Find the best comparison portal online and choose your policy wisely.
Choice of plan: Individual or family floater
One should opt for individual plan while they are young or in their twenties but it is advisable to choose a family floater plan if you have hit your thirties, as during this time you are either already married or about to get married.
It makes sense to choose a plan where family members up to 6 or 9 can be covered. But under family floater if the members who are of age more than 50 years and are already prone to certain illness have higher chances of making a claim and then rest of the members can be left with either less coverage or no coverage at all.
Remember the renewal date and arrange for sufficient funds
The premium to be paid for your policy can be a good chunk of money and may be heavy on your pocket.
It is advisable to remember the renewal date and keep the funds intact well in advance to avoid the last minute hassle.
Tax saving
It is known to all that insurance policies help you in tax saving. It helps you save tax against the premium paid towards the policy for your health plan. But some might not have the knowledge about tax benefits and might not claim a tax deduction or do it a wrong way.
The tax deduction is covered under Section 80D of the Income Tax Act, which talks about tax deductions on the premium of health insurance.
Increase sum insured
Your health plan can prove to be insufficient if you do not evaluate your insurance cover from time to time and increase the same.
Addition of new member
One may plan to start a family after buying the health insurance policy. If you are one of those then immediately inform your insurer.
You might want to cover your new born child under the same policy. You will have to pay a pro-rated premium and the insurer will issue an endorsement.
In your next renewal, your child will be covered as well.
By taking full advantage of all the benefits your health insurance coverage offers, not only will you get the most bang for your health care buck, but you and your family can live healthier, too.
Also, buying the right policy is important and requires constant review and attention so that it can be put to best use.
Naval Goel is CEO and Founder, PolicyX.com