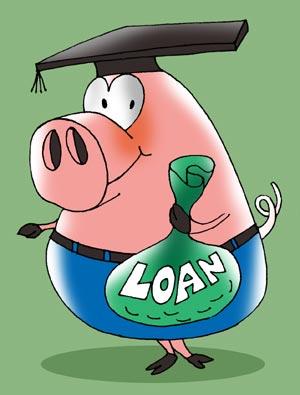 There are certain key points that one must know when while applying for education loans:
Higher education in India is becoming costlier in past few years especially, management education. IIMs have increased their fees drastically in last few years. These amounts are quite heavy on the pockets of a middle class or higher middle class family. Even if a student has worked before and saved all the money, s/he may just fall short of the basic tuition fee for an MBA course. However, one should not allow the high fee structure to keep them away from the coveted B-school degree. MBA aspirants should select the right loan and pursue their dreams.
Today, loans for MBA courses are available with almost all major banks. Some banks also have tie-ups with some of the premier institutes, where they offer the students a special rate of interest which is normally lower than market rate of interest.
Margin
Margin is the amount of money students are supposed to pay through his/her own pocket. A bank can either pay 100 per cent of the cost of education or a certain percentage of the total cost. Margin money is not covered by the bank for the payment of the essential and necessary fees.
Generally, students are not required to pay any margin money for loans up to Rs 4 lakh. For loans above Rs 4 lakh, the margin money is 5 per cent for studies in India and 15 per cent for overseas studies. There are few schemes provided by certain banks in which margin money is completely scrapped out.
For instance, Union Bank of India and Central Bank of India do not ask for any margin money under their special education loan schemes.
Collateral security
Under a regular education loan scheme, a student borrower doesn't have to provide collateral for loans up to Rs 4 lakh. The bank asks for collateral in the form of a suitable third-party guarantee along with assignment of future income for loans between Rs 4 lakh and Rs 7.5 lakh. For loans above Rs 7 lakh, the student has to offer tangible collateral security equal to 100 per cent of the loan amount along with assignment of future income. However, State Bnak of India's Scholar Loan for students of certain premier business school (except Indian School of Business) as well as the Central Bank of India's IIM scheme does not ask for any collateral security.
Under SBI-ISB loan scheme, the certificate will remain in the custody of SBI till the time loan is paid off. The student can also provide a third-party guarantee (TPG), preferably of an earning sibling of the student or a person known to the bank. As per Central Bank of India-IIM scheme, a student has to provide comprehensive life insurance policy in his/her name for at least the loan amount and a minimum period of 10 years assigned in favour of the bank. Similar is the case for loans granted by other banks through a tie-up with ISB.
Moratorium period
The period of non-payment of loan installments is called the moratorium period.If one avails an ordinary education loan scheme, the moratorium period specified is a year after the completion of the course or six months after securing employment, whichever is earlier. However, some special schemes differ on this ground as well.
The moratorium period under the SBI-ISB scheme is up to three months after the completion of the course. The time-frame is higher at six months (after course completion) under SBI Scholar scheme. Similarly, loans extended by the Union Bank of India to ISB students features a moratorium period of 18-24 months or soon after placement, whichever is earlier.
Repayment
Typically the bank provides a repayment period of seven years for the loan. But, in some banks the repayment period of four years is offered on an average.
Key tip
Most banks offer a 1 per cent concession on study loans, if an MBA aspirant pays the interest component of the loan during the moratorium period. The question is: whether parents can afford to pay the interest component of their children's loan?
If they can, it could be a feasible option as they can seek tax relief to the extent of the interest outgo. This will also ease the burden of repayment off the student's shoulder.
Illustration: Uttam Ghosh/Rediff.com