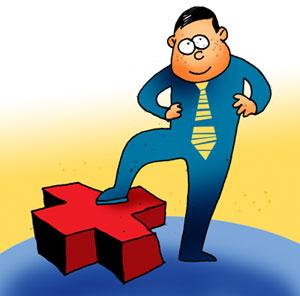 Harjot Singh Narula lists five checkpoints to help you find the best health insurance plan
Illustration: Dominic Xavier/Rediff.com
If you are planning to buy a health insurance plan, it is important not to buy it blind folded.
With various comparison portals in place, it is effortless for a layperson to understand and compare multiple health insurance plans to buy the best fit.
These are five most important aspects you must look out for before buying health insurance plans
1. Room rent sub-limit
Room rent benefit is the amount given to you on per day basis for availing a room in the hospital while undergoing treatment.
It is important to check the eligibility of room rent under your health insurance plan.
Room rent benefit usually under a standard health insurance plans offer 1 per cent or 2 per cent of your base health insurance sum insured on per day basis. So, if you have opted for a health cover of Rs 3 lakh, you will be entitled to get Rs 3,000 per day as room rent benefit (if your health plan gives 1 per cent of the sum insured as room rent).
Also, there are health insurance plans which offer a single private room irrespective of the amount specified to be given on per day basis.
Few insurers have come up with plans where they offer no capping on the room rent benefit whereas some others offer you the opportunity to choose your own type of room under your health plan.
2. Pre-existing disease waiting period
The pre-existing disease is any kind of medical condition which an insured has attained or have symptoms of, before taking the health insurance policy.
The pre-existing disease is not covered under individual or floater health insurance plan. However, the same is included after the specified tenure known as the waiting period.
The waiting period for pre-existing disease usually ranges from 24 months to 48 months since the policy inception date.
It is important to see the waiting period clause before you make a final buy.
Even if you port your health plan from one insurer to another, your surpassed waiting period will be considered by the new insurer, and you need to serve the remaining period only as a waiting period.
The lower the waiting period, better it is.
3. Network of hospitals
Network of hospitals available under your health insurance policy is important to check.
Hospitals near your vicinity and the major multi-specialty hospitals must be from the list of network hospitals of the insurer.
Getting treatment in the network hospital is easy by showing your health card and avail cashless hospitalisation as the hospital collaborates with the insurer.
The management of the claim is also easy and manageable.
4. No claim bonus
No claim bonus is the value-added benefit which your insurer gives you in case of a no claim under the policy.
Usually, it is the percentage increase in the sum insured which ranges from 25 per cent to 50 per cent per annum subject to a maximum of 50 per cent to 100 per cent of the base sum insured.
This benefit enhances your coverage under your health plan without any increase in premium. But there are health plans which reduce the no claim bonus in the same proportion (of its increment ) in the event of a claim.
On the other hand, there are health plans which will not impact your already accumulated no claim bonus, in case you make a claim.
Obviously, the one which will not impact your no claim bonus is better.
It is imperative to look at the conditions associated with the bonus.
5. Day care procedures
With technology advancements, there are procedures which take less than 24 hours for the treatment and the patient need not have to stay in the hospital for minimum 24 hours to get claim benefits under health insurance plan.
This benefit is usually offered under the majority of health insurance plans, but the quantum or number of day care procedures covered vary from one plan to another.
Some health insurance plans provide a list and number of day care procedures where as some plans say all day care procedures are covered. So, it is important to have a look at the procedures and opt for a health plan covering maximum day care procedures.
However, points mentioned above are important things to consider but should not be looked in isolation only.
Premium, other key benefits, claim settlement ratio, claim processing mechanism of the insurer, etc., are other vital things to consider as well.
Don't forget to read the policy wordings or the fine print.
Harjot Singh Narula is founder and CEO, ComparePolicy.com