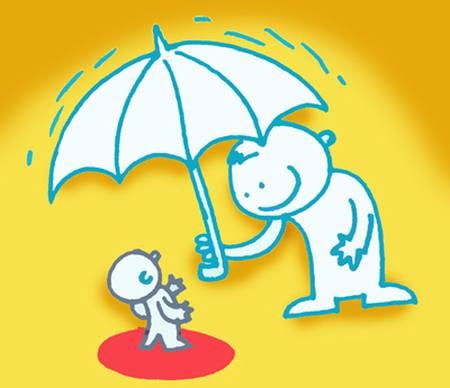 It is your duty to be responsible to your health and start saving and investing early in a suitable health insurance, says Naval Goel
Illustration: Dominic Xavier/Rediff.com
At the dusk of life, when a person has worked for a good 20-30 years, s/he wants rest and lead a relaxed life -- without the constant worry of taking care of others. This phase of retirement however comes with a concern: the absence of fixed earnings.
Any prudent individual plans ahead before s/he can settle down. S/he saves during her/his lifetime and invests in well-paying schemes, so that they don't have to be conservative in their spending post retirement. However, with retirement comes old age too, which brings with it health issues. Hence, it becomes imperative for people to undertake healthcare planning as well.
Advantages of beginning early
It is always advised to plan for healthcare early because you never really know when an emergency situation will strike. On a more technical side, your savings get time to multiply and grow.
For example, if you save Rs 5,000 per month at the age of 20 and it pays 12.5 per cent per annum compound interest then by the end of your 60th year (when you retire) you would have saved Rs 5.94 crore.
But if you begin at the age of 30, you would only have saved Rs 1.76 crore. So, if you give 10 less years to your savings, you miss out on the benefits of compounding by more than four crore.
Availing adequate medicare without the worry of insufficiency
It is inevitable to contract diseases in one's old age.
Without investing in a sound healthcare plan, it will also be very difficult to avail the services of a good hospital or a doctor.
One will be easily able to concentrate on best healthcare rather than 'how am I going to pay the medical bill?'
The most important aspect of health insurance is that one is not limited to government hospitals but can actually avail good facilities at private hospitals as well.
Financial security
The price of medical service is very steep and rising rapidly. Once, a person is admitted to a hospital, there are various costs, which a person has to pay. They involve not only doctor's fee but also charges for various diagnostic tests, medically prescribed expensive drugs and sometimes even a re-examination fee.
The list does not include other exorbitant bills that one has to pay off when a surgery -- major or minor is involved. Paying off these expenses will naturally drain one's savings. And where such expenses are contingent in nature and have not been prudently accounted for, they hurt more.
There are many who would argue that going to government hospital is cheaper as there is less cost involved.
It is important to note, private hospitals are well equipped with modern facilities in comparison to government hospitals. Also, keeping in mind the kind of low doctor-patient ratio India has, one has to fend on their own -- looking for good medical services instead of relying on the state.
If you have a health insurance policy, you can take the benefit of modern facilities as your health insurance will pay for the hospitalisation as long as it is within the permissible limits of the policy.
Covering pre-existing diseases
First of all, let us understand what pre-existing disease actually is.
Pre-existing ailments or diseases are symptoms, diagnosed ailments or any existing or past health condition which exist at the time of applying for mediclaim Policy.
When one applies for a healthcare insurance, please ensure that the detailed medical background of the family is provided.
The IRDA has mandated a maximum of four years after which one's pre-existing diseases need to be covered by the policy but generally, health insurance companies cover it much earlier as well.
Tax benefits
The cherry on the cake is the tax benefits that can be availed with health insurance /mediclaim.
Under section 80 D of the Income Tax Act, you can avail tax benefits up to Rs 25,000 per annum when you buy medical insurance in India for your family.
Additionally, you can also avail a rebate of Rs 15,000-20,000 if you buy health insurance for your parents. If your parents are senior citizens (65 years and above) the rebate is Rs 30,000. This means an individual can now avail a rebate up to Rs 30,000 for buying health insurance policies.
Thus, we see how important it is for one to take care of healthcare planning before retirement. You don't want to be stuck in a limbo or become dependent on someone else, even if they are your own children.
It is your duty to be responsible to your health and start saving and investing early in a suitable health insurance. It could be a monthly income plan or a fixed deposit, depending on the kind of returns you expect from each -- or simply a mediclaim.
Naval Goel is CEO and Founder, PolicyX.com