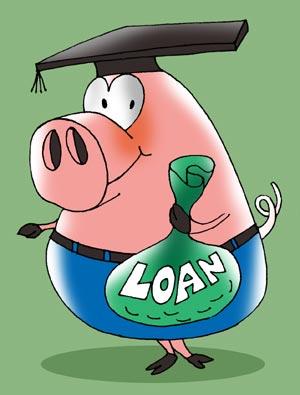 There is a lot of home work you need to do before opting for an education loan.
Illustration: Uttam Ghosh/Rediff.com
Completing higher studies or pursuing a professional degree has become very expensive these days.
As a result, many prefer to take education loan.
Are you also planning to avail an education loan for your child so as to enrol him/her in a renowned college in India or abroad?
If yes, before you proceed with the same, here are some important tips that you should keep in mind.
Quick tips to keep in mind
1. Decide your loan amount
Firstly it is important to decide how much loan amount you need.
Start by looking at your course fee and decide how much amount you can pay from your savings.
It would be advisable to avail the loan for the remaining amount from a lender to lower the burden.
2. Detailed research on interest rates
Before availing an education loan, it is important to do a detailed research on interest rates.
How much interest would be charged by a lender on your loan?
Also, check whether the interest rate being offered on your loan amount will be fixed or floating.
3. Go for a longer tenure
Try to go for an education loan which has a longer repayment period so that you can pay thin EMIs to begin with.
Loans with longer tenures won't create a hole in your pocket as you can easily pay their monthly amount without any hassle.
However, if you have sufficient funds, going for a loan with a shorter tenure is also a wise move as it helps you in saving a lot of money.
4. Look for certified banks
Education loan also comes with income tax benefits, and to avail the same, you look out for government recognised banks.
Yes, under Section 80E of the Income Tax Act, you can avail the tax benefits, if the loan is taken from a private or government certified bank.
5. Try for maximum loan amount
When it comes to education loan many banks and NBFCs offer 100 per cent of education expenses.
You can get all your tuition fees, living cost and various other expenditures such as buying new books, travelling expenses, electrical/mechanical equipment and many more covered.
However, for a loan beyond a certain limit, lenders need a security from you to avail the same loan amount.
6. Keep an eye on cost detailing
Before opting for an education loan, the applicant should calculate total costs like tuition fee, hostel costs, development fee etc.
In fact, all Indian students who are willing to study abroad should also check currency rates as they need to pay more fees, hence keeping an eye on costing part would be helpful for you.
7. Keep the down payment ready
It is also crucial to decide on how much amount of money you can spend when it comes to making the down payment while keeping your budget in mind.
Think that a certain percentage of the loan amount decided by the lender has to be paid by you as down payment.
8. Choose courses with maximum job prospects
Students should pay attention on choosing those professional courses that come with maximum job prospects.
If you avail an education loan, you should also think about the repayment of the same.
And, if you choose those courses coming with great job opportunities, you can start earning early; hence can also repay your loan early.
9. Keep a record
It is highly important to keep a record of all the copies received from your lender. You should safely keep your documents/copies related to education loan with you for the future reference.
10. Give attention on timely payments
Especially with education loans, you cannot afford to go wrong.
Yes, one should not be a defaulter of education loan as it can affect your degree or course completion.
If somehow you fail to repay your loan on time, it would be difficult for you to get another lender. So, before going for an education loan, think about the same.
The author Rishi Mehra is founder Deal4Loans.com.