When Deepak Singh started working as a salesman in the US, he was ashamed of the fall in status this signalled, says Vikram Johri.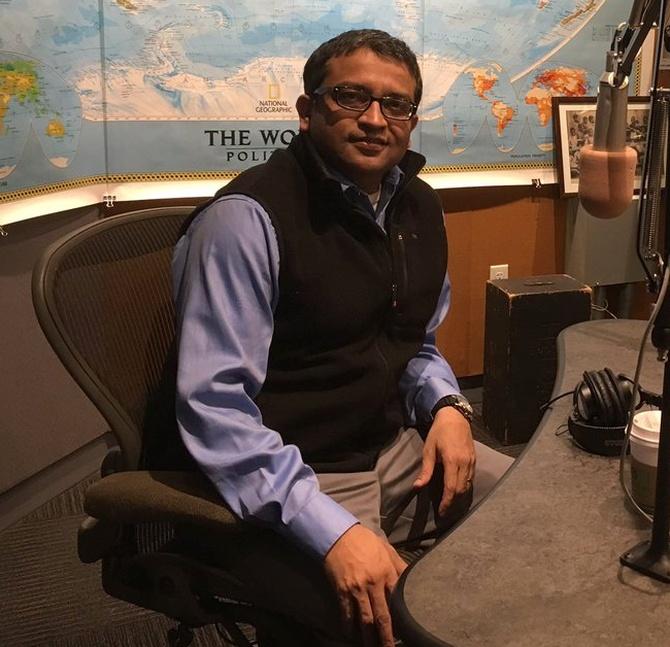 IMAGE: Deepak Singh narrates his experiences with a steadfast focus on what he learnt from them in his book, How May I Help You? Photograph: Kind courtesy Deepak Singh/Twitter
Deepak Singh grew up in Lucknow where he did an MBA and ultimately found a job with the BBC's radio service in the city.
In the early 2000s, he met Holly, an American anthropology student spending a year in Lucknow, and love quickly blossomed between the couple.
After they married in 2003, Singh shifted to the US with his wife.
How May I Help You? An Immigrant's Journey From MBA To Minimum Wage (Penguin) is an account of the contrast between Singh's Indian and American lives and how he negotiated the seemingly unbridgeable chasm between the two.
It is also a closely observed look at small-town American life, its dreams and challenges, and is thus a welcome respite from the spate of books focused on bicoastal elites.
Singh and Holly moved to Charlottesville, Virginia, at whose university Holly became a PhD candidate.
Before leaving for the US, Singh was certain that, with his MBA, he would easily land a white-collar job in the US.
When that did not materialise, he was forced to take a job as a retail salesman in an electronics store.
A great raconteur, Singh narrates his experiences with a steadfast focus on what he learnt from them.
America was a world of unknowns to this urban Indian who was convinced that the time he had spent at the British Council library in Lucknow had prepared him for a life in suburbia.
He was soon disabused of such notions.
He had trouble understanding and being understood by the customers who walked into the store, some asking that they interact with an English speaker.
Singh acknowledges that this issue may not have cropped up in a bigger American city.
In Charlottesville, many clients at the store spoke in heavy accents that sitcoms and Hollywood movies had not accustomed him to.
His initial days at the store were marked by anxiety.
He was unsure of the products he was supposed to sell -- why would anyone need a shower radio, he wondered. And he knew too little about big-ticket items like cell-phone plans to earn good commissions.
He was overqualified for the job, yet he found that he was not naturally good at it.
But he persevered.
He was willing to learn and his earnestness won him the admiration of his superiors.
He stayed in the job for close to a year, in which time he became a successful salesperson whose earnings could go up to $1,500 a month.
That was not much, not even by Indian standards -- Singh recounts the shock of discovering that his American salary was scarcely better than what he earned at the BBC in Lucknow -- but it was better than nothing.
Living in America proved to be an education.
One time, Singh called a colleague a 'black ass' jokingly because another colleague had done so, and he had to be told that blacks could say that to one another but other races were not supposed to.
He took some time wrapping his head around the fact that his boss, a female, had been married to a man but now lived with a woman.
His idea of America underwent other changes.
It is the land of prosperity, but not uniformly so.
His colleagues struggled to make ends meet, working extra hours to afford a babysitter or pay the mortgage on their house.
The level of deprivation was different from India's, but that was little respite for someone like Ron, Singh's colleague, who worked two shifts and battled high blood pressure.
Social dynamics and attitudes to family differ significantly, Singh learnt.
Many people who struggled financially had become parents at a young age, sometimes when they were not even out of school. This affected their prospects.
When Singh first started working as a salesman, he was ashamed of the fall in status this signalled. But, in due course, he came to appreciate that his lot was better than that of some of his colleagues.
Ultimately, Singh came to relate with his colleagues and customers in a way that he struggled to around his wife's friends and peers.
While he felt he belonged to the latter group, he found that their academic discourses could tilt towards the incomprehensible.
At work, he encountered people who were less educated but whose stories were richer because their lives were grounded in the real and immediate.
Sometimes, their ignorance brought him unexpected gains, like when he became the store's contact person for any customer from the east, be it West Asia, Afghanistan or Bangladesh.
Singh didn't mind knowing and sharing the address of the local halal shop if this interaction closed a sale that earned him a commission.
America, naturally, changed his perception of India, too.
When he returned to Lucknow for the first time in two years, he noticed, with piercing clarity, the fate of those less fortunate than him.
His maid was aghast to learn that he had to do his own dishes and the chaiwala he frequented in Hazratganj refused to take money from him on the condition that he would not forget 'this poor man'.
Singh is now a full-time writer who travels with Holly on her research projects.
They have a daughter and divide their time between India and the US.
How May I Help You? is a simple book, but it rises above its ordinariness due to its writer's keenness to document for his readers a world at once fascinating and disconcerting.