It's durable, it's perfect for our weather and, now, it's fashionable.
On Day 2 of the Lakme Fashion Week, designers Mayank Gandhi and Shraddha Nigam, Divya Sheth and Ujjawal Dubey gave India's traditional handloom a stylish, contemporary touch.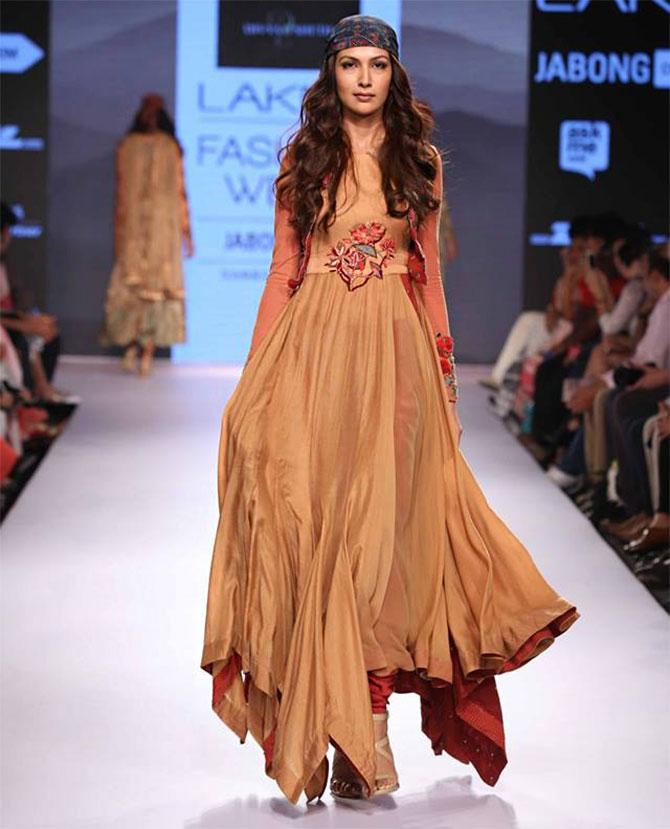 The 'Sultana On Safari'… could there be a more apt name for the Divya Sheth's collection?
Cropped pants and asymmetrical kurtas take inspiration from Nature.
To make life really easy for the worldwide tourist, there were summer trench coats with spacious pockets for Ipads, mobiles and passports.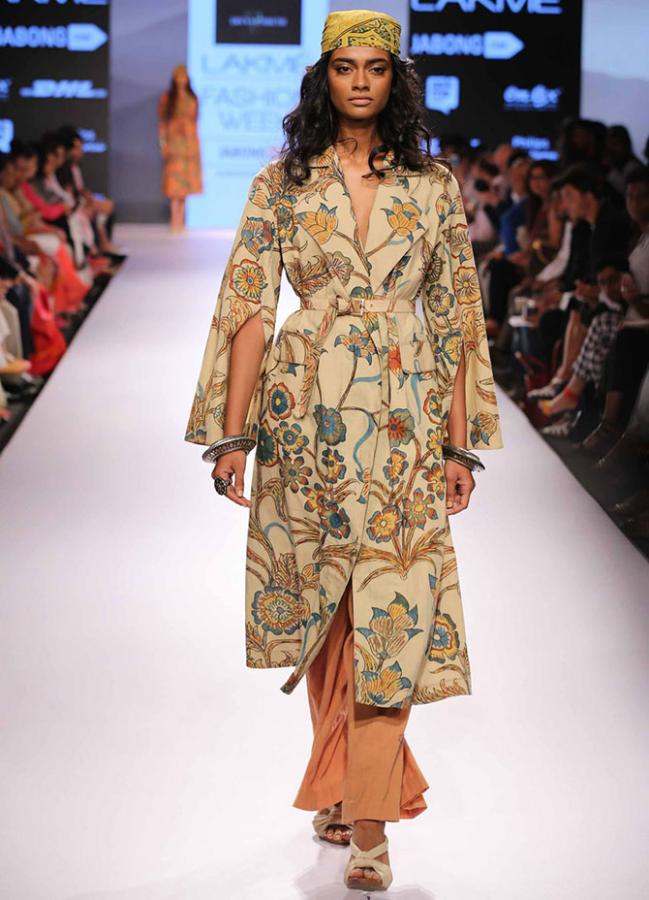 Colours were kept very earthy with beige, brown, leaf green and rust adding to the natural tone of the collection.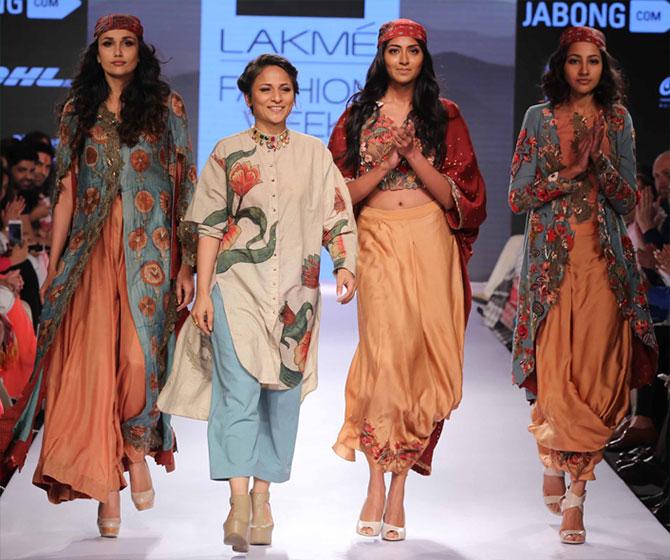 Organic silk and silk chiffon were given an innovative touch with traditional reinvented Kalamkari and Ajrakh by the designer, seen here, surrounded by her creations.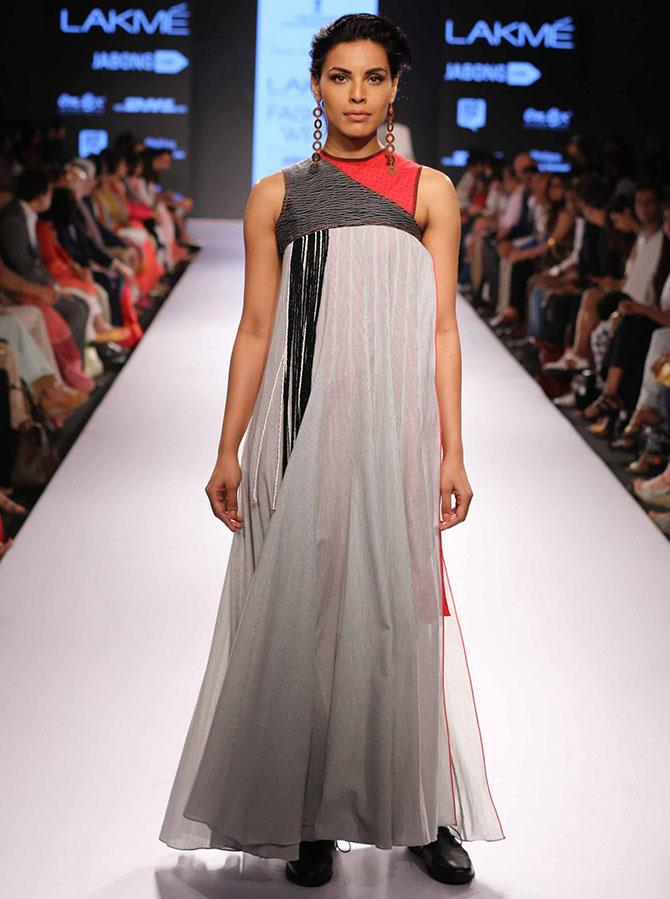 Actors-turned-designers Mayank Anand and Shraddha Nigam made effective use of that beautiful, twisted yarn fabric, the Dhonekali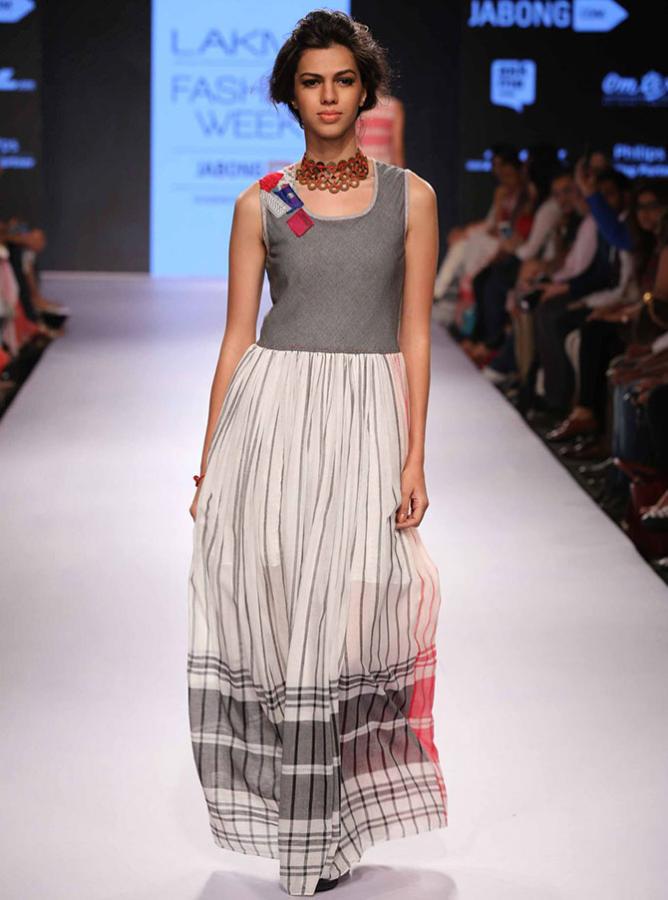 The designer duo limited their colour palette to a black, white and red checked pattern to create a refreshing effect.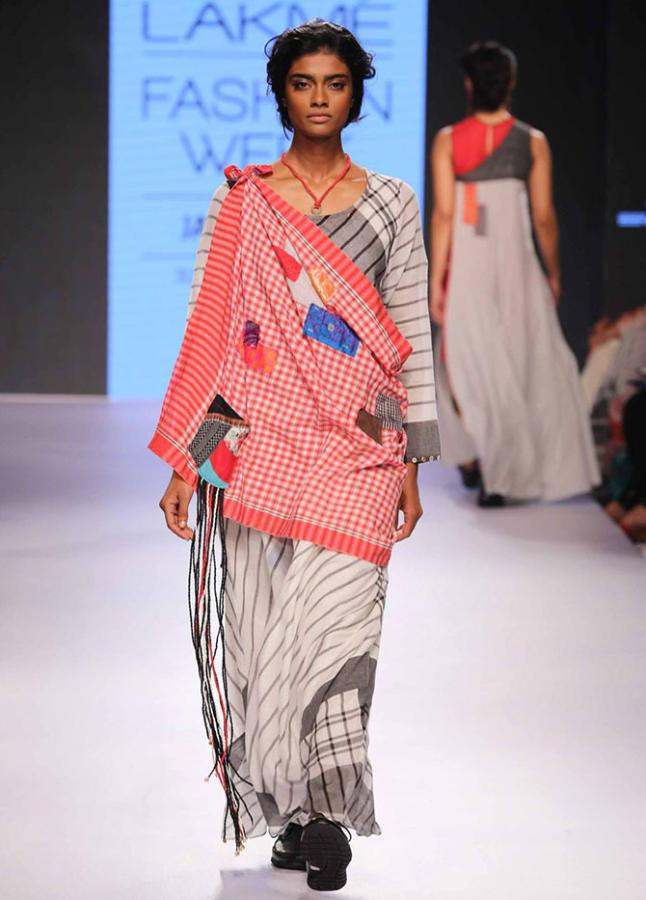 The traditional multipurpose gamcha, extensively used in North India, was used to create interesting silhouettes.
From interestingly draped tunics and dresses to cowl pants and striking tops; the collection made optimum use of these two very humble textiles.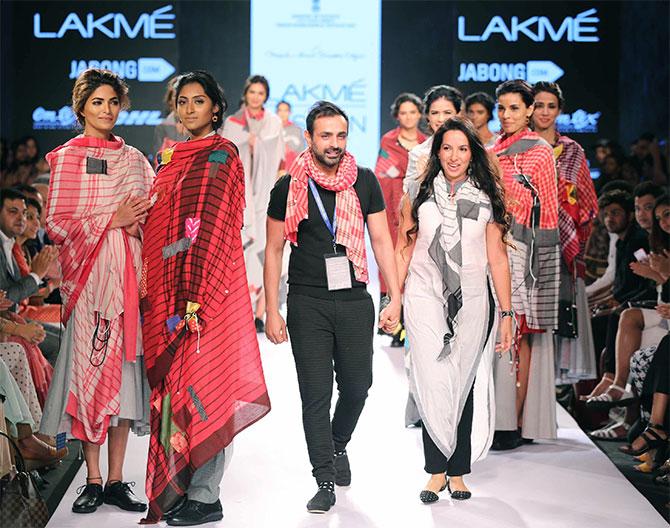 The designers take a bow :)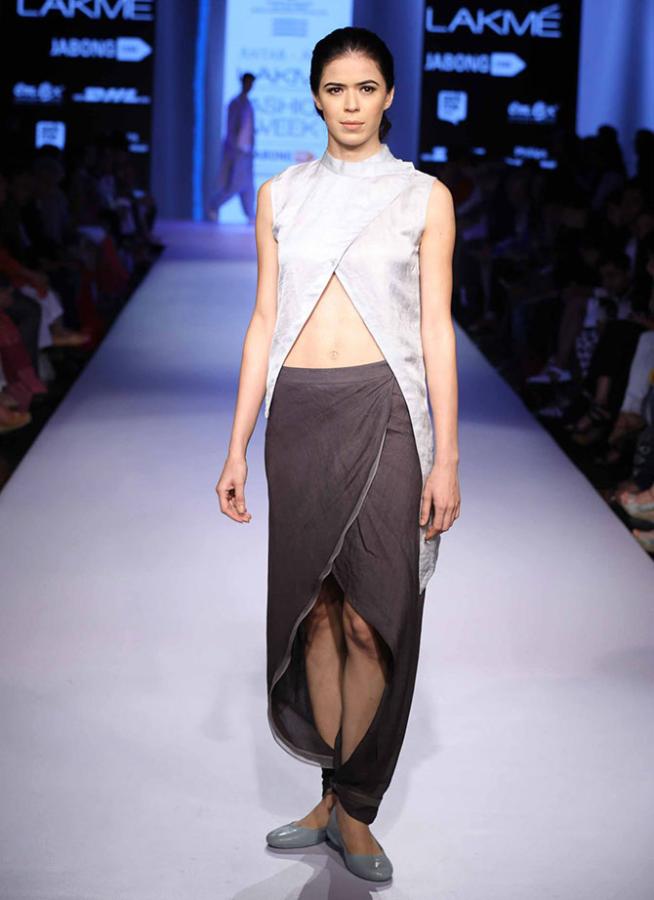 How's that for a new dhoti drape?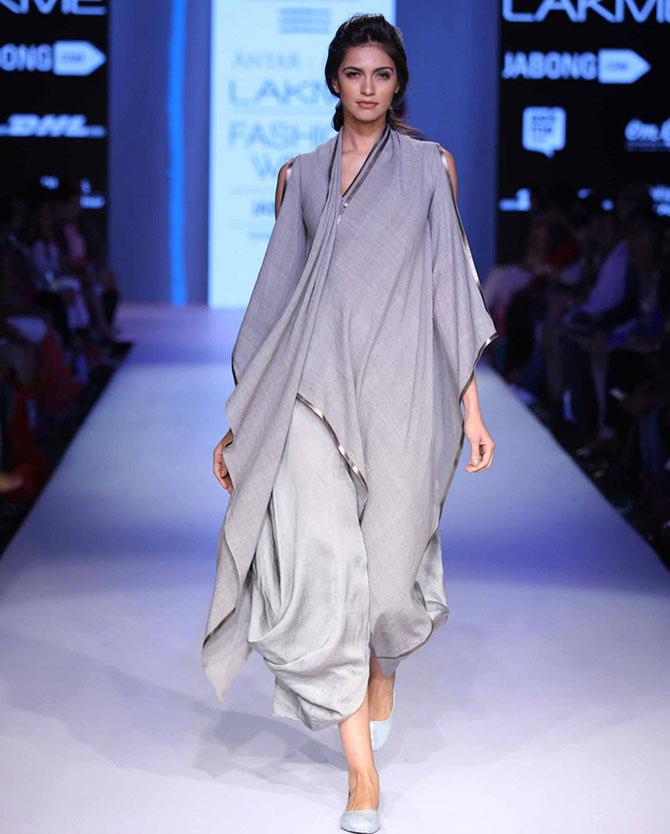 Drapes, in fact, were the highlight of Ujjawal Dubey 'Half-Light' collection.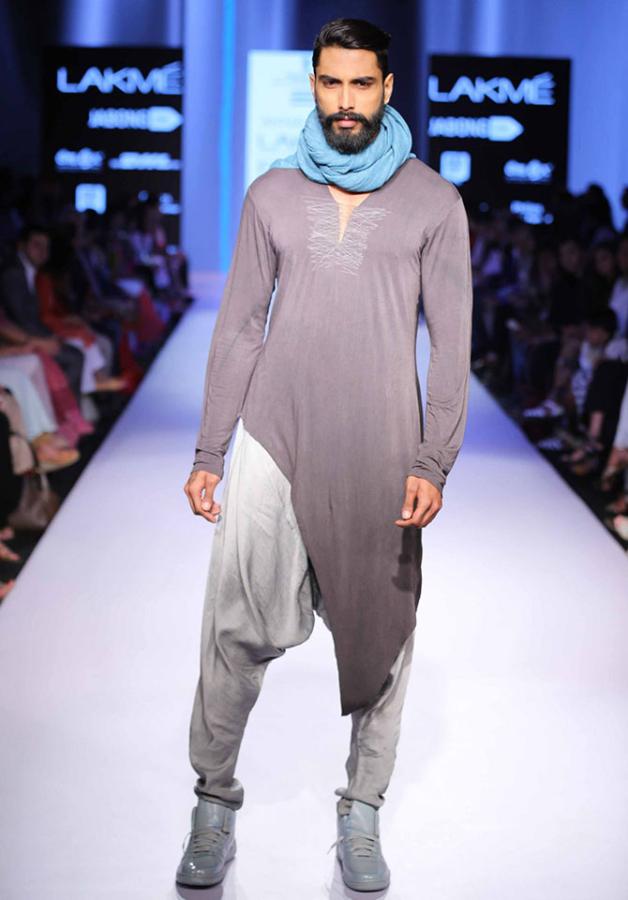 It focused on relaxed fits and included fabrics such as handwoven khadi, linen net, linen satin blends and cotton linen with faux leather and organza accents.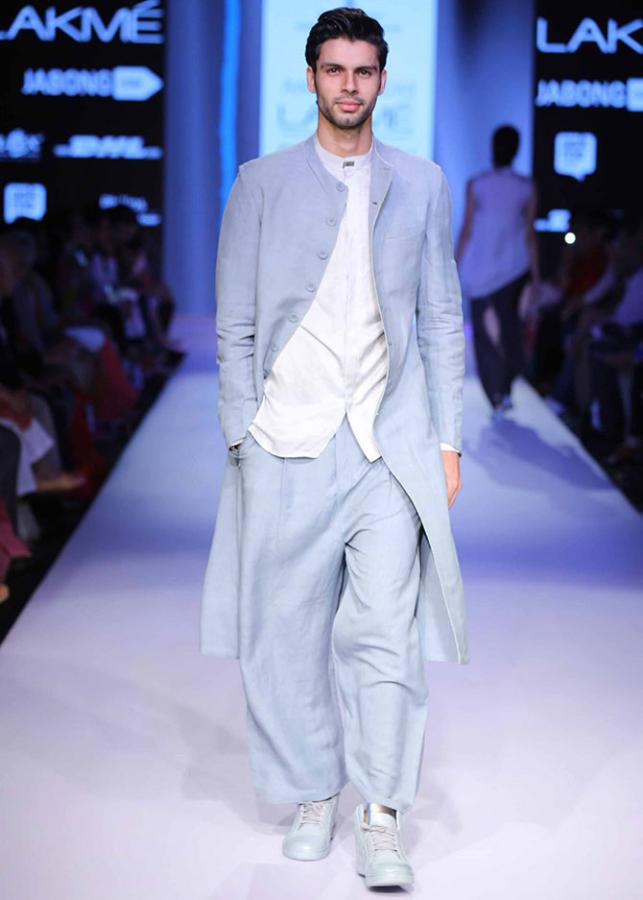 Perfect for the summer, don't you think?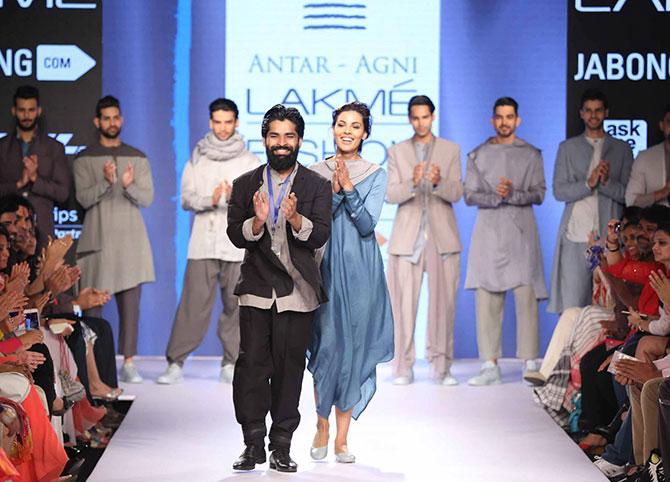 Ujjawal Dubey's Antar-Agni label gave men's wear a New Age feel with wide salwars, one- button collarless jackets, long knee length sherwanis and cross-over kurtas.
Photographs: Courtesy Lakme Fashion Week
DON'T MISS: Lakme Fashion Week Special Coverage