Standup comics today have greater freedom to develop their unique brand of comedy. Vikram Johri examines the phenomenon.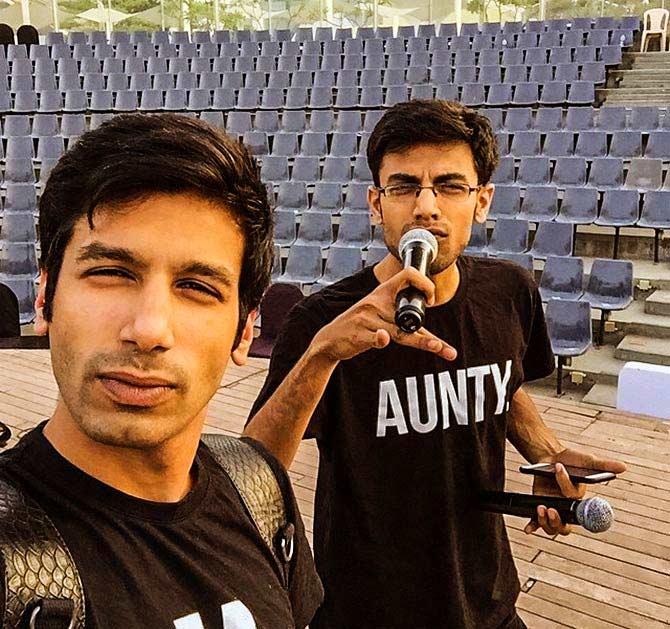 Kanan Gill (left) and Biswa Kalyan Rath rose to fame with Pretentious Movie Reviews.
Photograph: Kanan Gill/Instagram.
Recounting a robbery in which two men took away his wallet, comic Kanan Gill sets up the subsequent scene at the police station in his comedy special Keep It Real.
The police ask him to identify the suspects from a book of known criminals. He comes across the name "Mohan. Associate: Vijay" next to which is written: "Robbery of lonely walkers." After a pause, a straight-faced Gill says to the audience, "Not people walking alone."
Gill's comedy often emerges from the eccentricities of language and translation.
The incidents he narrated on the special were culled from commonplace occurrences in Bengaluru, but they were not short snippets told for laughs. He presented detailed anecdotes that flitted from one disparate topic to the next, yet in their totality, spoke to something that comes close to a personal vision.
Consider the time he took muscle relaxants as a 16-year-old with his friends. This unleashed a night of terror and paranoia, but in Gill's telling, the situation is reminiscent of a scene from The Big Lebowski. The highlight is the hallucinatory monkey (Gill has a childhood fear of monkeys) that is impervious to his attempts at making it scoot.
A frequent target is the bureaucracy. In the sketch on answering questions for a driver's licence, for example, the laughs come not from typical gags, but from Gill's purported willingness to accept his fate and play along. The events he describes are not spectacular, but Gill's expressiveness, both verbal and non-verbal, makes for suave comedy.
Gill is arguably the most popular among a new breed of standup comics.
An engineer from Bengaluru, he earned his chops via gigs in comedy clubs and skits on his YouTube channel.
One of the more popular among these is titled Pretentious Movie Reviews. Together with Biswa Kalyan Rath, another comic, Gill eviscerated Hindi movies from the 1990s, their stilted dialogues, in-your-face sermonising, or plain bad editing. From forgettable flicks like Prem Aggan to blockbusters like Dilwale Dulhaniya Le Jayenge, nothing escaped the duo's relentless gaze.
Some of his other acts have since been bought by Amazon Prime Video, which is also the home of Keep It Real.
In one, he plays a frustrated customer whose wait for a ride is endlessly delayed by a clueless cab driver. This fantastic -- and fantastical -- sketch brings out the flip side of ride-hailing services like Uber and Ola whose drivers, in their bid to finish as many rides as they can, give short shrift to basic instructions from the customer.
The rise of streaming giants has been a boon for the standup scene in India.
As the battle between Amazon Prime Video and Netflix heats up internationally, in India too the race is entering the next lap. And while both companies have committed huge budgets for India-focused programming, on the comedy front at least, Amazon has already taken the lead.
Scan through the retail giant's Prime Video offering and you would notice that barring Aditi Mittal (who Netflix snapped up), nearly every major comic working in the standup scene today has signed exclusive deals with Amazon Prime Video. From Rath to Zakir Khan, East India Comedy to All India Bakchod, the major players can now be watched on Amazon.
This is not to suggest that the groups are not making material for their own channels. AIB's recent sketch on India's independence hilariously spoofed the British reluctance to grant India freedom. The Viral Fever has also tasted success with its long-form programming.
But the rise of streaming companies has brought a world of opportunities to standalone comics, reliant thus far on whimsical revenues from YouTube. Besides the monies, Amazon and Netflix bring their substantial marketing heft to the table, allowing comics to reach a larger audience.
All of this means that comics today have greater freedom to develop their unique brand of comedy.
Rath, for instance, adopts a quirky persona in his standup Biswa Mast Aadmi, poking fun at, say, Indians' craze for cricket. An IITian, he peppers his standup with scientific jargon that seems both preternaturally savvy and unexpectedly appropriate.
Khan aims for the rustic, speaking about his childhood in Uttar Pradesh and the comic advantage his upbringing affords him. His material on Haq Se Single is a mix of the cautious and the bold, as he traverses the fine line between small-town ethos and making it in the big city. His humour, which emerges from the class divide between the new and old India, focuses especially on the pitfalls of finding love across this gap.
More stars are likely to emerge from Amazon's and Netflix's attempts at developing their comedy pipeline. For now, the likes of Gill, Rath and Khan are regaling audiences with their intensely local stories that suddenly transform into side-splitting jokes.