'If you batted an eyelid and drifted the vehicle a little, you'd certainly hit the unsteady rocks and meet your end. Or so it seemed.'
'By the way, did I tell you that we were cruising at approximately 12,000 feet and above?'
Today: Rediff.com's Divya Nair takes you higher up the mountains, towards Tso Moriri, a lake that gets its name from a beautiful woman.
Jispa to Tso Moriri: 313 km
IMAGE: Lotus was a naughty, cranky kid we met at Pang, our lunch spot enroute to Tso Moriri. He'd fallen and injured himself and kept clinging to his mother, not allowing her to work in peace.
I was challenged to click a happy picture of him and after a lot of playing around, this was the best I could manage. Photograph: Divya Nair/Rediff.com
I woke up at 3.20 am. By the time I gathered my scattered stuff in the room and rechecked if I had picked up everything, the other convoy members had vacated the hotel for the assigned spot.
I cursed myself for hitting the snooze button. Last night, we were specifically briefed why it was important to leave on time. The Advance Team led by Vikrum Kapoor had updated us that a large army convoy was scheduled to travel on the same route at approximately 5 am. So, if we started after 5, the convoy would certainly be set back by a few hours.
At 4.30 am, we got into our vehicles and started the roll call.
Over the radio, it was announced that someone had picked up soft drinks from the restaurant and not paid for it. Three announcements later, no one bothered to own up, so Ikson Menezes from the hospitality team took charge while the rest of the convoy started moving.
We took the same road from last evening. And as we crossed the Maggi point near the bridge, the Secret Six screamed 'Julley', a word we'd learned from our conversation with the restaurant owner.
In Ladakhi, Julley (pronounced joo-lay), means Namaste, or Hello.
Driving through dusty, death defying rocks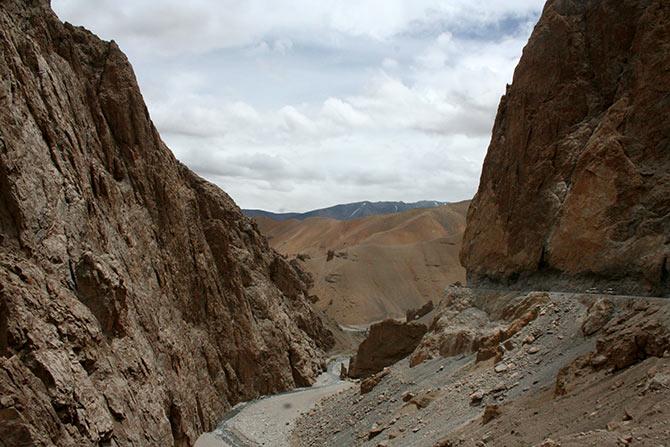 IMAGE: The narrow drive through the mountains kept us on the edge of our seats. Photograph: Divya Nair/Rediff.com
The roads were crumbly and the only lights that beamed were of the convoy making a beeline in a disciplined order.
With no streetlights or traffic guides, these lights became our eyes for the next two hours.
We sat on the edge of our seats as the roads cut through the mountains in an irregular fashion. One good look at it, and they threatened to fall on us.
If you batted an eyelid and drifted the vehicle a little, you'd certainly hit the unsteady rocks and meet your end. Or so it seemed.
By the way, did I tell you that we were cruising at approximately 12,000 feet and above?
IMAGE: The winding roads lined by gravel made the drive tricky. Photograph: Divya Nair/Rediff.com
Enroute we stopped for a car that was stuck in a water stream. Thankfully, the vehicle was successfully retrieved and we could continue without losing steam.
We all admired the unusually perfect structure of the rocks. I learned that snow combined with wind does that to the rocks. As it melted, it left a pattern that even professional artistes would find it hard to recreate.
Through the trip, I also realised that our stomachs work in mysterious ways.
On a normal day, I would be fast asleep in bed, but here, I was feeling hungry from the cold. And so was Jijo and Soumi.
I slowly opened one of the breakfast boxes and helped Jijo with a sandwich.
It's snow time at Baralach La
At 6.15 am, we stopped at Baralach La (16,040 ft) for our bio break.
This was a new high point for us, so some of us clicked selfies for memory.
It was snowing outside and we could barely speak.
We'd parked the cars strategically on one side of the road, so the girls used the car doors as cover as we answered nature's call one by one.
Ice-cold breakfast at Sarchu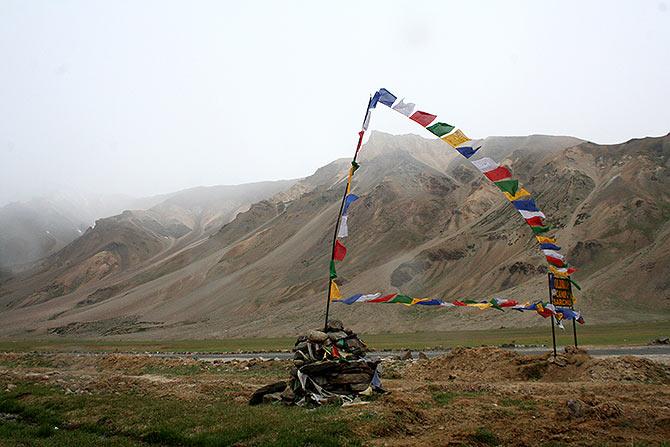 IMAGE: The breakfast point at Sarchu offered a stunning view of the ranges on either sides. The colourful Tibetan flag is a subtle sign among locals that roads exist around the place. Photograph: Divya Nair/Rediff.com
At around 8 am, we stopped at Sarchu (14,000 ft) for breakfast.
The road was bordered by greenish-brown ranges on either sides. There were a couple of tents on one side where we were supposed to have breakfast. As soon as we got off the car, a whiff of wind hit my face.
The tent now seemed a few walks away. Given the weather and altitude we were in, running towards the tent, I realised was a bad idea.
I was off Diamox so I had to be extra careful not to exert myself. I took small steps which made the distance even excruciating.
The packed box I opened contained not one, but three potato bhaji packets. I wasn't feeling lucky at all.
Everyone else was busy digging into their paratha, poha and sandwich. The food had gone cold, but it did not matter right now. I asked for coffee which was lukewarm. I felt like a prisoner but no one else was complaining so I quickly gulped it down.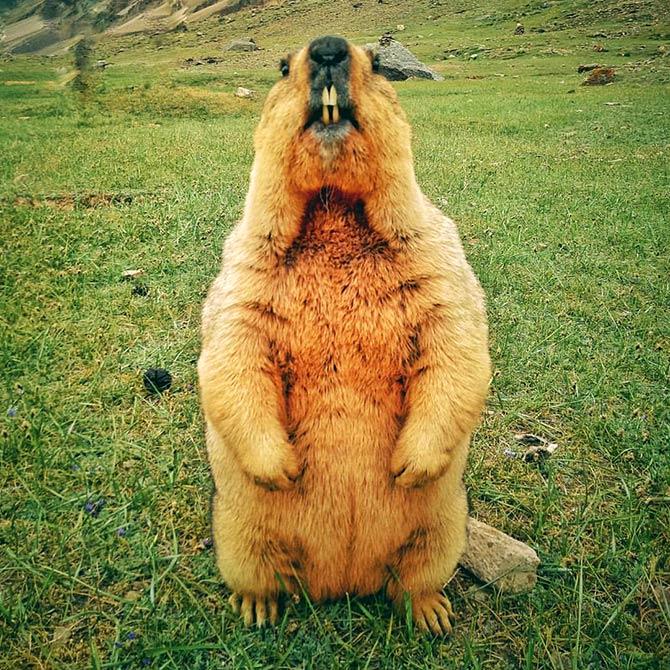 IMAGE: A rare photograph of the marmot in Sarchu. Photograph: Kind courtesy Jatin Verma
Outside the tent, everyone else was going beserk over a marmot.
It was a brown, overgrown squirrel that was unprepared for the paparazzi.
My hands went pale and I couldn't click a picture with the gloves on. I watched the animal slowly disappear into a tiny burrow.
It was warm inside the car.
Tipsy bridges, tired labourers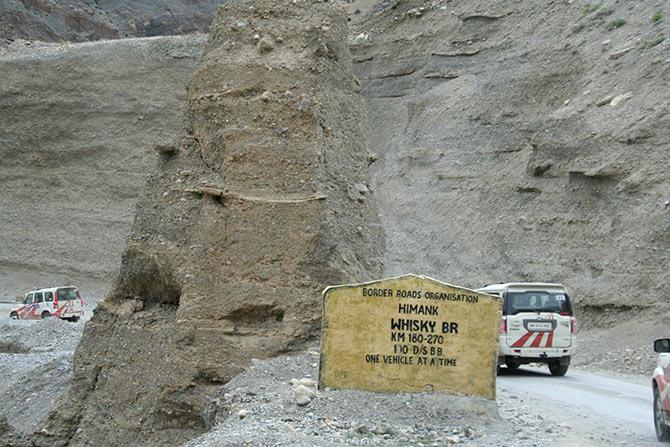 IMAGE: The different bridges -- ZingZing Bar, Whiskey Br, Twing Twing Br, Brandy Br, Killing Sarai -- kept us entertained. Photograph: Divya Nair/Rediff.com
We noticed men working on the site waving out to us.
These workers, we were informed, were hired on contract for an approximate salary of Rs 5,000 per month to work for a period of six months. Scorching sun or freezing wind, they bore it all and their skin showed signs of early ageing.
We had been told to save up and pack the unused food from our breakfast in boxes. This, we distributed to the hard working men we met on our way. They returned with smiles and waved at our cars even more frantically.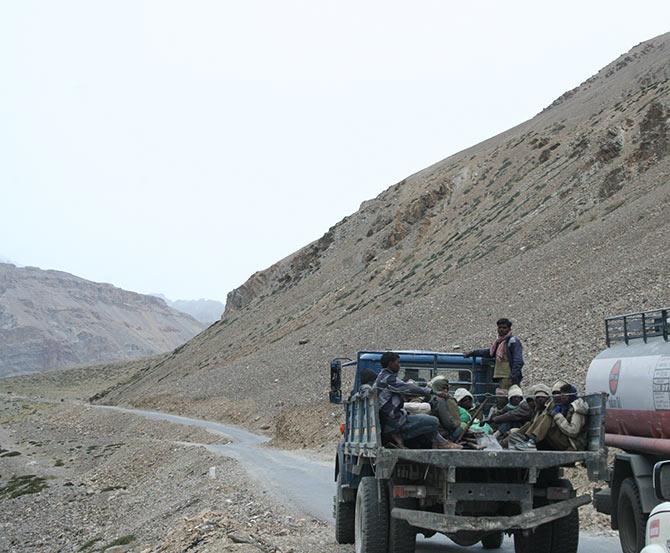 IMAGE: The trucks ferried the contract workers to the construction site. The tarmac roads on these less inhabitated terrains are the results of their hard work. Photograph: Divya Nair/Rediff.com
Around noon, we stopped for our lunch break at Pang.
I heartily relished a bowl of soupy Maggi noodles and asked for a second helping. Some others enjoyed egg Maggi, and the staple dal-rice.
There was lemon tea too.
Finding the perfect M at More Plains
The next few hours were spent shooting a perfect 'M' at More Plains.
We had to park our vehicles to form an M and by the time, Jatin Verma, our photographer got us in the right frame, it we had lost two hours.
Once our vehicle was parked, we stepped out of our cars to do some dancing, posing and photography.
I won't be exaggerating if I were to say that every 30 degrees you tilt, you would see a different landscape.
It was drizzling, so, I managed to take few shots as quickly as I could before I ran back to the vehicle.
IMAGE: The sun played hide and seek offering its own hue to the colour-changing landscape at every turn. Photograph: Divya Nair/Rediff.com
The 40-km-drive on the plains was clearly one of the most beautiful stretches we had seen.
The mountains changed colours from yellow to brown, green and even hues of purple and red at one point. There were shepherds rearing cattle and I felt a story from my kindergarten days come alive.
There were donkeys that kept pace with the convoy and white, grey, brown and black horses grazing away to glory.
We spotted yaks too.
It must be past 7 when we caught a first glimpse of the vast Tso Moriri (Tso meaning Lake in Ladakhi). I don't remember how long we kept driving but the road just kept stretching itself. At one point, I so wanted a bio break that I felt I would jump off anytime.
To make matters worse, there was a check point, where a team of guys checked if our vehicle registration numbers matched and asked us our names.
Once we were let go, the ride to the camp was equally long as only one vehicle could pass through and it was dark.
Enter Korzok village
IMAGE: The tents in Tso Moriri in which we stayed for two nights. Photograph: Divya Nair/Rediff.com
Given the roads that led us here, yours truly had imagined this to be some deserted camp site. But Korzok village, our chosen spot for the stay, had everything a small village needs -- it had a monastery, some shops and cattle to keep them busy.
As soon as we parked, I rushed inside my tent to pee. I had never lived in a tent or a campsite before. My only experience of building a camp was during my MCC (Maharashtra Cadet Corps) training, but we did not really stay inside it.
So, here I was, zipping open a canvas tent that would be my home for the next two nights. It had a 4x6 bed, a single bed and a small table.
Before I could investigate much, I rushed to the bathroom, which was spacious and had a bulb to light up. I ignored the cold toilet seat as relieved myself.
The water in the basin froze my fingers. I must have made two more trips outside the tent to get my luggage and that was the last memory of fitness I have of the night.
Altitude sickness kicks in
Inside the tent, I sunk my socked up feet deep inside the two layers of comforter, wore an extra layer of clothing, covered my ears and tried to stay warm. But the worse had just begun -- I just could not breathe normally.
I felt suffocated and started to draw air from my mouth. My head ached every time I breathed though my nose. I tried slow breathing, but I felt weak and tired.
Dr Pawan Sharma came to visit me and took my vital readings.
He suggested I take a Zantac, have my dinner in the tent and then take another tablet. In case it did not work, he said, I might have to take oxygen.
When I told the doctor that I had survived minus 2 degrees in Riga, he had narrated the story of how a local person had met his end due to altitude sickness.
The whole idea creeped me out, and I kept teaching myself to breathe normally. I brought out a thick pair of knee-length socks, buried my head in the comforter and tossed and turned through the night.
The story kept playing on loop in my head and I contemplated the idea of getting up, packing my bags and running home. This was definitely not the place I wanted to end my life, I thought.
By 11 pm, the electricity would go, and without a torch light, it would be difficult to walk around the place.
Day 6: Tso Moriri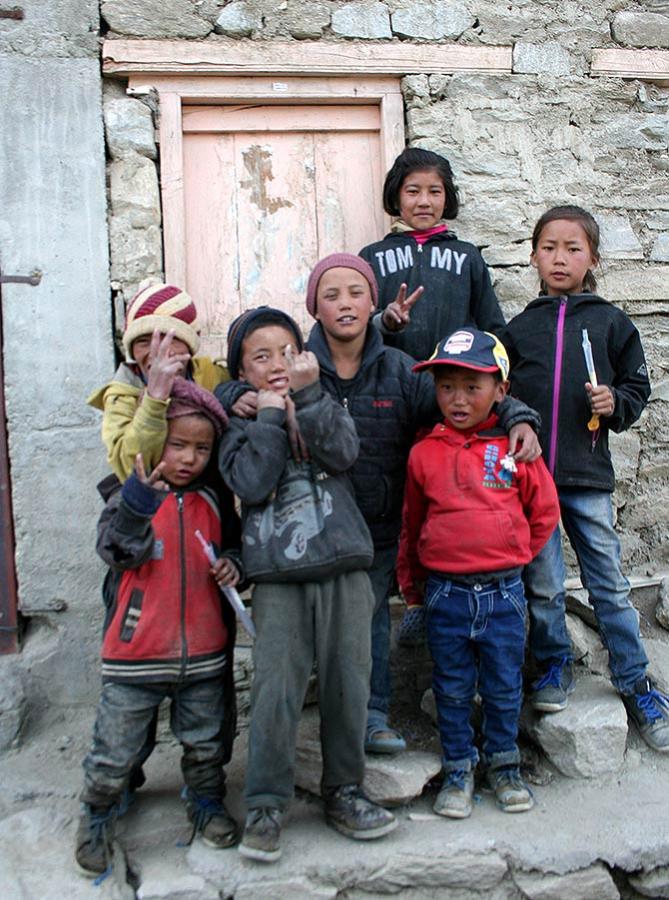 IMAGE: "Yay... paisa milega," I overheard them singing as they bunched up near a door frame. I had read that tourists bribed kids to pose for pictures, but I was adamant and told them they'd only get chocolates, no money, to which they agreed.
It felt silly bribing them like this, but I clicked the picture anyway for memory's sake. Photograph: Kind courtesy Dr Pawan Sharma
At 6 am, I sat up in my bed. I realised that I felt so much better sitting up than when I was in corpse mode. I had to wait till 8 am for the electricity to come back so I could charge my phone or camera. Since there was only one plug point, Soumi and I took turns.
I quickly got dressed up and stepped out to get some fresh air.
Outside, I thanked Tashi, a soldier with a ready smile who was on vacation to his hometown helping his folks. He had been extremely kind to me through the night, promptly offering me ginger-water and clearing up my dishes.
It seemed I wasn't the only one who had a sleepless night. Jijo, I learned was also suffering from altitude sickness. So was Diptiman Chakraborty and Aiman Kalia, both of whom had to be given oxygen.
After breakfast, I felt slightly better and mistook the weather outside to be bright and summery, so I chose to venture out in my colourful sleeveless sports gear with a cardigan for company.
The media team, except Jijo, along with the rest of the convoy went sight seeing up the hill where we watched the lake change colours from green to shades of blue.
The sun was too overpowering for me so the media team chose to drive back while the rest of them drove to another spot.
Once back in the tent, I chose to rest it out. For lunch, I was advised to have a sip of rum, which turned out to be quite a wrong decision. I felt out of breath and sick to the hilt.
The layers of clothing came on, and the hot ginger water kept me in good stead. By evening, Soumi wanted to go and sit by the lake. The rest of the convoy had come and shared stories of how they burned their noses by sleeping near the lake.
A rendezvous by the lake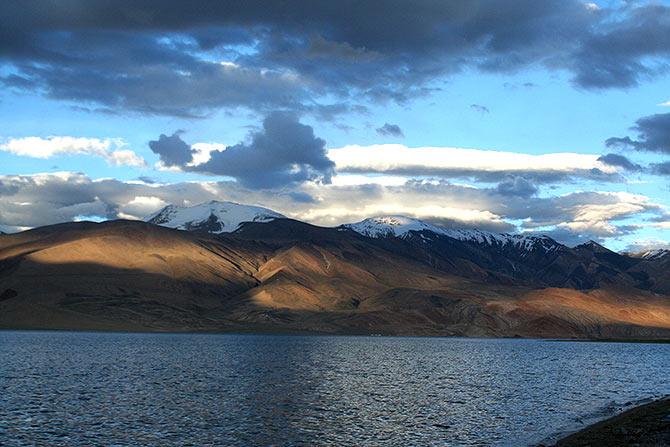 IMAGE: I saw the sky change into a medley of red, orange and grey before finally going grey and black as it gradually embraced the night. Photograph: Divya Nair/Rediff.com
Ikson, Soumi, Vinod and Jijo joined for the nature trip where we sat by the river, meditated, and watched the quiet waves dance in a perfectly aligned curvy pattern.
Two hours later, even with the thermals on, I realised could no longer sit there and rushed back in the car to save myself from falling any more sick.
I obviously have no good memories of the night that followed, but it seemed the participants had visited the Korzok monastery.
Sangeeta Siwach even came back with a story of how the lake found its name.
It seems a beautiful lady named TsoMo had taken her yak for grazing. She kept saying 'riri' to the yak as she drowned in the river and died. Since she was a devotee of the god, god felt it was unfair of her to die in a place so far.
It seems the yak pulled her out of the river and dragged her down to Korzak village. Along with her body, it is believed she also got the river to the village. Since then the river is called Tso Moriri.
The entire village, it seems, was preparing for an upcoming festival to be held in August.
I skipped dinner that night, tried throwing up so I could get some sleep.
I felt constipated too. It did not matter that the place was beauty personified and everyone took great care of me, I just wanted to be out of here as soon as I could.