India's first women's frisbee team is up for the challenge as the World Ultimate and Guts Championship beckons.
Laxmi Negi/Rediff.com takes notes as the players prepare for the competition.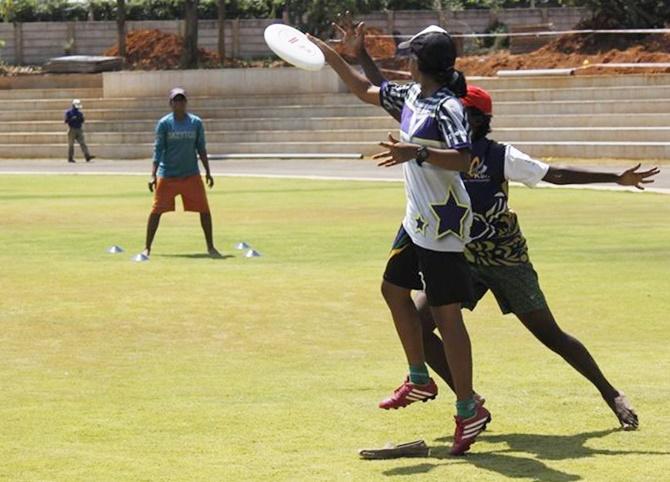 IMAGE: Ultimate Frisbee players Sangeetha Manoharan and Zahra Kheraluwala during a training session.
Megna Shankaranarayanan and her team-mates are gearing up for a World Championship.
They train 4 to 5 times a week, somehow managing to balance work and studies, in some cases.
No, these girls are not into professional football, cricket or hockey, but, hold your breath, Ultimate Frisbee.
Yes, Frisbee is a sport, and an Olympic one!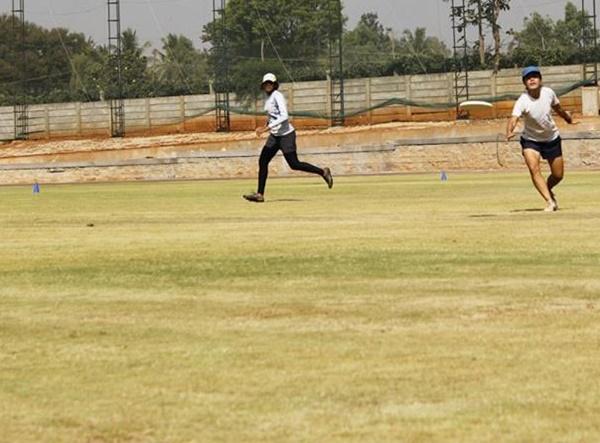 IMAGE: Megna Shankaranarayanan, left, with Uraguchi Chiai.
For the first time, India has entered a 20-member national women's Ultimate Frisbee team for the World Ultimate and Guts Championships 2016.
The 'Flying disc' game was recognised as a competitive sport by the International Olympic Committee in August 2015.
What is Ultimate Frisbee?
The goal is to score points by catching a pass in the opponent's end zone. It is a non-contact game and combines the constant movement of soccer and the passing of American football; it is played between two teams of seven.
Unique among sports, it is self-refereed, which is Ultimate's most cherished attribute.
Ultimate Frisbee has grown from hobby to sport and has certainly come a long way. For this Indian team, though, there are still miles to tread.
Most of the girls in the team are professionals in other fields and find time to devote to the sport they love most.
Megana, 28, a consultant, is training hard for the World Championship, which starts in London on June 16.
India's captain, she actively participate in athletics at school and got hooked to frisbee when "people in India generally give up sports."
Bangalore-based Kartika Rajaram, who works in an energy management company, has been playing Ultimate Frisbee for the last eight years.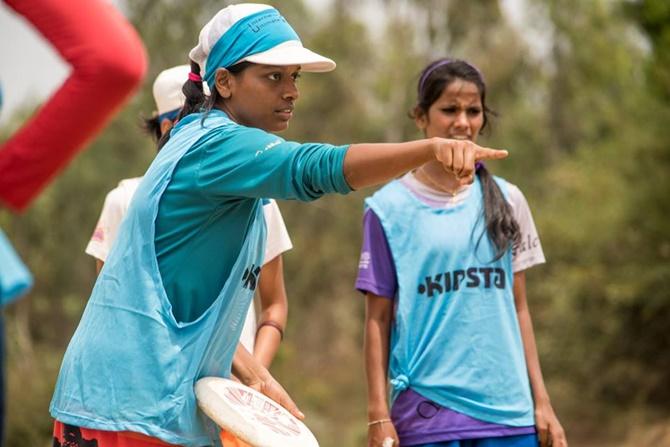 "I started playing the sport on a trial basis, but today I am addicted to it," the 33 year old says excitedly.
Megana took up the sport at the insistence of a friend whom she met at a wedding.
Explaining why playing Ultimate Frisbee is an "ultimate challenge" in India, she says: "First of all, we are women."
"Secondly, it's sport we talking about, so we will get tanned."
"Then, its a mixed sport (men and women play frisbee together. In a team of seven there should at least be one woman), so most families don't like women and men playing together."
Elaborating on her predicament, this Chennai girl adds: "It is frisbee, not cricket, so obviously we get looks like, 'What sport is that?'."
"We are not professional players (frisbee is professional only in the US), so we are either working or studying. And that makes it impossible for us to juggle work and play."
Her teammate Nima Ponappa is set to get married sometime soon, but her parents' only worry right now is the expenses she will incur on travelling to London for the World Championship, rather than saving for her big day.
Smriti Av from Auroville is a filmmaking and pottery professional, who, at the prompting of her friends, watched her first Ultimate game six years ago and has been hooked since.
Within no time she developed into such a good player that she was the most sought after during tournaments.
"You can learn frisbee very easily, but it is very tough to master," she points out, adding, "A few years ago, during tournaments, players used to field their sisters, friends or relatives in mixed teams -- the ratio of women in the playing-7 used to be 1:6. However, these days there are many women who have taken up the sport."
Stressing on the problems teams faced in the past due to sheer lack of women players, Kartika says, "Frisbee is so athletic and fast that we used to get tired. We continued to play because there were no girls available for substitution. Luckily, things have changed. For the selection camp in Auroville we had almost 150 girls. It was overwhelming to see that number."
Now the sport is slowly attracting audiences. During the 2015 World Championship, matches were shown on huge screens.
"We had a community of 3500 followers. It was like the cricket World Cup for us. We bunked work, snacked on popcorn and soft drinks and watched the tournament," reveals Megna.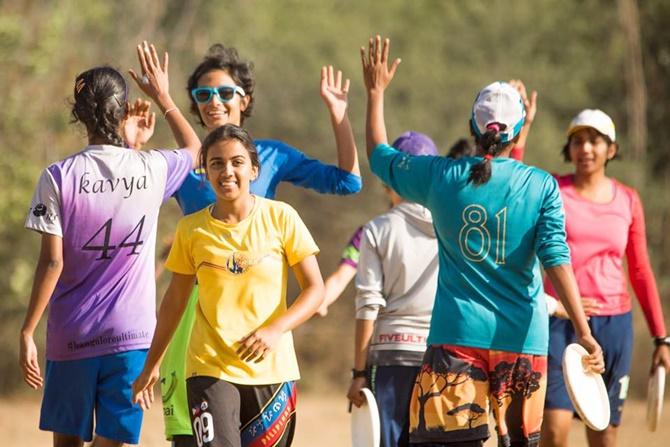 The sport is gaining popularity in places like New Delhi, Gujarat, Bangalore, Chennai and Auroville (Pondicherry), and Smriti makes a genuine point in that context.
"Earlier, the mixed teams used to have women for the sake of it," she says. "We were used to filling in the gaps, but these days women are passionate about the sport."
Sixteen-year-old Bhavya Trivedi, the youngest of the pack, butts in.
"Five years ago when I used to say that I play Ultimate Frisbee, I would get the look of 'What is that?!' Now, women are getting started. We are equal on field and it is time to make a difference."
Bhavya, who is the "spirit captain" of this team says, "This sport is taking me to the World Championship. I can't ask for more."
"Most people don't know about the sport," adds Kartika, "but when I tell them about it, I get a 'wow' reaction. There is curiosity about the sport."
When 20 women have set their hearts on participating in the World Championship, no one can stop them from realising their dream.
The team has no sponsor and the players are using their savings to make it to the tournament.
The girls are also attempting to crowd-fund their way to London. So far they have raised more than Rs 35 lakh (Rs 3.5 million), of a targeted Rs 42 lakh (Rs 4.2 million).
With the logistics -- the tickets, visas and accommodation -- in place, they are now focused on the challenge ahead.
"We have set our sights on the tournament. As we meet only at the camp we are focusing on training well for our first international exposure as an all-woman's team," says the captain.
Having overcome all odds to reach where they have, all these go-getters need to do now is dare to dream.
You can do your bit for this team at https://www.ketto.org/firstever