Anamika Chhawal aka DJ Agni spins Bollywood tracks when she's not doing her investment consultant job.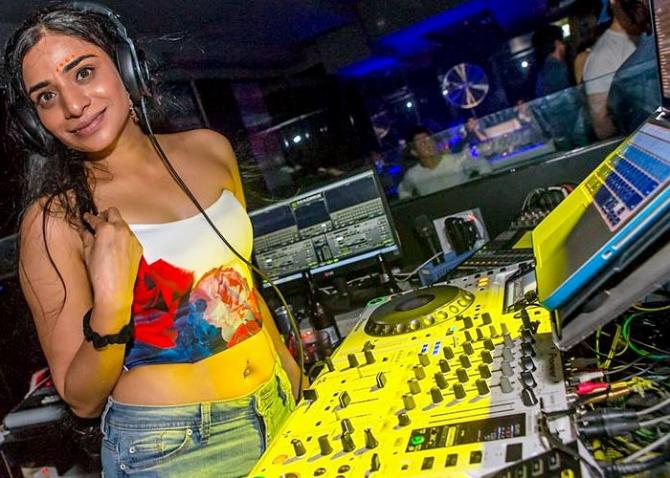 IMAGE: Music is not her full-time profession, but DJ Agni holds her own behind the turntables.
All photographs: Kind courtesy Anamika Chhawal
DJ? Check.
Investment consultant? Check.
In an age when people struggle to maintain one steady job, Anamika Chhawal aka DJ Agni is doing the unbelievable.
She successfully juggles two passions -- being an investment consultant by day and a DJ by night.
An Indian settled in Hong Kong, she likes to be known as 'one of Hong Kong's first Indian female DJs'.
There are, of course, challenges in being a woman DJ in Hong Kong, but not, says Chhawal in keeping two careers on track, in an e-mail interview with Rediff.com's Anita Aikara.
Who introduced you to music?
One of my earliest memories is listening to the radio with my father -- that's (how) I got bitten by the music bug.
My passion for music got refined much later in life.
We listened to songs -- Bollywood and English -- from the 1970s and 1990s.
Are any of your parents associated with the music industry?
No! My family has a civil service background.
My father is a retired IRS (Internal Revenue Service) commissioner.
Most of my family comes from an IPS and IAS (Indian Police Service and Indian Administrative Service) background.
I grew up in Mumbai, but my native place is Haryana.
My grandmother was an amazing singer; she would sing Rajasthani and Haryanvi folk songs.
My father loved music and he ensured his cassette collection was pretty up to date.
I guess that's where the major connection started building up.
Mohammad Rafi, Kishore Kumar and Lata Mangeshkar were some of his favourite singers.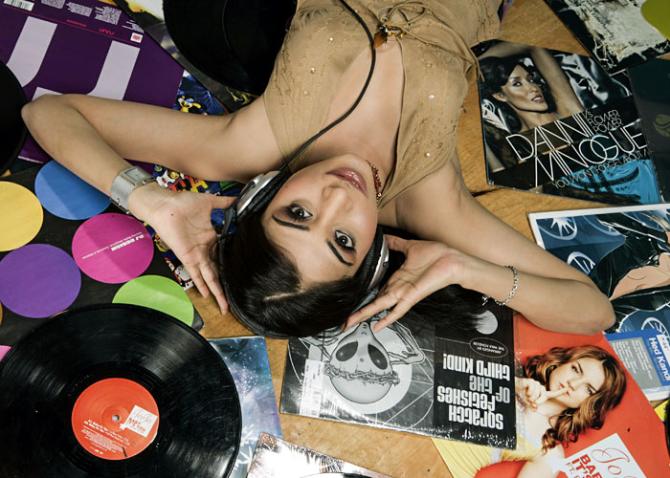 When I was 10, I enrolled in a singing competition in Mumbai and took my father along.
He accompanied me to the event, but had no idea that I was to sing until my name was announced.
I sang my father's favorite song Gumnam Hai Koi (from the 1965 thriller Gumnaam) and ended up winning the contest.
I received a trophy -- my first every trophy in life.
My father was happy, but that was it! We never spoke about it (music) after that.
Till date, that is one of my most cherished memories. I never thought there would be any way forward.
Introduction to music:
Later during my college days, when I started partying, I got introduced to DJing.
I learned the keys, chord, rhythm, beats, bars from my teacher DJ Jo Azaredo in 2005.
Jo Azaredo was not just a teacher. He was a mentor -- a drive that I needed in life to explore music.
My father loves gadgets and he was excited to see the turntables that I practiced on.
I attended his classes for three months. It was five days a week of practice and learning.
I (moved) to Singapore after that.
How did the transition happen from Anamika to DJ Agni?
Looking at my fierce personality, my teacher Jo would call me Miss Fire. I just translated it to (DJ) Agni.
DJ Agni is a result of Jo's belief, training and guidance that made me one of the finalists at the prestigious War of DJs in 2005 (in Mumbai).
What did you major in?
I am a microbiology graduate from Sophia College, Mumbai.
I later went on to do an MBA in marketing from the Lala Lajpatrai Institute of Management, Mumbai.
What's your job like?
I am an investment consultant at Square Yards, Hong Kong (a real estate advisory firm).
It's a six day week job that takes up almost nine to 10 hours (of my time) on a daily basis.
I later set up Rezonance Events, an event management company in Hong Kong.
I hosted fusion events in Hong Kong like Holi beach parties, which people from other nationalities too have been attending since the last few years.
How do you find the time to pursue your passion in music?
My forte is Bollywood. I play all kinds of music from house to hip-hop and commercial.
I ensure that my passion does not interfere with my profession. In fact it complements it.
Weekend or after work hours are when I plan my DJing.
Time management is important, as I usually plan my gigs after work hours.
DJing is my identity and investment consultancy is my skill set.
Are there any challenges being a woman DJ in Hong Kong?
Being an Indian DJ brings that extra punch of Bollywood, which DJs from other nationalities lack.
Also Indian expats in Hong Kong are increasing in numbers these days.
I have been into DJing for the last 12 years. But what's more important is updating your music. That takes time and effort.
When I started in 2005, I would DJ whenever I could find time.
Back in the days there was no social media to support your work, so to get events I had to depend on managers, my network and connections.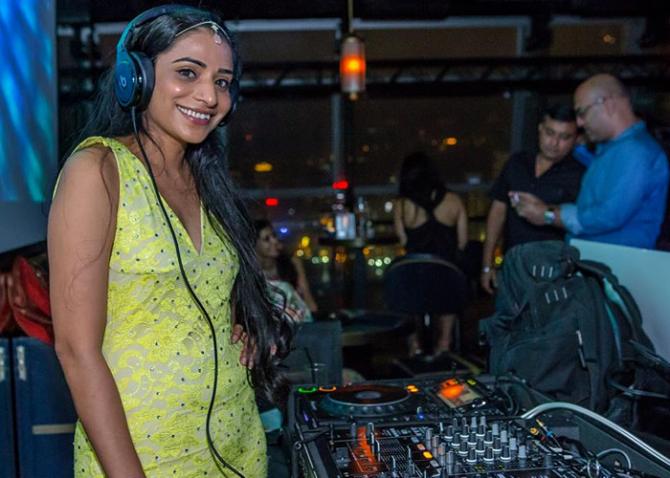 I joined the finance sector after my MBA, lived in Singapore and Malaysia where I would play at clubs just for fun.
Finally in 2009, I settled in Hong Kong, but had no plans to get back to DJing.
It was in 2012 that I started with Rezonance Events here in Hong Kong and that helped me launch myself as DJ Agni.
Being an expat, I faced apprehension from the club owners -- acceptance and communication were the biggest barriers.
The only solution to this dilemma was to book the club, host my own event and put my DJing skills (to test) along with self-planned marketing and promotions.
Do people in the industry take women DJs seriously?
Being just a female DJ in the beginning is easier, but creating your mark in the industry is tough.
It's not been easy especially when I had to travel to different countries.
Hong Kong finally helped me plan my move as DJ. I had to start the events company for me to create a platform to present my ideas.
Hong Kong is a busy and expensive city. You work and get paid, it's as straightforward as that.
In Hong Kong you can command a reasonable fee.
Also as Bollywood was my forte, there was no tough competition.
Though I play all kinds of music, Bollywood music helped me create a special connect and niche here in Hong Kong.
Your advice for people who plan to pursue their passion?
One does not need to quit a profession to pursue their passion.
You just need to balance out your profession and passion at the same time.
For me, both are equally important and thankfully they have complimented each other in my journey.