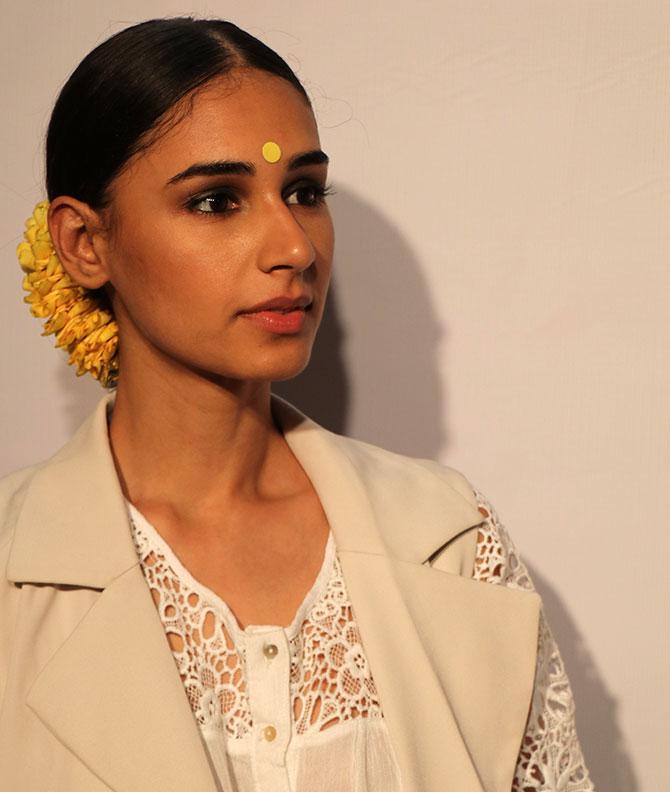 'Don't take a woman's life away from her, just for a few minutes of satisfaction.'
'If you are so sexually aroused, you should just jerk off.'
Straight talk from Femina Miss India Earth 2011 Hasleen Kaur.
Hasleen Kaur has been modelling for seven years now.
After winning the Femina Miss India Earth pageant in 2011, she has walked for some top designers and endorsed a dozen brands.
"The psyche of men in India is something like... if she is a model, she is very easy to get. We are models because we like being one. It doesn't mean we would like to get into anybody's bed," the 26 year old from New Delhi -- who played the lead in Karle Pyaar Karle in 2014 -- tells Rediff.com's Tista Sengupta.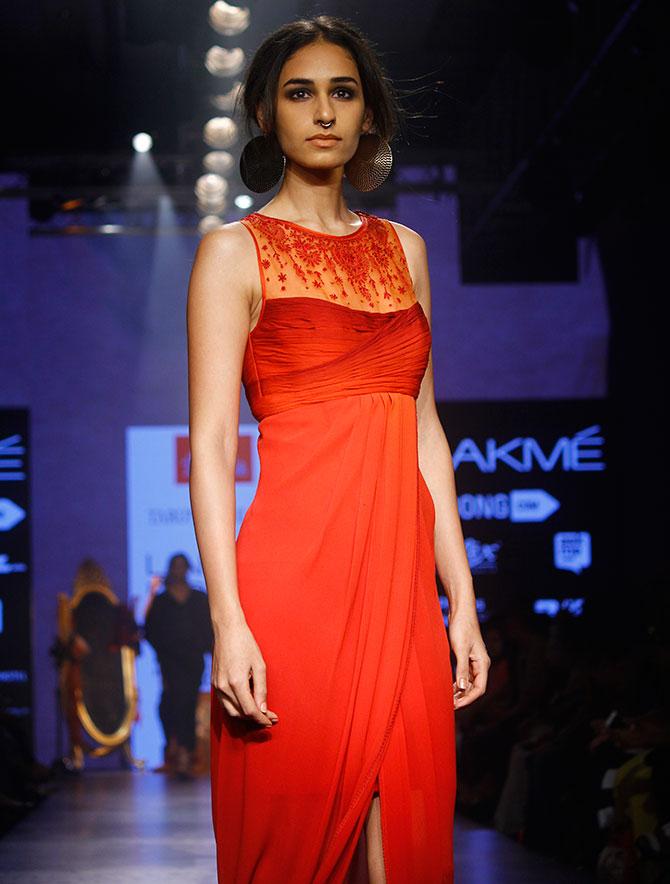 IMAGE: Hasleen Kaur was rejected for having a 'bigger hip' at her first audition. Photograph: Hitesh Harisinghani/Rediff.com
How did your modelling career start?
I was 19 when I started modelling. As my father was in the army, I took part in the May Queen Ball in 2007.
Daughters of the army, navy and air force officers take part in it. I won the pageant.
One of the judges was photographer Rahul Dutta. He gave me a free portfolio. He put up my pictures on his Web site. Someone saw my photographs and called me.
How easy/difficult was it for you convince your parents on your choice of career?
It wasn't difficult at all. My parents have been fully supportive.
My mom always wanted to see me in front of the camera and on stage. Although she never wanted to be a model or act, somewhere she wanted to be connected with the glamour industry.
She wanted to be an air-hostess, but her grandfather didn't allow her, he didn't want to let his granddaughter go away from him. He thought being an air-hostess was an 'unsafe career'. For her, that was glamour.
I have been a classical dancer throughout my life. I have learnt Bharata Natyam, Odissi, Kuchipudi and Kathak and taken lessons in jazz.
I used to perform on stage often.
My mother simply loved this avatar of me, and always wanted to continue seeing me there (on stage).
Did you always want to be a model?
No, I had plenty of other things in mind.
One of them was to be a copywriter. I like to write. I have a diary in which I write as and when I feel like. I had a collection of four line poems.
I like to keep things short and crisp. And that's why after my graduation in English literature from Jesus and Mary College, New Delhi, I went ahead to pursue advertising and public relations in 2009 from the Indian Institute of Mass Communication, New Delhi.
After I completed the course in 2010, I got an internship in New Delhi with Bharat Heavy Electricals Limited, where I worked in the corporate communication team.
When did you break into mainstream modelling?
After I finished my internship, I had two choices -- either to take up a proper job and start sending my CVs or give modelling a try.
I tried for Femina Miss India and won the Miss Earth title. The Times of India got me to Mumbai and I stayed here.
Apart from modelling, how do you keep yourself engaged?
I own a digital marketing company, Webeasts.
I have a 12-member team in New Delhi and a three-member team in Mumbai.
I know modelling has a shelf life, but I am into this because I like doing it.
When I didn't have this company, I had started a clothing brand Sins with college friends. We made around 70 pieces and sold 30 of them.
The point is I have been constantly doing something or the other. I don't think I need to have a plan A, B or C. It's just that I don't want to sit idle.
Modelling isn't something that I am doing every day. Once or twice in a week I might be busy with modelling assignments, but on the other days I have to do something. And that's how this company came into existence.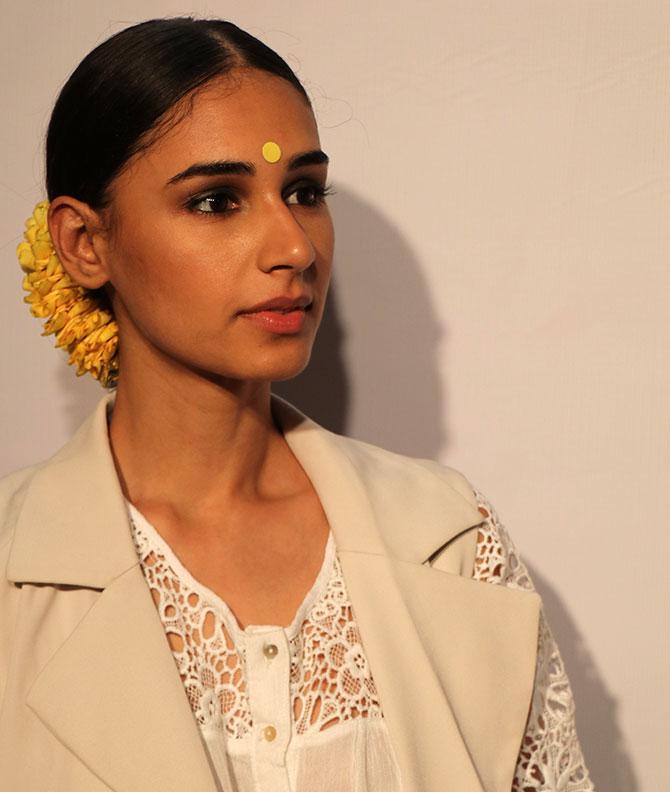 IMAGE: Hasleen believes in keeping herself busy through the year.
Did you face any difficulty when you started modeling?
For me, fashion weeks didn't happen in the first chance itself.
In 2010, when I appeared for my first audition at Wills India Fashion Week, I was rejected because of having a bigger hip. It's a Punjabi thing, you see.
My hips were very big. The thought always kept lingering in my mind. I started exercising in the day, having juices at college and eating very little.
After dinner, I used to walk for 90 minutes. I used to keep walking until midnight. It was very depressing.
When I appeared for the the second season at Wills, I got through the auditions. And in 2011, I tried for Lakme and I got selected.
How do you prepare before a fashion week?
I try my best to rest as as much as I can.
I know that for the next ten days I am not going to get any rest.
In the past six days, I haven't slept for more than four hours.
How do you stay fit?
I run a lot. If not everyday, whenever I get time, I run for at least 90 minutes. Sweating it out keeps me slim and my pores open.
I have a tendency to put on weight. I have a huge sweet tooth, and I need meetha after every meal. I am a Punjabi, after all.
There was a time when my dad and I used to have ice cream eating competitions. I could eat an entire block of chocolate ice cream.
Now I try to refrain. I eat more good things than the bad ones, and balance it out by exercising.
Your beauty secret is...
Just water. I drink a lot of water throughout the day.
At home, I apply besan (gram flour) and curd at times.
I also make sure I start my day with lemon in hot water and honey and a glass of fresh fruit juice. It can be any fruit juice, but it shouldn't be the canned ones.
It fires up the metabolism of the body.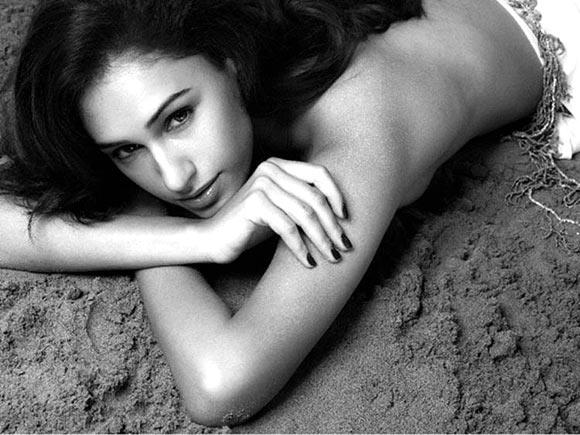 IMAGE: Hasleen has modelled for Reebok, Airtel and more campaigns. Photograph: Kind courtesy Elite Calendar 2011
How are you supporting the #IWearHandloom campaign?
There's something not many know about. I am about to start something new.
My clothing brand Sins was more into girly wear. Now I want to revive it, name it differently, and this time it will be all about pure cotton.
Although I haven't learnt designing, I know I can put an entire look together. I know I have a flair for it.
I want to use fabrics that are produced in my country. I am glad that a campaign like this has been introduced.
How has the Modi government been helping the fashion industry?
This is my fifth season at Lakme, and over the years I have seen more textile and Indian cloth-driven designs.
The focus now is more about getting back to our roots and reviving it all over again.
It's not about aping the West any more. Kudos to the government for initiating this so strongly.
Is India safe for models?
The psyche of men in India is something like... if she is a model, she is very easy to get. I have encountered this very often.
Recently I had gone to a smaller city for a fashion show. As soon as the show got over, a few men made lewd comments and wanted to be over-friendly with the models.
They should remember that models are humans and our morals and ethics are intact.
We are models because we like being one. It doesn't mean we would like to get into anybody's bed.
Recently, a guy stopped me in Mumbai. He asked if I was a model.
When I said yes, he told me that he coordinates fashion shoots and wanted to talk to me about a shoot he was working on.
He asked me for my number to which I asked him to share his coordinates so that I can look him up online and get in touch with him later. He was bent on taking down my number.
He asked me to sit in his car as he wanted to explain more about the shoot.
You can't just stop a girl in the middle of the road and ask her to sit in your car. And this guy was in some fancy luxurious car and looked like he came from a good family.
He was well-dressed and spoke impeccable English. He was respectful in the way he spoke. But asking me to sit his car was very weird for me.
Thankfully, no one has ever tried to touch me. When people pass comments, I give it back verbally.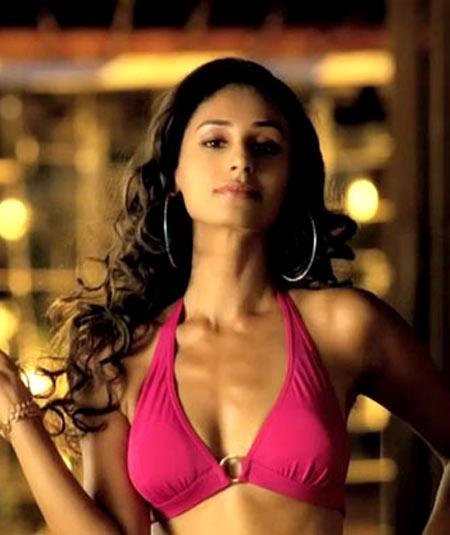 IMAGE: Hasleen in Karle Pyaar Karle.
The movie Pink's trailer shows three women fight a battle against influential men who try to sexually assault them. What is your take on the reality?
In today's world social media is very powerful. As I run a social media company, I know the impact it has when you post something related to something like this on social media.
If you have gone through something bad, you should get out and talk about it. There are plenty out there who can relate to it.
The problem in our country is that we do not talk. There are rapes happening in every household. There are news (reports) about marital rape too. People are so scared that they don't come out and speak about it.
The moment we start coming out of our shell, say it aloud, the crime rates will reduce.
In fact, the next time someone even thinks about rape, he'd think that she might screw his life by speaking about it on social media.
What do you have to say to the men who commit such heinous crimes?
Get yourself a girlfriend in the right way. Be pure in your heart.
I don't understand why men feel sex is so important and any woman walking on the road has a hole in which they can put their penises in.
If you are so sexually aroused, you should just jerk off.
Don't take a woman's life away from her, just for few minutes of satisfaction. Don't force her.
Honestly, I feel prostitution should be legalised in India. There should be a dedicated area in every city.
Men should think about their mothers or sisters. It can happen to them, just like they are doing such a brutal thing to a woman.
So what's happening after LFW?
I have to resume office from Monday. But I will be taking a four-day holiday to Goa.
I am going to lie down on the beach, read a book, listen to the sound of water and relax.
What's your favourite travel destination?
Cebu in the Philippines. It's an island that has blue waters and white sand.
It doesn't really feature in the list of best beach destinations. People don't go there often. But Cebu is beautiful.
Some interesting dating tips for men and women.
Be open. If you really like a person, go ahead and say it.
If you have the fear of getting rejected, let it be like a mistake and learn from it. Do not hold back.
I always tell everyone that if you can solve anything with love, that will make things easier.
In a relationship, if I want my partner to do something for me, I would just say it to him, instead of expecting (it) from him and feeling bad.
---
Check out accessories on Rediff Shopping!