Radhika Shastry left her job, moved to the Nilgiris and opened a cute French café.
It is something she always wanted to do, and she's cooking quite a meal of it, discovers Rediff.com's Archana Masih.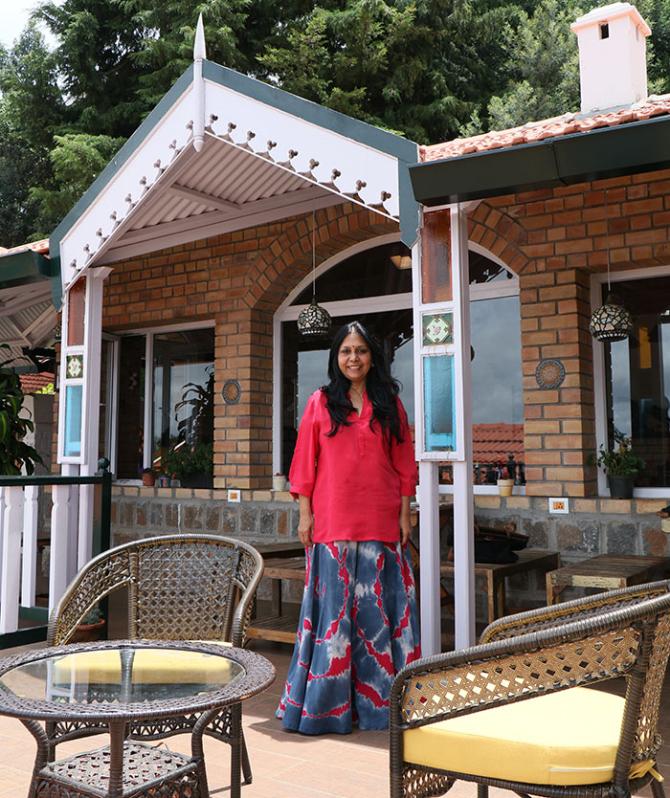 IMAGE: Radhika Shastry on the deck outside her cafe in Coonoor. The terrace overlooks the hills. Photographs: Rajesh Karkera/Rediff.com
A Bengaluru resident for nearly 30 years and a senior professional in a timeshare holiday company, Radhika Shastry decided to retire to a quiet hillside one day.
Years of working in Resort Condominium International had given her enough opportunities to see idyllic locales while location hunting for new resorts for her company.
She homed on the Nilgiris.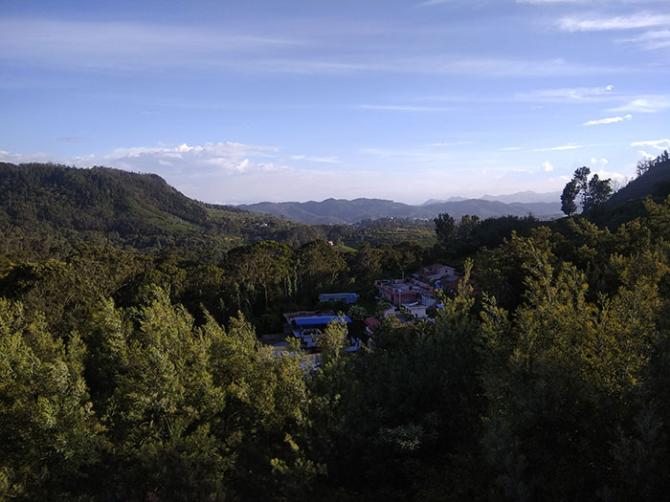 IMAGE: A view of the tea plantations and hills from the café.
It happened quite by chance. She was visiting friends in Coonoor one weekend. When she was leaving, she realised the driver had parked the car in the driveway of somebody's house, and had gone off for a walk.
Embarrassed, she apologised to the watchman who in turn told her not to worry because no one lived there and the house was up for sale.
"The location was stunning," she says. "I said, 'Wow!'"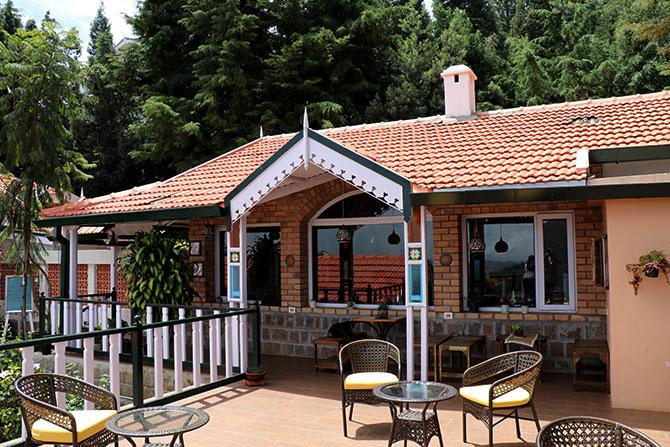 IMAGE: The café was built alongside the house. Construction in the hills was the hardest part.
Without losing any time she contacted the owner and was further relieved to know that he wanted the payment only by cheque.
The deal was struck and the house was bought in 2012. Radhika spent 4 to 5 months redoing it and moved in last year.
"Once it was ready, it expedited my departure from corporate life. I was very keen to start a café and started working on setting it up next to the house," says Radhika, who enjoyed taking culinary classes while holidaying in Canada and Mexico.
Café Diem started in Coonoor in January this year and is a cute, cosy spot with a to-die-for-view of the Nilgiris.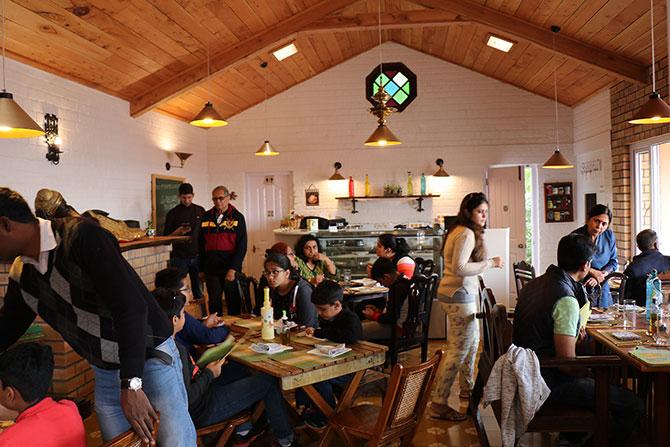 IMAGE: A small café, it has limited seating and needs prior reservation. The white door leads to kitchen downstairs.
"I was interested in baking, cooking and had thought to do something on my own with a couple of helpers, but it turned out a little elaborate," she laughs and adds that construction in the hills was the hardest part.
The café is flecked with her personal touch -- from the handwritten note on the menu on a cheeseboard, handpainted water bottles tied with aprons strings, funky salt sellers, mismatched hand-made napkins – also a table whose legs are a baby's crib bought from a kabadiwallah.
"When I started I didn't know where I would get the right chef, how quick the service was going to be. I wanted to give people things to talk about while they waited for the food," says Shastri who has also written a coffee table book on the Kumbh Mela in Allahabad and Ujjain, where she had travelled alone.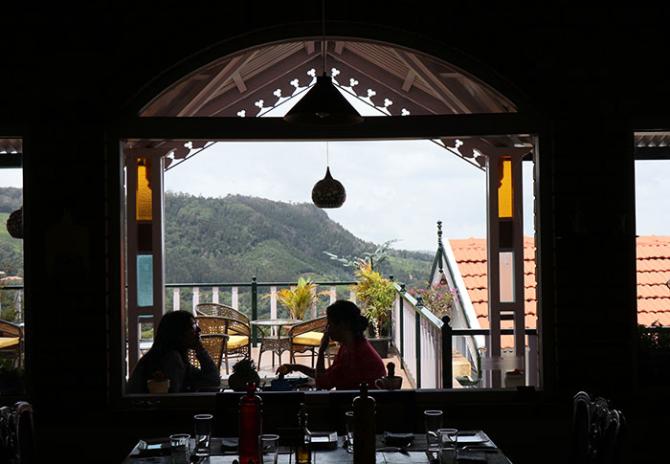 IMAGE: It has a staff of 6 including the chef and Radhika.
The café is lead by French chef Didier in the kitchen below, assisted by two ladies from the village.
Chef Didier had come to India to visit his godson in 2007 and had fallen in love with the country. He went back to France, shut down his small company and moved with his salsa dancer wife and two children to Puducherry.
He worked in a water treatment business for a few years while his children went to local schools and speak fluent Tamil.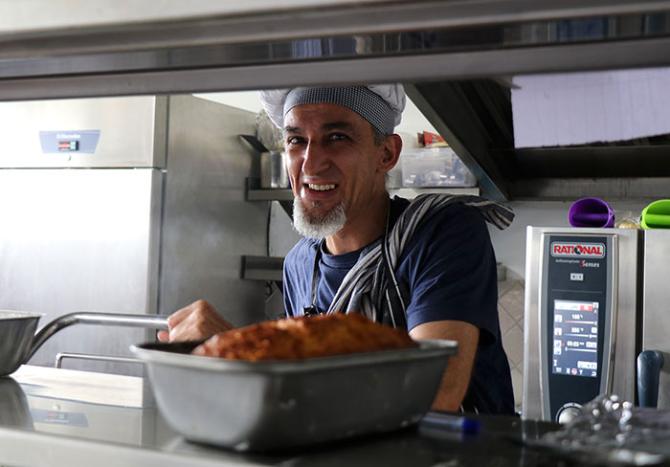 IMAGE: Chef Didier is French and brings French sensibility to his cooking. He enjoys biryani when eating outside.
He then decided he needed a change and went back to France to train as a chef. "In France, most people change their jobs in 10, 15 years -- and many do two jobs at the same time," says the jovial Frenchman.
"We have more than 300 wines and have created dishes for the wines. Food is sacred for us."
He talks about food with the passion and zeal of an artist and says that almost everything is made from scratch in the kitchen.
Goat cheese, red wine vinegar and couscous being two of the few things he orders from abroad.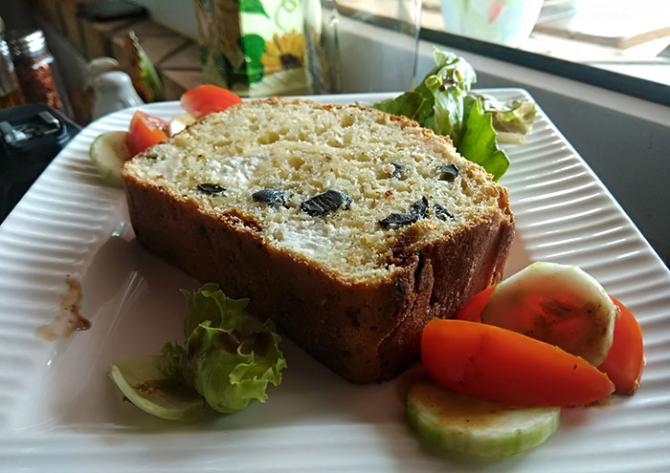 IMAGE: A freshly baked olive, feta savoury cake.
The staff of two boys on the restaurant floor are lead by Radhika. She takes the orders, advises guests on the day's specials, answers the phone and stops by to chit chat at the tables.
It is small, warm, efficiently run set-up.
"I knew the response would be good, but too many people were telling me it won't work. I was serving no meat, liquor was not allowed and it closes at 6. But it seems to have worked," says Radhika.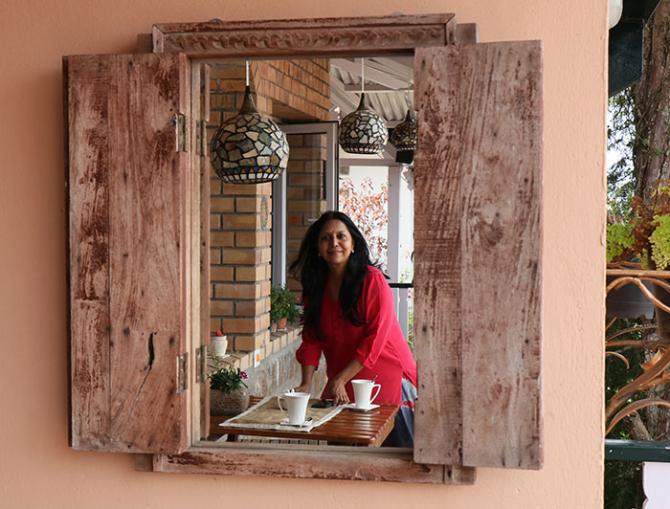 IMAGE: Radhika spends from 9 am to 6 pm on the restaurant floor.
Among the challenging bits was setting up a modern commercial kitchen with good equipment which cost her a tidy amount.
The popular items on the menu are the pumpkin soup, pizzas and lemon tarts.
Radhika says she has put in quite a bit of her savings into the café and reckons it will take at least two years to recover the expenses.
"You have to have guts to start afresh. There will always be naysayers. You have to believe that it is going to work. But unless you do it you don't know whether you will be successful or not."
Café Diem's story: 'A café has to be appealing enough for people to come back,' says Radhika. Video: Rajesh Karkera/Rediff.com
Giving her mantras for making a go of a new venture, she says, one must have the following in ample measure:
Risk-taking ability.
Intuition
Putting yourself in the customer's place.
Most importantly, to make a café work, it has to be appealing enough for people to come back.
"When you've eaten a good meal at a nice place you want to go back."