Millions of Indians have it, but go undiagnosed and suffer, says Govind Makharia.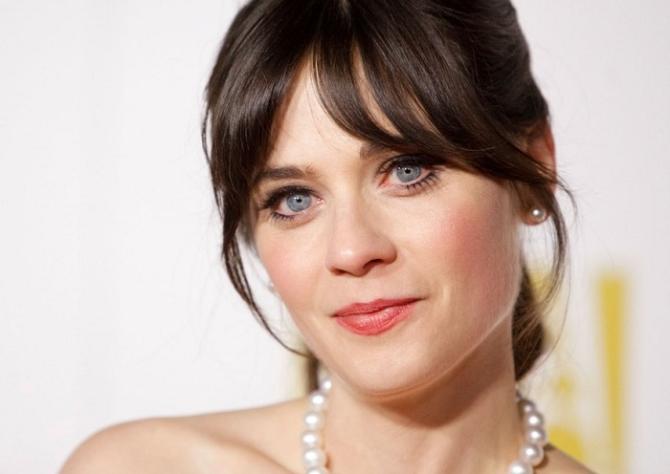 Zooey Deschanel suffers from the chronic systemic autoimmune disorder that affects almost 0.7 per cent of the world's population.
Photograph: Imeh Akpanudosen/Getty Images.
Celiac disease is a chronic systemic autoimmune disorder that affects almost 0.7 per cent of the world's population.
It is induced by gluten proteins present in wheat, barley, and rye.
Once thought to be rare and restricted to Western Europe, it is now a global disease affecting about 37-69 million individuals. In India, about 6-8 million people are estimated to be living with the disease.
While the pool of patients is large in India, only a fraction has been diagnosed.
Celiac disease is seen more often in the northern part of India.
The disease can be attributed to genetic and environmental factors as well as diet.
The biggest impediment in its prevention and treatment is the limited awareness about the disease.
Chronic diarrhoea, anaemia, iron deficiency, generalised weakness, and easy fatigability are some of the symptoms of celiac disease among adults.
In children and teens, it manifests itself through symptoms such as the failure to gain weight, growth problems, chronic diarrhoea, abdominal bloating, fatigue and irritability.
Many highly-sensitive and specific serological tests, such as anti-endomysial antibody and anti-tissue transglutaminase antibody assays, are available today, which can help detect the disease.
However, what is alarming is that currently, only those with the most typical manifestations are checked and ultimately diagnosed to have the disease.
Screening programmes within populations indicate that celiac disease is under-diagnosed.
Lifelong and complete avoidance of gluten (present in wheat and barley) in the diet is the key to treatment of this disease.
Successful management of celiac disease requires a team approach, including patients, families, physicians, dietician, and patient support groups.
After a diagnosis is made, patients should be referred to a dietician for nutritional assessment and counselling for a gluten-free diet.
Some other approaches at the individual level include meal planning, and assistance with the social and emotional adaptation to the gluten-free lifestyle.
Although the absolute number of patients with this disease at present is not very large, this number is expected to increase over the next few years/decades.