Do you know why men in Rajathan apply kajal in their eyes?
Is it a fashion statement or some scientific reason behind it?
Take this quiz and find out.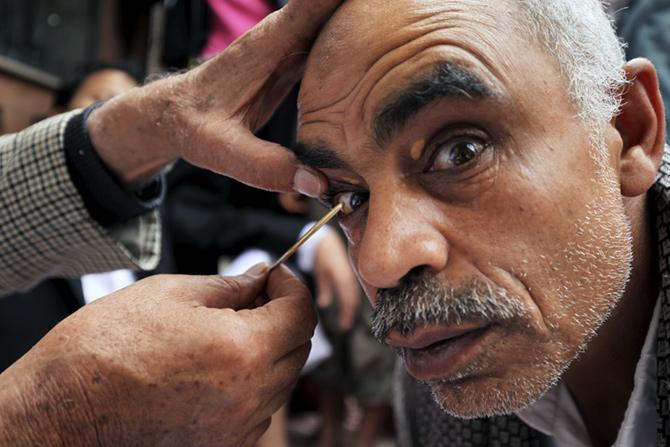 Some traditional cosmetic and health habits are actually based on a lot of wisdom. Not all are silly, as many modernists think.
Some have not been subjected to scientific scrutiny, but others when under the discerning and curious eyes of a researcher, often yield intriguing and exciting health benefits.
So before you dismiss some of the traditional customs that kept your mother happy, learn to see if it has some value in your life today.
Using a tongue cleaner, having sweet-smelling spices or herbs post-dinner, using a brass/iron/copper vessel for storing or drinking water, use of henna for colouring the hair or as temporary tattoos are some such habits.
Using a neem twig to brush your teeth, cleansing your eyes with herbal concoctions, gargling with herbal infusions and having betel nut after a heavy dinner are other habits.
Digestive churans to defuse the gastronomic indulgence of festival binging, rose water sprinkled on guests arriving into a dinner hall, roses used to adorn the beds of the newly weds (jasmine and rose are known aphrodisiac that are also calming to the mind) may be added to this long list.
Shameem Akthar, yogacharya trained with the Sivananda Yoga Vedanta Center, takes you through five such customs to show you why tradition still rocks.
Take the quiz given below.
Lead photograph: Mohamed al-Sayaghi/REUTERS