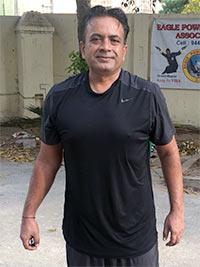 Chennai-resident Kanti Memani was 40 years old when he realised that he had to get back in shape.
Six years later, he finally shed those extra kilos.
How did he achieve it? Read on.
You can share your story too!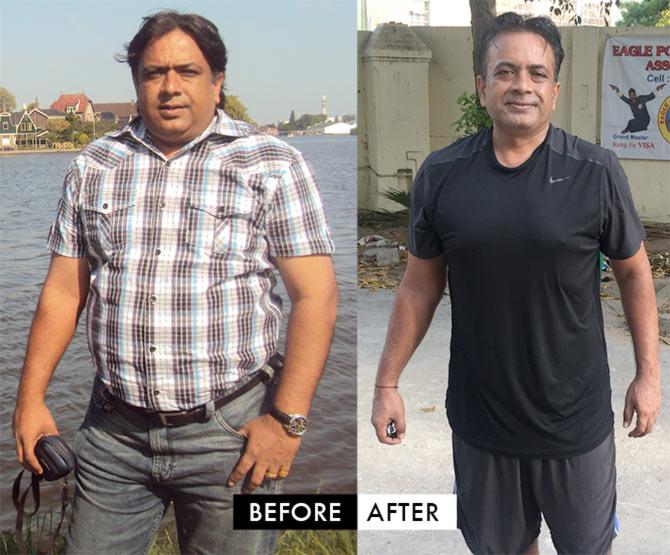 Photograph: Kind Courtesy Kanti Memani
From being fit to weighing 110 kg and getting back to 85 kg, it's been a journey filled with ups and downs.
I think it's because of my sedentary lifestyle and wishful eating that I started to gain weight. The foodie in me always won.
For more than five years, I have tried to lose weight, but failed.
Over the time, I realised that crash dieting only works for a brief while. You put on weight later.
I even worked out, but I suffered injuries. Exercising without proper guidance isn't right.
My doctor strictly told me not to lift any weights as I got shin splints. I had to give up on my gym classes.
So I went back to eating out whenever I wanted to. And then again, I started putting on more weight.
Eighteen months ago, I set out to win the battle of the bulge.
This time, I took one step at a time.
I started eating healthy. Remember there's a huge difference between eating healthy and dieting.
Healthy eating is knowing the difference between foods that aid weight loss and foods that hinder weight loss.
I struck a balance between the amount of starch, proteins and vegetable matter I consumed.
My day started with three eggs or an omelette or two pieces of idlis, along with veggies.
For lunch, I took a bowl of salad, a small quantity of rice, sambar or dal and a bowl of vegetables.
A fistful size of meat with a little rice and vegetables made my dinner.
I exercised too. Three days in a week, I indulged in functional training in open air, and the remaining four, I played shuttle.
I walked 7 to 8 km too.
I followed this routine for the past 18 months. Now I weigh 85 kg and aim at losing another 4 to 5 kg.
Remember, if you want to make a difference to your appearance, follow one discipline -- be it rain or shine, never ever miss your workout.
Also, I think people my age should keep in mind to go for workouts only if their body can take it.
ALSO SEE
#FatToFit: How I lost 36 kilos in 7 months
#FatToFit: How I lost 25 kilos in 6 months
Have you recently lost weight? We want you to share your weight loss story with us.
Write in to getahead@rediff.co.in (subject line: 'Fat to Fit'), with a before and after photograph, if possible, and we'll feature the best entries right here on Rediff.com!