Karan's motivation was to "fit into a t-shirt."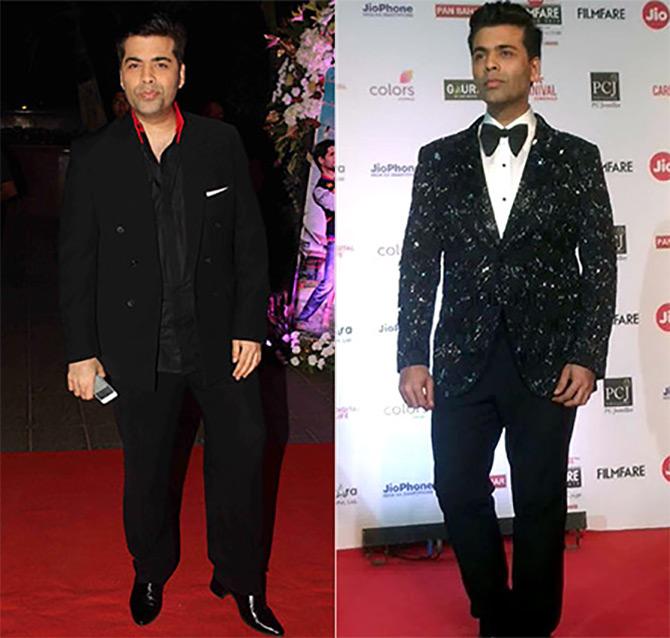 Karan before (left) and after (right) losing weight.
Photographs: Pradeep Bandekar and Kind courtesy Karan Johar
One of Bollywood's leading director-producer Karan Johar had been dealing with weight issues for a decade.
If you had been following the director, you'd realise how he'd mostly cover himself in oversized, loose fitting jackets and clothes.
For quite some time, actor and friend Ranbir Kapoor had been persuading him to pay attention to his health and fitness.
However it wasn't until his twins -- Ruhi and Yash -- were born, that Karan found the motivation to hit the gym.
In May 2017, Karan Johar approached Kunal Gir, a fitness trainer from Andhra Pradesh.
Gir who was then training Ranbir Kapoor for Sanjay Dutt's biopic, had previously worked with Tamannah Bhatia, Rana Daggubatti and Sudheer Babu.
Karan's motivation, as he would say, would be to "fit into a t-shirt."
Fitness and diet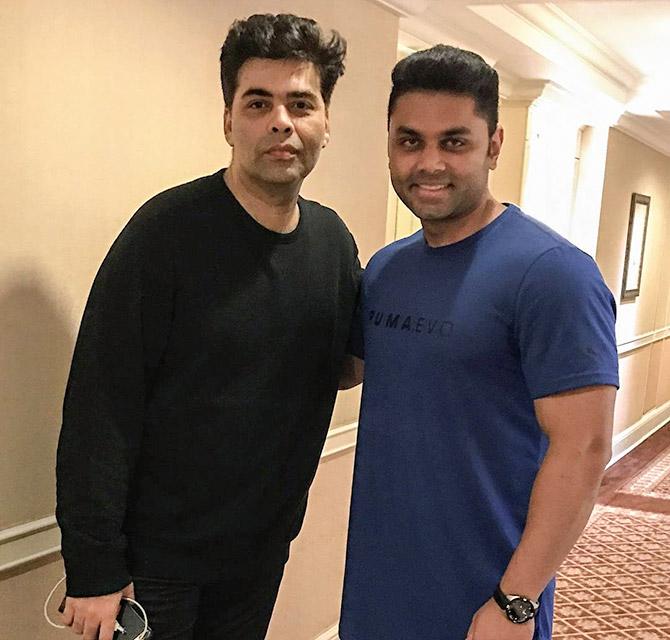 Karan with his trainer Kunal Gir.
Photograph: Kind courtesy Kunal Gir/Instagram
Karan Johar's fitness schedule included three days of weight training along with a day of pool workout.
"When we first met, Karan told me he enjoyed swimming, so I've tried to incorporate a high intensity cardio session in the water as a substitute to regular cardio -- and it's a lot more intense."
"The pool workout is my idea," Gir told GQ. "He likes water. Water calms him down."
According to Gir, Karan worked out for 30 to 40 minutes a day, 4 days a week.
And when he's not able to make it to the gym, Gir suggested a few exercises he could do on the go. This included a six-minute workout on the treadmill.
As per Gir's instructions, Johar cut down on carbs and sugar.
His new diet involved proteins and lots of vegetables. The ratio is 70 per cent protein and 30 per cent fat.
"He responds better to a high vegetable diet," Gir told GQ.
"He eats every three hours. He only eats food cooked in macadamia nut oil, and his fibre intake has increased since his body now responds to higher amounts of fibre," Gir told Vogue magazine.
The diet is planned so it doesn't intersect his work and can be followed even when he is travelling.
"A lot of people lose muscle mass instead of burning fat and that makes them weak. But Karan's dedication to exercising and a good, healthy diet has ensured he's not lost any muscle mass but burned mostly fat," Kunal Gir shared.
Gir also lets him have one cheat day a week. The condition: he can only have one cheat meal.
The results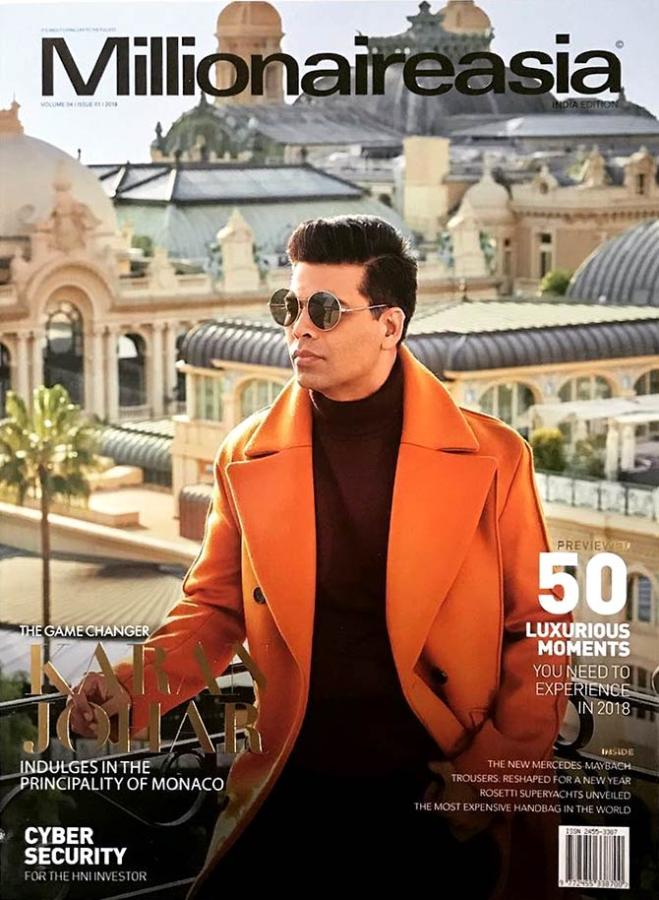 A fit and fab looking Karan Johar on the cover of Millionaire Asia's January issue.
The initial goal was to lose 14 kilos.
Karan achieved it in four months and was confident to lose more.

At the end of four months, Karan had lost 17 kilos.
Today, he looks fitter, younger and more confident than ever.
Reader Invite
Have you recently lost weight? We want you to share your weight loss story with us.
Share your detailed diet plan, tips and advice with our readers.
Write in to getahead@rediff.co.in (subject line: 'Fat to Fit'), with a before and after photograph, if possible, and we'll feature the best entries right here!