Kate credited her svelte post-pregnancy figure to 'running around after her kids'. Sharika Nair did the same.
Read on to find out what happened next!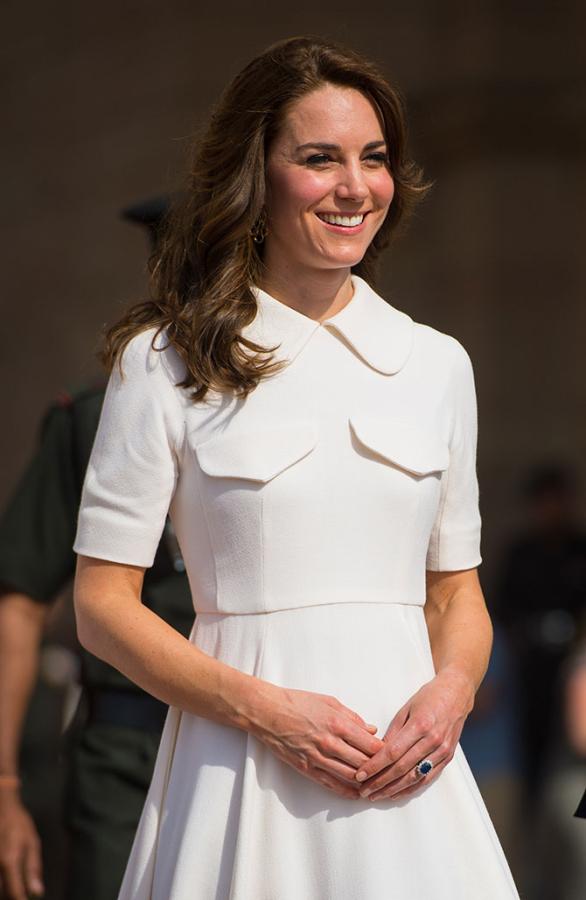 Photograph: Dominic Lipinski - Pool/Getty Images
From newspapers to television channels, the media has been tripping over each other to cover Will-Kat's Indian tour.
From adorable photos of the Duchess of Cambridge wielding a cricket bat against Sachin Tendulkar and Dilip Vengsarkar, the dosa eaten by Prince William, photographs of the royal couple with assorted Bollywood royalty from Shah Rukh Khan to Aishwarya Rai Bachchan, to the names of the designers who contributed to Kate's wardrobe, they are everywhere.
In all this frenzy, the media thinks it worthwhile to convey Kate's secret to her post-pregnancy weight loss. We are told that a professor asked her, "How did you lose all the weight after having two kids?" and she replied, "I am running after my kids!"
As a mother of two, I thought I would compare my weight loss regimen with hers.
While dealing with my younger one, a very naughty three-year-old, I do my fair share of 'running after' too. So my weight loss regimen includes Kate's secret method along with other tried and tested methods.
My grand 30-day weight loss plan
I decide to lose 5 kg in 30 days through a combination of yoga, cardio workout, and healthy diet, which should be practically possible.
Day 1
Switch off the alarm at 5.30 am and go back to sleep.
Wake up at 6.30 am and decide it is too late for the 6 am yoga class.
Spend some time running after the son.
Weight loss -- 0
Day 2
Manage a brisk 40 min walk but get a craving for spicy samosa chaat.
Weight loss -- still 0
Day 3 to 7
Attend two yoga classes and one intensive Zumba dance session.
Weight loss -- half kg
Day 8 to 10
Son down with a bad cold, so no workouts but sticking to a 'low portion size healthy diet plan'.
Point out an obviously obese lady and ask the husband, "Am I as fat as that?"
He answers, "Don't compare yourself to others. Work on losing weight so that you can feel good about yourself and become fit."
Manage to resist the violent urges I get after hearing that.
No additional weight loss
Day 11
The 10-year-old daughter helpfully informs that a child in her school bus told her, "Your mom is fat".
And she told her, "Our moms take care of us. We should not say such things about them."
I notice she did not refute the other child's statement. Still feel quite grateful.
Son decides that spitting out food is more fun than eating it. I lose my patience and chase him to smack him. My daughter dispenses words of wisdom seated on the sofa, "Mama, he is too young to understand good manners."
After chasing him around the living room, my son assumes this is a fun new game and starts laughing and chasing me. I do not feel like letting him down and so I allow him to chase me. As he catches up and pounces on me, shrieking happily and scratching, pretending to be a lion, I remember reading about how Japanese children are very well-behaved.
I spend the rest of the evening daydreaming about sending my children to a boarding school in Japan.
No additional weight loss
Day 12
Spent some time looking at images of Malaika Arora Khan and Shilpa Shetty Kundra online to inspire me on my journey to becoming a super-glam mother.
No additional weight loss
Days 13 to 18
The half-month mark sees me taking to my workouts with renewed determination.
Total weight loss till now -- 1.5 kg
Day 19
Eating out during the weekend, along with a couple of lazy mornings leading to missed workouts, has me gaining back 1/2 kg. I end up eating a chocolate bar and a packet of chips in an act of aggressive self-pity.
Total weight loss -- down to 1 kg
Day 20
I decide to switch to a dinner of only soup. I have my bowl of healthy mixed vegetable soup by 7 pm.
By 10 pm, I decide to have a single slice of toasted brown bread and then sneakily eat a cookie in the corner of the kitchen, all the while wondering who I am hiding from.
No additional weight loss
Day 21
Decide to switch to a no-rice, no-roti lunch for the rest of the month and have a bowl of dal and a vegetable salad. In the evening, my daughter asks me why I am so cranky.
Day 22 to 29
Surprise myself by following a relatively disciplined exercise regimen and a healthy diet. Re-lose (yes, that is a word!) the half kg that was lost and regained earlier.
Total weight loss -- 1.5 kg
Day 30
Decide it is okay to feel proud of a 1.5 kg weight loss out of the targeted 5 kg.
Start planning the celebration with a slice of rich chocolate cake from my favourite pastry shop.