'Young Indians are reading, but the wrong stuff.'
'They are reading and sharing Pappu jokes, Alia Bhatt memes and all the irrelevant material online.'
'My aim is to get them interested in books.'
IMAGE: Amrut Deshmukh wants to encourage the habit of reading among Indians. All photographs: Kind Courtesy Amrut Deshmukh
Remember the last time you wanted to read a book, but gave up the idea because the book was 'too fat'?
Well, you're not alone.
According to Amrut Deshmukh, "People have stopped reading because they don't find the time in their busy schedule." And some are just "plain lazy."
When he was a child, Amrut too used to hate the idea of reading books outside his academics. After Class 12, he studied commerce and became a CA in 2006.
He worked at a stockbroking firm, earning a handsome six figure salary for more than six years. His parents were happy and everything looked great.
In 2015, he read a book and narrated its story to his friend at a multiplex. That evening, something inside him changed.
He realised that he had great storytelling skills and could use it to inspire a generation of non-readers to develop the healthy habit of reading.
The next thing we know is that Amrut has launched the app Booklet which provides interesting summaries of bestselling books in English that can be read in under 20 minutes.
In the past year, he has summarised about 50 plus books and interested people from across the globe. His aim is simple: "I want to cultivate the habit of reading among the youth of India. My mission is to Make India Read."
Rediff.com's Divya Nair spoke to Amrut, 34, about his mission.
What inspired you to start Booklet?
Last year, I had gone to watch Bahubali with a friend and we happened to reach the theatre about 15 minutes early.
Since we had the time to kill, I started talking to my friend about the book The 7 Habits of Highly Effective People by Stephen R Covey that I had just finished reading.
My friend was so gripped by my narration that he casually suggested the idea of writing book summaries.
The idea was so fascinating that it stayed with me. After I went home, I put the summary in text form and shared it with a couple of my friends for feedback.
They all liked the idea and shared it with their circle of friends. That's how it all started. Within a week, some 1,000 odd people joined me on WhatsApp.
How did people join you?
The idea was simple -- I'd review one book a week. I'd prepare the summary in simple English and keep it short, so you can finish reading it in under 20 minutes.
If it was a big book, I'd summarise it in two or three parts and share it every Wednesday.
Since there was nothing like this available, word got around quickly and people starting reaching out to me -- adding me on Facebook and WhatsApp.
I wasn't prepared for it. So, the inevitable happened -- my WhatsApp crashed.
What points do you keep in mind while picking a book?
I mostly pick bestsellers -- typically books that have sold at least a million copies.
For me, the books have to have some action value -- after reading the book, one has to be inspired to implement it. That means, the books cannot be fictional.
I prefer self-help books, autobiographies, books on management principles etc.
Once I decide the book, I e-mail the author or publisher and request their permission.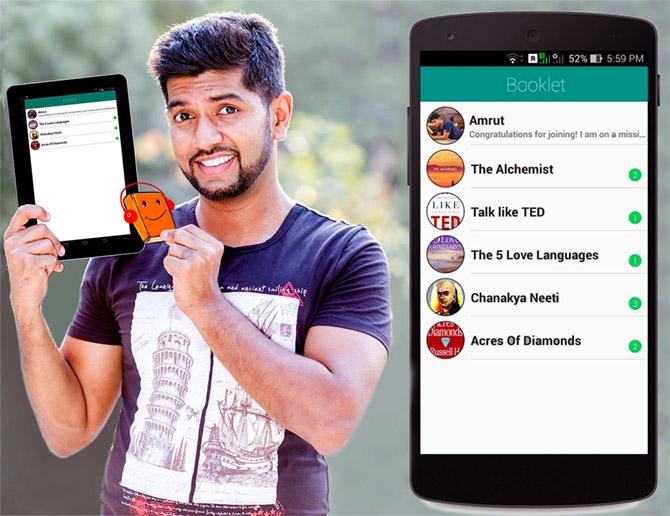 IMAGE: What started off as a WhatsApp activity has now found takers from across the continent. The Booklet app offers crisp summaries of bestselling books.
You had enough followers on social media. Why did you have to launch the app?
After a few months of sending summaries to people, I asked them to take a survey for feedback. That's when I realised that not many people were reading the summary.
Given the busy lives we live in, people saved it for future reading and never really found the time to finish it. So, I came up with the idea of recording the summary in audio format.
This was an instant hit. People told me they could now plug in their headphones and listen to it when they were travelling, driving or gymming.
It also helped that I had tech-savvy friends like Amol Chavan. They all got together and helped me build the app free of cost. I named it Booklet because it was a smaller version of the book.
The app went live on April 23, 2016 -- World Books Day.
How do you get the books? Do you buy them?
(Laughs) No, I cannot afford to buy all the books. I believe in beg, borrow, steal.
Fortunately, I have tied up with librarywala.com, so I rent some of the books. Besides, they deliver at your doorstep, so the logistics is taken care of.
The best part is they have given me a lifetime membership.
I have a personal collection of a few thousand books at my home.
Do you believe that young India doesn't read books any more?
It would be wrong to say that India doesn't read.
Young Indians are reading, but the wrong stuff.
They are reading and sharing Pappu Jokes, Alia Bhatt memes and all the irrelevant material online that is not really helpful.
My aim is to get them interested in books. At least there will be some shift in the positive direction.
Were you always interested in books?
Not at all. My elder brother Hemant was more into books.
When I was younger, he'd suggest my friends and neighbours to gift me books on my birthday. I used to be so furious that I won't get toys or chocolates that other kids got on their special day.
Now that I have grown up, I have realised that my brother was right.
According to you, how does reading help?
Reading the right books can improve you in many ways.
It introduces you to so many different characters and personalities that it will slowly change the way you look at people.
I, for example, used to look at beggars with sympathy and felt bad for them. Now, I look at them empathetically.
Also, my perspective of looking at people and problems has changed significantly.
Have you become more conscious about reading now? How do you steer clear of personal bias?
In a way, I have become more responsible about the books I pick and read. My reading skills have increased.
Earlier, I used to read only non-fiction, but since 70 percent of readers are female, they also want to read fiction, romance.
I have sacrificed my personal interests, so I can accommodate more readers.
Also, I have been getting requests from authors to review their books. But I pick up only those I feel are worth.
How do you decide that a book is good, bad or average? What turns you off in a book?
I believe in simplicity. There are some authors who like to show off their vocabulary and tend to overdo it.
For me, if the book uses a lot of jargon and complex words in the first few pages, I switch off.
Simplicity, I guess, is something would attract more readers to the book.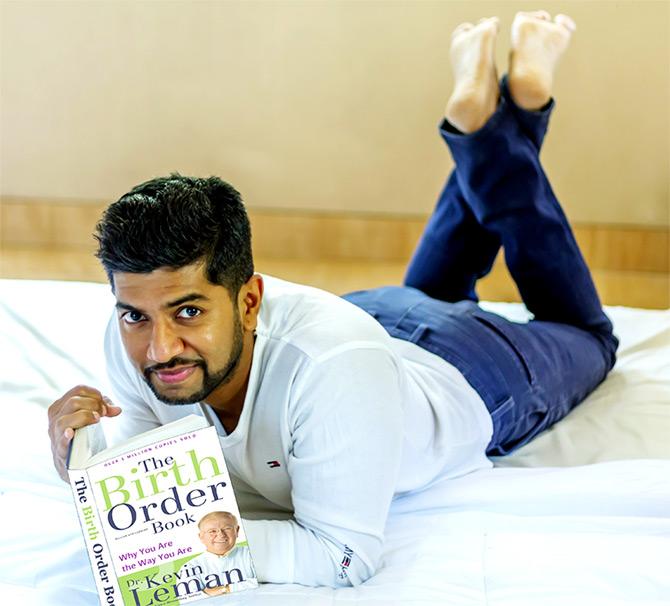 IMAGE: Amrut believes that reading books may change the way people think and solve problems.
Name the three best books you have read till date
• The 7 Habits of Highly Effective People by Stephen R Covey
• 21 Great Ways to Stop Procrastinating and Get More Done in Less Time by Brian Tracy
• A Whole New Mind: Why Right-brainers Will Rule the Future by Daniel H Pink
Three books every youngster should read in their life and why
Ignited Minds by A P J Abdul Kalam: Kalam Sir used to always appeal to the youth to use their skills to build a better future. In the book, he has pointed out specific deficiencies that the youth needs to work on and how he visions India at 2020.
Who Moved My Cheese by Dr Spencer Johnson: The book uses cheese as a metaphor for changes in career, relationships, etc and talks about how we can effectively deal with change.
Men Are from Mars, Women are from Venus by John Gray: The book is a must read for everyone; it will change your perspective about the other gender and help you think empathetically about the way they see and understand life.
You are a CA by profession. How do you find time for Booklet?
Reading is my passion and passion finds no excuse.
I am on the verge of quitting CA. I am already devoting about 80 per cent of my time reading books, then writing and recording the summary.
For me, what motivates is the fact that I am contributing to a social cause.
Do you make money? How do you plan to make money?
Not yet. I hadn't seen this as a revenue generating idea.
In fact, I don't appreciate the using words like product, subscribers, club, profits.
But if I have to take this to the next level, I need to come up with a plan.
One of the ideas I am considering is to tie up with retailers like Flipkart, Amazon.
If someone buys the book after reading my summary, I will get a commission.
What kind of feedback have you been getting?
Oh, it's been great. Kids, students, working professionals and homemakers are reading my summaries.
Once I received a call from Vishal Kumar Jain, the president of the Blind Graduates' Forum of India. He called up to congratulate me for starting something like this.
He said he liked the idea of 'hearing books' -- a boon for the visually impaired.
He's even invited me to speak at one of their events later this year. I felt really motivated.
Do you have international readers?
The aim is to make INDIA read. I have Indians from UK, Australia, Canada and Dubai connecting to me through the app.
What challenges do you currently face?
The app is not perfect. It has some technical glitches, it doesn't run smoothly in all phones. The audio gets stuck. I need to fix that.
Also, a lot of people want me to summarise Hindi books and cover more genres.
I am not well versed in Hindi, so I will need to find a way out -- maybe work with people who share my passion.
I want to reach one million downloads in eight months. And with time, I would like to convert the downloads into active readers.
As a first generation entrepreneur, what lessons did you learn?
I think most of us give too much importance to the idea. We dwell on it too much.
We get a thousand ideas when we are sitting on that toilet seat. But what do we do about it?
According to me, the idea is only 10 per cent; 90 per cent of it is about execution and executing (it) as soon as possible
What are your future plans?
I am looking to infuse a game mechanism in the App. Something like, the more you read, the more points you get. This will inspire more people to read books.
I want Booklet to be as big as Facebook or Twitter.